For this episode, Gloryren is very honored to invite Prof. Mayer, the Founding Medical Director of Schön Klinik München Harlaching, Founding President of German Spine Society and Former President of EUROSPINE, to do a special interview where we are privileged to get to know his fascinating life story, learning why would he, as the Worldwide Minimally Invasive Spine Master, leave the most famous university hospital in Berlin and take up the new position in Munich, how did his hospital attract an investment of 90 million euros from the Schön Group in 1998, and how did he bring a bankrupt university orthopedics hospital in Munich back on track and turn it into a very successful one.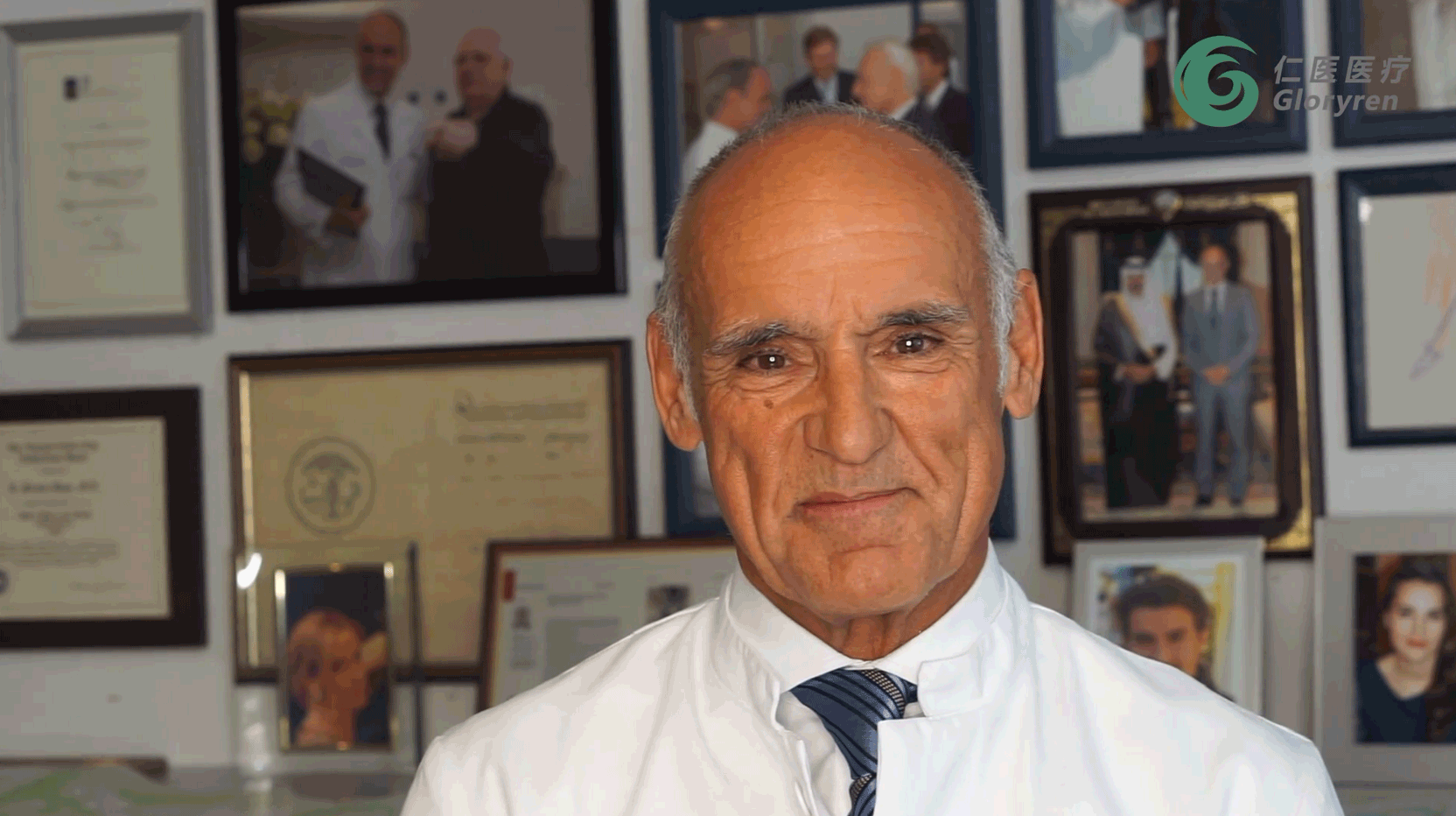 In 1998, Prof. Mayer was the first in Germany to propose a concept: a hospital which provides orthopedic service can only survive in the long run if it provides a high quality of work, and a high quality in orthopedics means that the hospital has to find specialists who focus on their specialization. This is the key that makes their hospital achieve a great success.
Q1: When did you decide you wanted a career in medicine? And why?
Actually, when I graduated from high school, I was not clear what to do exactly. And in Germany, at that time, it was very popular to do internships. So I decided to do an internship in a hospital. There was a young dynamic surgeon which fascinated me as a young 17-year-old guy. And I thought maybe medicine would be a good thing to do. Because I always want to work with people, and want to have a profession where I can interact with people.
Now to study medicine at Germany, even at that time, it was in 1973, it was quite difficult. Because you needed to have good notes and not every university would accept you. On the other hand, I first had to do my military service which was about 1.5 years. So I had used this time to think it over, and finally I decided to apply to study medicine at the Johannes Gutenberg-Universität Mainz, which is one of the oldest universities in Germany. It was founded in the 15th century. And fortunately, they accepted me, and then I started studying medicine in 1975.
Q2:How did your early youth experience shape your success?
Actually, I grew up in a very little village in the southwest of Germany. I had a quite happy youth, but it was clear from the beginning that I was taught that only hard work can lead to success in life. And at that time, there was no academic in my family. So I was the first who finished high school. I was the first who started to study medicine at the university.I was the first to graduate from the university and made a doctoral thesis and later on a Phd.So looking back, I think it was quite shaping me seeing that the only way to be successful is really to always try to be not as good as the rest, but better than the rest.
Q3: When was your first surgery for the VIP patients? And how did you get this chance?
Actually, it's interesting to define what is a very important person or very important patient. For example, if you are a young doctor and do your first surgery, then this patient on which you do your surgery is the most important patient and the very important patient in your life. And I personally believe it should always be that way that irrespective of the social status of the patients, every patient should be equally important.
But to come back to your question, during my time in Berlin, I started doing innovative, new types of surgeries. And even at that time, I had my first VIP patients who want to be treated, for example, with minimally invasive techniques.
And later on, of course there have been more important patients during my time in Munich. And the clue is that these patients, usually they have personal doctors who advise them or recommend certain doctors to them in case they have a medical problem.
And to be one of those doctors who are recommended, then I think it's important that you have a certain reputation and reputation in medicine, especially in surgery. You only get if you do high quality work on the one hand. On the other hand, if you are innovative, and if you do scientific work and scientific publications, so you get more and more renowned in the society of surgeons who deal with certain problems.
And I think to have a VIP patient is something you cannot influence, because it just happens. And usually if a very important patient is looking for the doctor, then he asks his personal doctors and asks his his advisers. They usually recommend a certain number of specialists all around the world. And then of course you go and see the patient, and then the patient has the final decision whether he wants to have an operation in your department or whether he wants to have an operation by another person.
Q4: Would you mind sharing with us some stories of the surgeries you've operated for the VIPs?
Yes, I can share a funny story with you. But you know of course I can not mention any names.
But it was back in 2004, and I was on vocation with my family. And I was on the beach, when my cell phone was ringing, and there was a person on the other end who said, "I have a very important patient and he needs to see you immediately."
I tried to stay polite, and said, "Yes... but I am on vocation now, of course you can send me the X-rays or MRI of the patient that I would have a look at them. But I can not see him right now, because it is family time and I am on a vocation. And when I am back to work next week, of course I can see him."
But this person insisted and he said, "Listen, I am the chief of the military service of my country, I am a general. And this patient is very important and he wants to see you."
And again I tried to explain, and I said, "I am willing to see him, but you have to understand me that now I spend my time with my family and I can see him next week, because it turned out that the medical condition was not really super emergency."
And I wanted to end this phone call, but he insisted and insisted. And in the end I said, "Okay, but tell me how important is this patient? Because I get a lot of phone calls who say that they have very important patients to see. But how important is this patient?"
And then he was crying in the cell phone and said, "Listen, this is the most important patient of our country!"
And then it was clear to me who the person was. And then of course we found a way that I could see him and later he came for operation in my department.
Q5: How did you make up your mind to leave Charite for a new position in Munich?
Honestly speaking, this was not a very difficult decision because you imagine I was at the university in Berlin. I was there a chief staff surgeon, but the structure of University Hospital at that time was that there were no subspecialty department. So of course We have colleagues and surgeons who focused on hand surgery, foot and ankle surgery and spine surgery like me. But they were not independent departments.
And then I have this phone call from Munich and this offer from Schön Klinik to build up a spine center in Munich, but also they would give me the opportunity to build up the whole orthopaedics hospital in a new structure and a new structure which more or less would be to create a multi-specialty center for Musculo-skeletal diseases. So my intention to go to munich was on the one hand, to establish a spine center. But on the other hand, to build a hospital where all the subspecialties of orthopaedics surgery are represented. For example, pediatric orthopaedics, hand and elbow surgery, foot and ankle surgery, hip surgery, knee surgery, shoulder surgery, and so on.
So this was a unique opportunity for me to realize my thoughts and my ideas for such a big center and at the same time to realize my ideas to build up my own spine center.
Q6: What was your biggest challenge during your leadership at Schön Klinik Munich Harlaching?
There were quite a lot of challenges. You have to imagine when I came to Munich, this hospital was a former state-owned hospital and was now brought by a private hospital group. And on the other hand it was part of the university. It was the university hospital for orthopedic. And as soon as the hospital was taken over by the Schön Klinik, the first thing was that the university cut all the academic connections to the hospital. But this was not the biggest challenge, the biggest challenge was that the hospital was bankrupt, so it was an economic challenge to bring the hospital onto a new track. The second challenge was that it was an old hospital, you can imagine there were about 200 beds. And out of these 200 beds, there were only 2 rooms who had a bathroom inside the room. And this was in 1998, this was not really international standard. So the whole hospital had to be built new. This all happened, this was not the problem in the coming years. But the major challenge was to motivate the remaining personnel to stay in the hospital and to believe that there is a future of the hospital. I remember in the beginning there was a lot of mistrust in the new management, and also mistrust in the new concept. But then step by step, we could convince the employees that our intention was a good intention, and that our focus was on a high quality of our work, that we brought innovative techniques into the hospital, that in parallel the hospital was built new. And all these different factors contributed to create what we now have, what I called a good corporate identity. Because with each new building, with each new subspecialty established, with each new leading surgeon we acquired, the trust in the management and the trust in the whole concept increased. And I think this was a great challenge in the beginning, looking back, fortunately I didn't realize it, while we were building up all this, but looking back the major challenge was to motivate the personnel that the concept we brought into the hospital was a really futuristic concept and will end up in a good result medically and economically.
Q7: What do you think is the point to attract an investment of 90 million euros from the Schön Group?
I think the point that Schön klinik invested such a lot of money in this hospital in the concept was the medical rationale behind all this. Because it was clear at that time that a hospital which provides orthopedic service can only survive in the long run if you provide a high quality of our work. And a high quality in orthopedics means that you have to find specialists who focus on their specialization. For example, nowadays, a good knee specialist never can be at the same time a good spine specialist or a good hand specialist. But, in 1998 this was not the case. So what was really new was to bring in these specialists and I think it was my vision but also the vision of Dieter Schön, the owner of Schön Klinik that he trusted in the concept and that he trusted in the success of this concept. And looking back, we both were right, because this concept turned out to be a right concept from the quality aspect and as well from the economic aspect how the hospital developed in the last twenty years.
Q8: Who have been you greatest influences?
There has been quite a number of professionals and peers who have influenced me. Maybe let me start with Professor Wallenfang, who was the one, who mentored my M.D. thesis at the Johannes Gutenberg University in Mainz. He proved to me the fascination for neurosurgery, on the one hand, but also the fascination for a scientific work.
Then it was Prof. Cervos-Navarro who was the, the Chairman of the Department of Neuropathology in Berlin. Because I started my neurosurgical training with Neuropathology at the University of Berlin. And he influenced me a lot because he was a very dynamic scientific person who really pushed his people, and actually he tried to convince me to become a neuropathologist, but this was not my goal, I, of course, wanted to become a neurosurgeon.
And at the same hospital, I met Prof. Mario Brock, who influenced me in another way a lot because he was an internationally renowned neurosurgeon. And he told me a lot about international connections, about international networking, about the role of science and the role of teaching in the neurosurgical field and also about spine surgery, because I had my first spine surgery contacts at his department.
The other influential person was Prof. Friedebold, who was the German Chairman of the Orthopedics Department of the Free University here in Berlin, Because when I started my training in orthopedic surgery, he was one of the old mentors in orthopedic surgery. A very friendly person who really could deal with patience, and I learned a lot from him, especially when he comes to surgeon and patient relationship.
And his successor, Prof. Weber, also influenced me because he was a very sound surgeon, who really knew all the surgical techniques at that time. A person with a very, very broad knowledge in orthopedic surgery.
Most influential, when it comes to spine surgery, was Prof. Jürgen Harms. I never worked with him for a long time, but I had the chance to work three year, three months at his department in the mid 90s.And at that time, he was the only true spine surgeon in Germany, and actually he was the first one decided to specialize and to focus only on spine surgery, and I could learn a lot from him. Because he explored new horizons in spinal surgery .those, these were probably the most influential people who were, from whom I could learn the most of my career at spine surgery.
Q9: What is your proudest career achievement to date and why?
Retrospectively there are some moments or some achievements that I am very proud of. Let me start with the medical ones. In the middle of the 80s, I was the first one to perform minimally invasive percutaneous endoscopic discectomy in the lumbar spine. And at that time this was a really really cutting edge technology. If I travel nowadays internationally, I see that this endoscopic technique has evolved to more or less standard technique. I am really proud that I was one of the first ones who perform this.
And the second achievement I am proud of, is also a surgical technique which I inaugurated in the beginning of the 90s. This was minimally invasive anterior interbody fusion through ablique approach. This is now called the OLIF approach, and also is the standard approach worldwide. And I also was involved in the big evolvement of thoracic and lumbar dis- arthroplastic artificial disc technology, which also has become the big standard among spine surgeons around the world.
Looking at the non-medical achievements, I am really proud that now after my retirement, I have left a hospital which is really successful. Schön Klinik München Harlaching is one of the most famous orthopedics hospital, not only in Germany, but also in Europe. And in the last year, we had been elected to belong to the top 100 orthopedics hospital in the world by the Newsweek paper. And we have a lot of surgeons there who are highly ranked in their specialty fields. This makes me really proud because when I think back how it was 23 years ago when we started it, and look at the hospital now. I think we really have achieved a lot.
Q10: What advice would you give to someone hoping to start a career in spinal surgery?
I, of course, I can give several advice. I mean, the general advice at the beginning is you have to work hard to really become a good spine specialist. And you need to collect knowledge from different disciplines. For example, spine surgery, you need orthopedic knowledge, you need neurosurgical knowledge, and you also need traumatological knowledge and maybe also a little bit pathology knowledge. And this is what I did, because I've got more certified in orthopedic surgery and in neurosurgery, because I tried to take the best of the two worlds, and also trauma surgery to really be able to oversee and also to be able to practice a broad spectrum of spine search.
The advantage that spine surgery is a very young specialty is that there's a wide field for research, a wild field for surgical innovations. And even though it has become more difficult nowadays to do research, especially clinical research, or develop new techniques. This is a great challenge and great opportunity for young surgeons who choose Spine. At last, if you look at the development of Spine surgery, we are just about to shift the whole spectrum of spine surgery towards minimally invasive techniques, on the one hand. And also other techniques such as computer assisted navigation, or a robotic assisted surgeries, they enter spine surgery very quickly, and here's a big chance for young people who choose this specialty for the rest of their life to contribute. On the one hand, to learn. And to get fascinated about what spine surgery can offer to them and to their patients, of course.
Q11: What would you have been if you had not been a medical doctor?
That's a good question because looking back at my career, honestly speaking, it's hard to imagine that I would have done something different. Of course when you're young, you have certain dreams. My dream was always to become a professional football player, but you know life is not always as you wish it should be. So honestly speaking, looking back, I think medicine was the right decision for me as a person for my life and for the whole career.I would not have the intention to be anything else, but a medical doctor.
Q12: What are your interests and hobbies outside medicine?
If I look back, the only disadvantage of such a career as mine is that you don't have a lot of time for your hobbies and for other things besides medicine. So this is something I've always missed in my career. And I am really happy now that I'm retired, that I have more time for this, more time for the family, more time for our newly-born grandson, more time for sports, because I was always deep in sports. When I was a young student, I did a lot of sports. I was playing football, I was running... Now at the age of 67 I really started again doing a lot of sport, I even love to do a triathlon such as IRONMAN races, this takes quite a lot of time but it makes fun. And of course travelling is also something which takes time, even so I've travelled a lot during my career, I still like travelling or spending time in other countries or in other places. So in the end, I am really happy that I now have the time to do all this, and life really makes fun and it's not at all boring.