On November 13, a grand academic global live conference "The Sino-European Dialogue - Focus on Hot Topics of Graves' orbitopathy and Meet with EUGOGO Experts" was held by Shunde Hospital of Southern Medical University.
Click on the picture below to watch the replay of the conference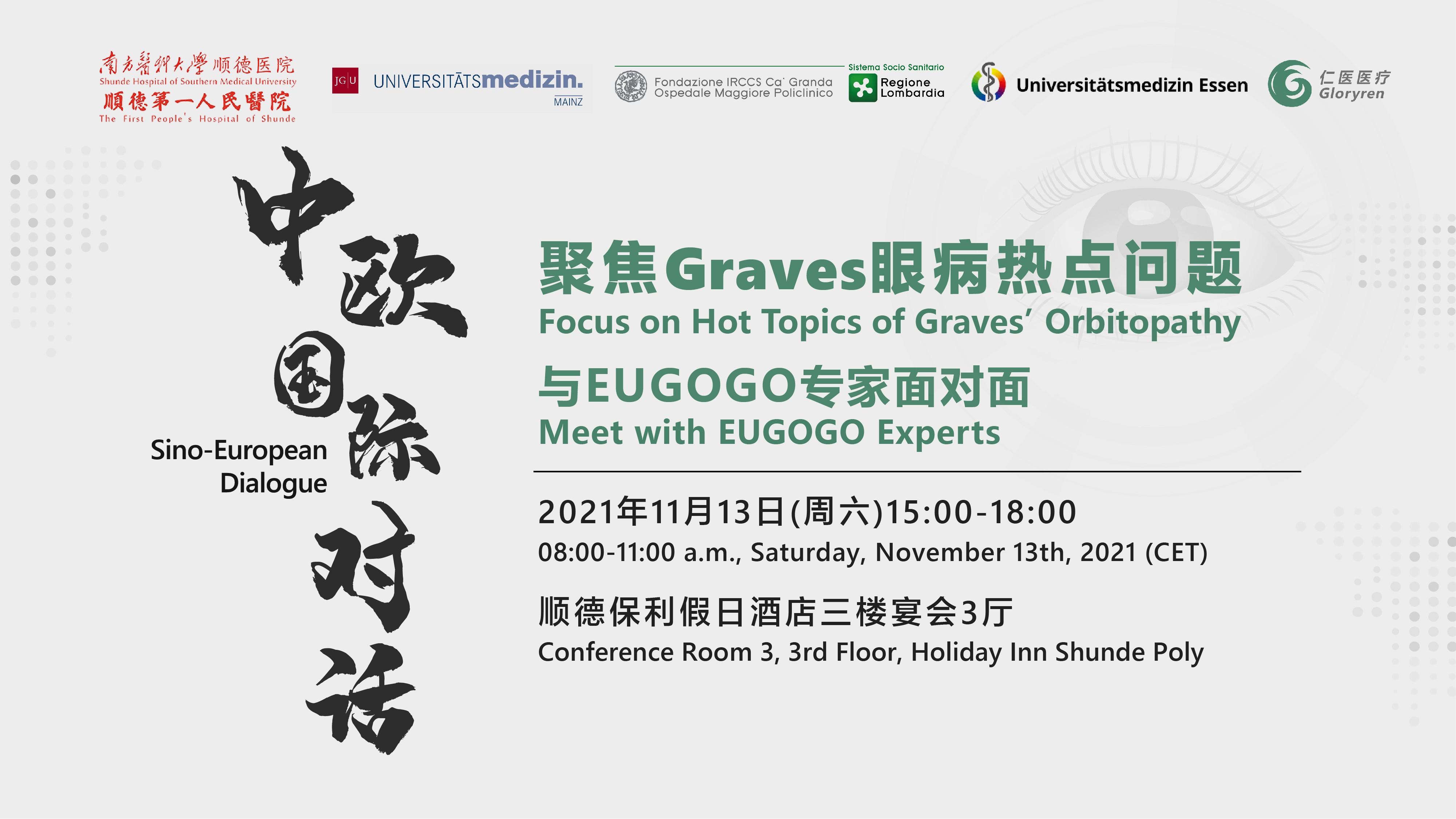 Chinese and European experts in the field of Graves' orbitopathy(GO) gathered for the conference online and offline to discuss the standardized treatment and development of GO. The global live conference was equipped with simultaneous interpretation, attracting a total of nearly 70,000 viewers.
Prof. George J. Kahaly, Chief Physician of the University Thyroid Outpatient Clinic and Director of the Academic ORPHAN Disease Center for Graves' orbitopathy, Johannes Gutenberg University (JGU) Medical Center, delivered a scientific talk with a title of "2021 European Guidelines for the Management of Graves' Orbitopathy".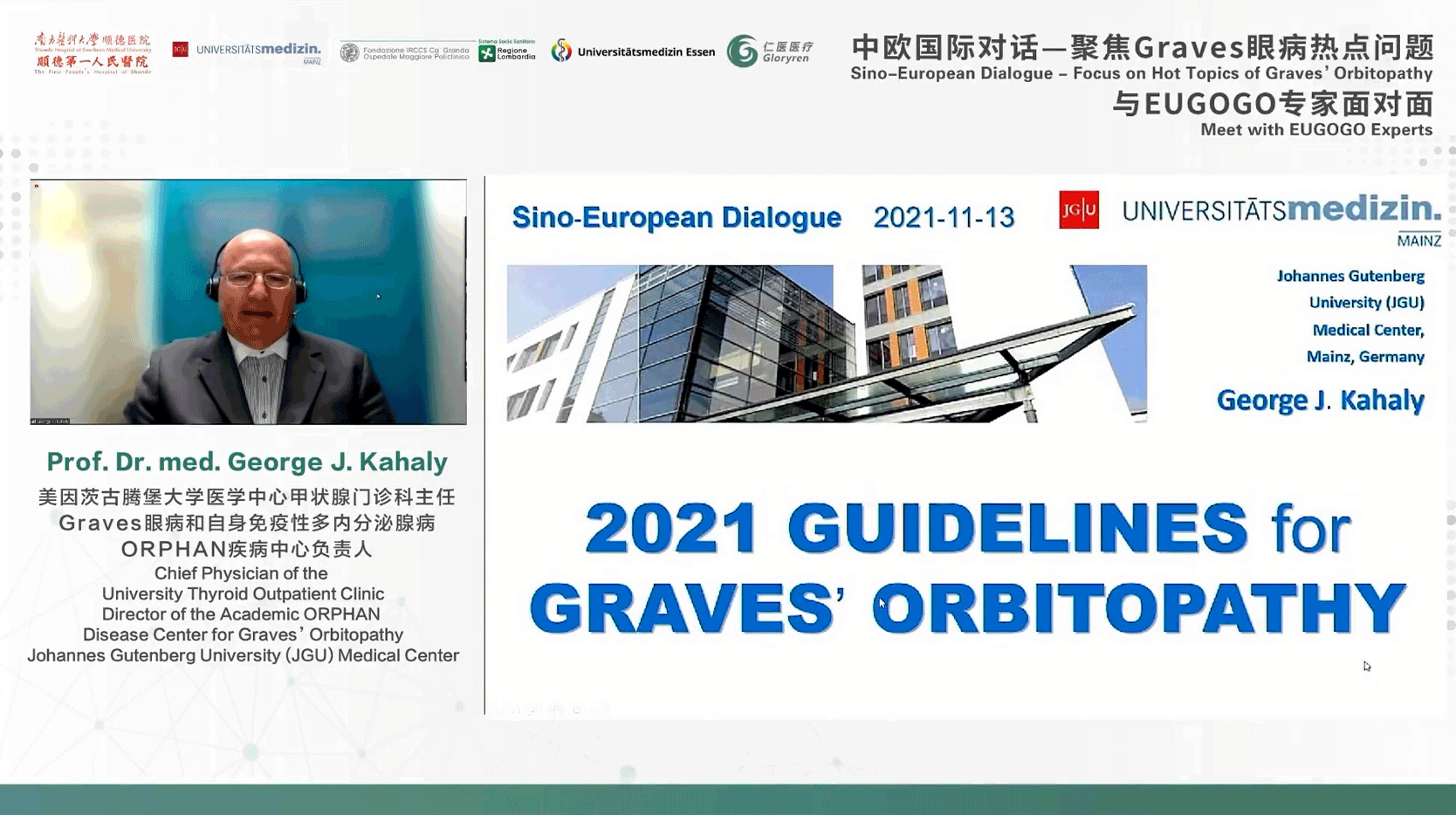 Prof. Kahaly introduced the measures utilized to diagnose proptosis and diplopia, clinical severity of GO, general recommendations for first- and second-line treatment options for different degrees of GO and so on. He noted that Mycophenolate has a very beneficial efficacy and morbidity ratio, and it plays a major role in the first-line treatment for moderate-to-severe and active GO together with a moderate dose of intravenous Methylprednisolone. Prof. Kahaly also shared some latest research results of drug treatments (Teprotumumab, Rituximab, Tocilizumab, etc) for GO in recent years, providing guidance for standardized treatment of GO and the drug use in the second-line treatment.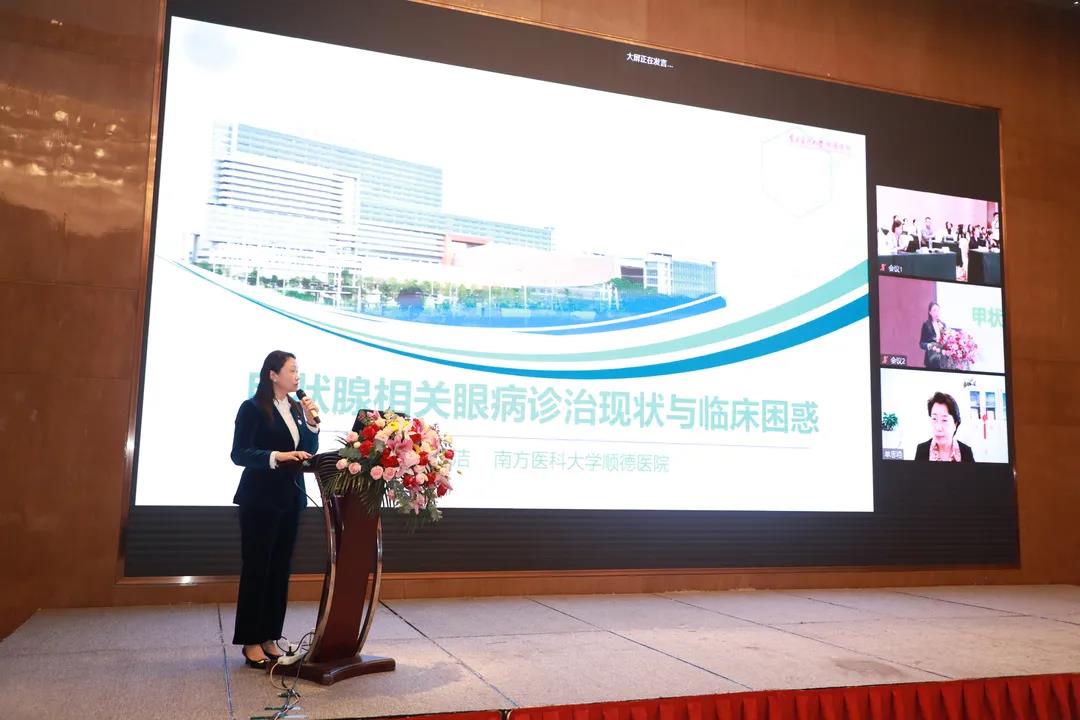 Prof. Shen Jie is the Medical Director of Shunde Hospital of Southern Medical University. During her speech, she noted that GO treatment with glucocorticoids has a relatively poor efficiency; and possible reasons such as GO duration, limited accuracy of assessment and steroid-resistance and poor response may contribute to the difficulty in treating GO. She said there is an urgent need for a more objective and accurate way to assess the disease, and biomarkers and imaging features will effectively improve the accuracy of clinical assessment. Prof. Shen also proposed to consider the genetic factors when treating patients with GO, and Whole Exome Sequencing (WES) may indicate a new idea of treating GO.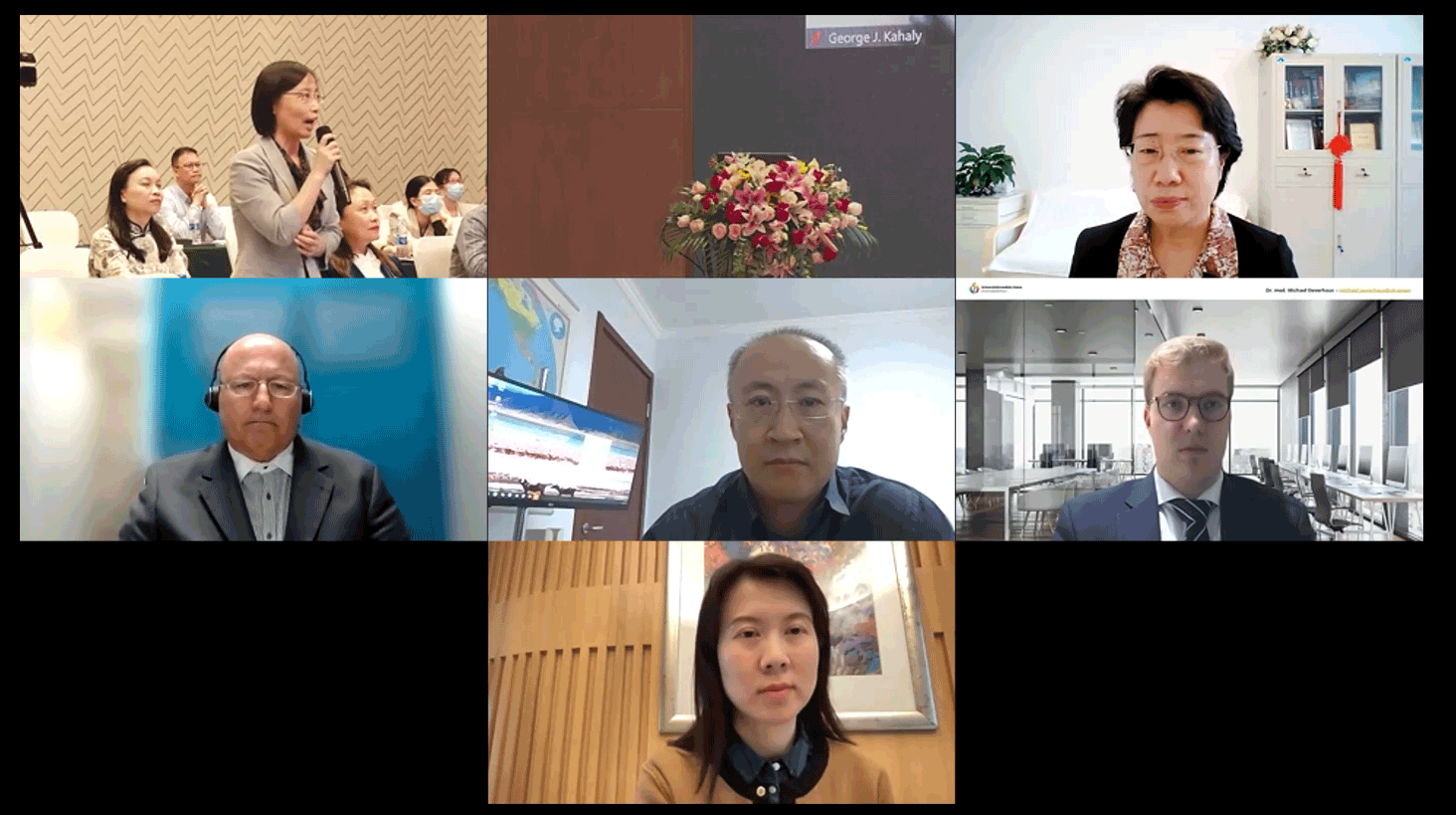 During the discussion session, Prof. Guan Haixia, Deputy Director of Department of Endocrinology, Guangdong Provincial People's Hospital, and Prof. Shan Zhongyan, Director of Department of Endocrinology, the First Hospital of China Medical University, discussed with Prof. Kahaly about the use of glucocorticoids in the second-line treatment for GO, and the application of Teprotumumab and Rituximab.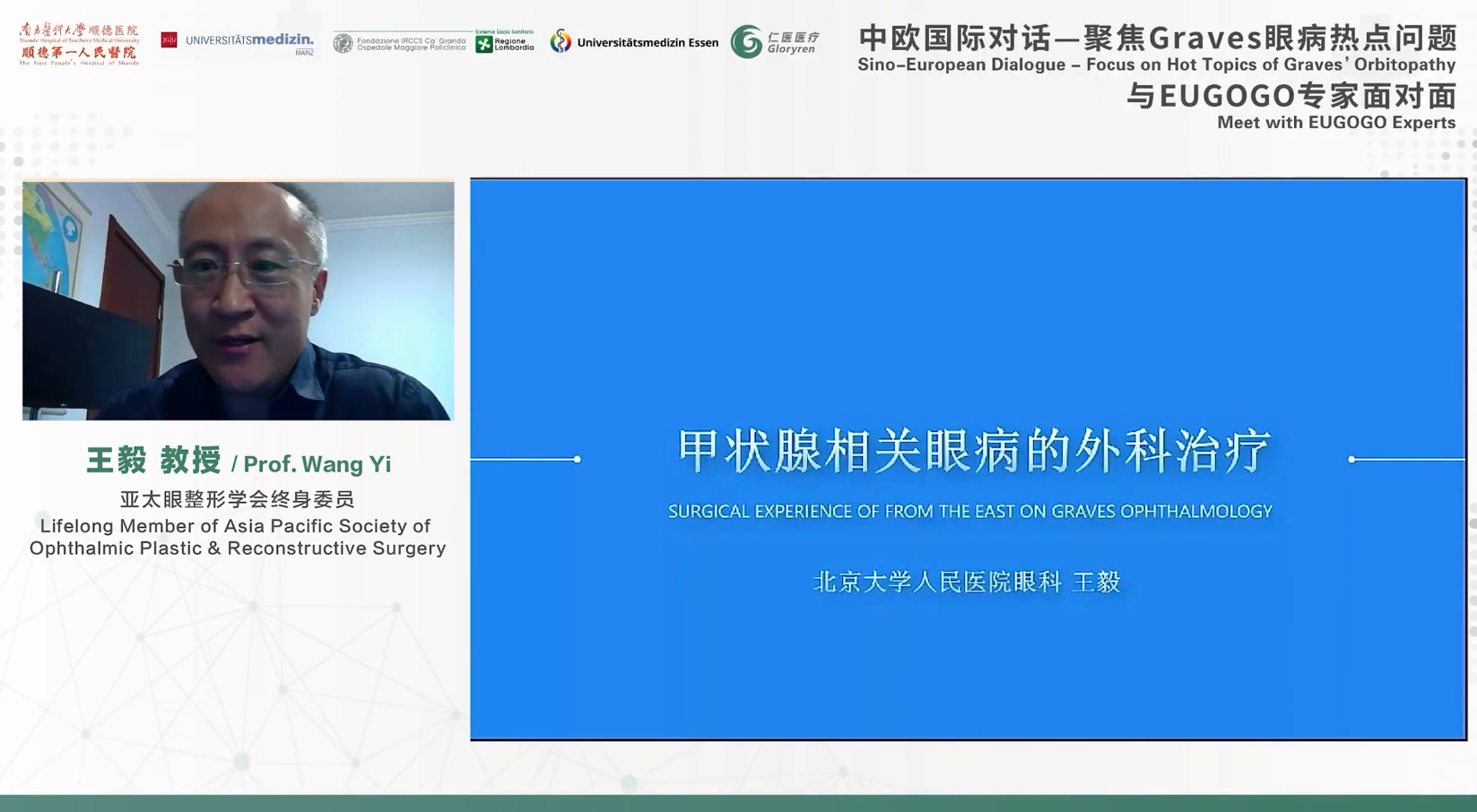 Prof. Wang Yi, Deputy Chief Physician of Department of Ophthalmology, Peking University People's Hospital, a Lifelong Member of Asia Pacific Society of Ophthalmic Plastic & Reconstructive Surgery, shared his surgical experience on GO from three points: very severe thyroid eye disease(TED), mild to moderate TED for the improvement in cosmetic appearance, and personal experience in the surgical correction of eyelid retraction. For patients with very severe TED, orbital full decompression surgery combined with eyelid lengthening surgery, if necessary, will be a favorable surgical option; for patients with mild to moderate TED who require the improvement in cosmetic appearance, an individualized surgical plan with minimally invasive surgical incisions and multiple stages for complete repair is recommended. Eyelid lengthening with scleral graft is easy to perform and a good surgical result is predictable, which makes it a good choice for correcting eyelid retraction. Severe lower lid retraction and entropion can cause irritation of the eye. To solve this problem, orbital decompression can be done in combination with the correction of lower lid retraction.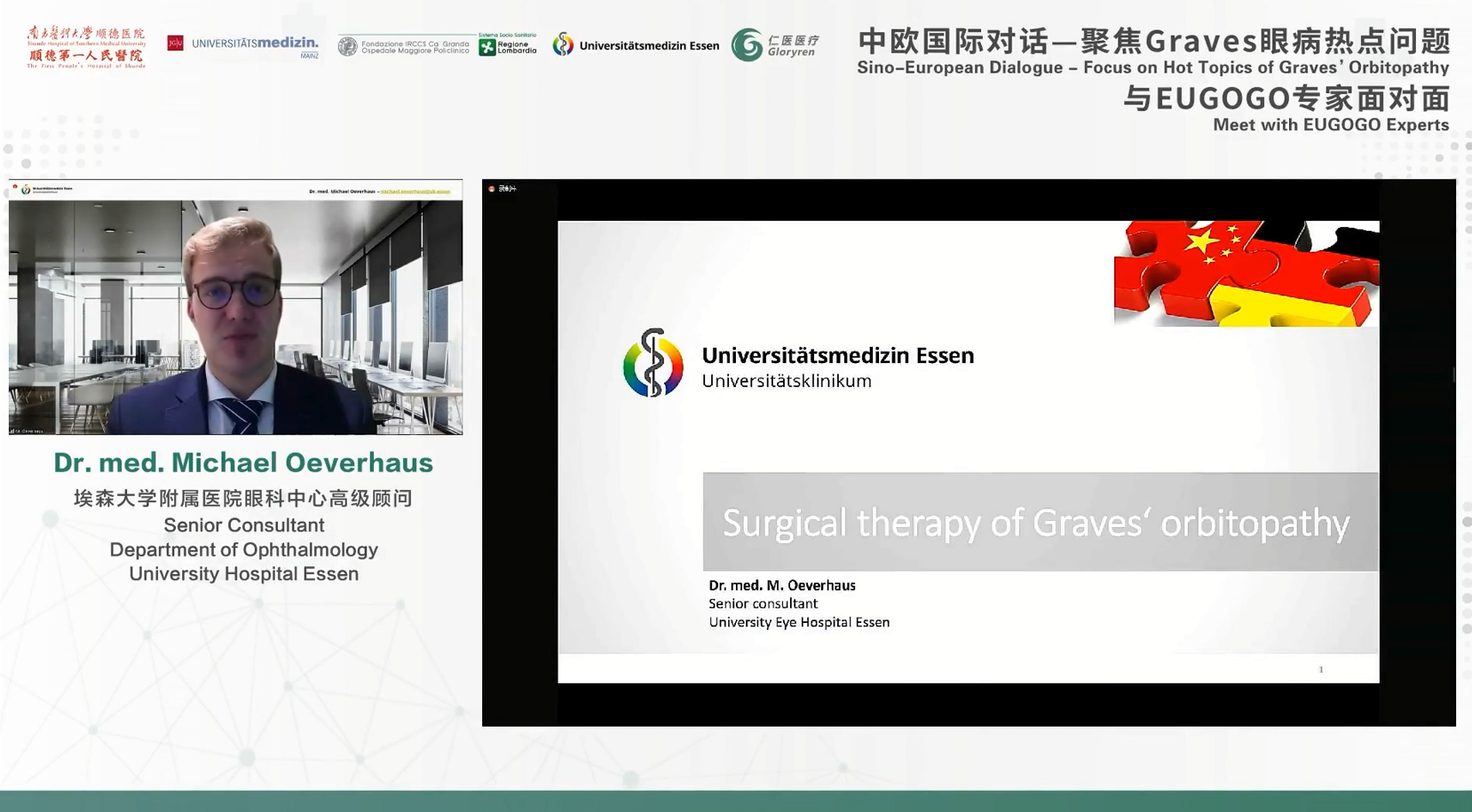 Dr. Oeverhaus, Senior Consultant of Department of Ophthalmology, University Hospital Essen, delivered a talk about surgical therapy of Graves' orbitopathy. For patients who do not achieve good outcomes with medication, surgeries can be performed after six months when the patient's situation is stable. For patients with different kinds of symptoms, surgeries such as orbital decompression, eye muscle surgery and lid surgery could be performed to regain the normal functions of patient's eyes. Dr. Oeverhaus also introduced his study on the long-term efficacy of tendon elongation with bovine pericardium (Tutopatch®) in patients with severe esotropia after decompression in GO, and concluded that treatment of GO is no sprint but a marathon.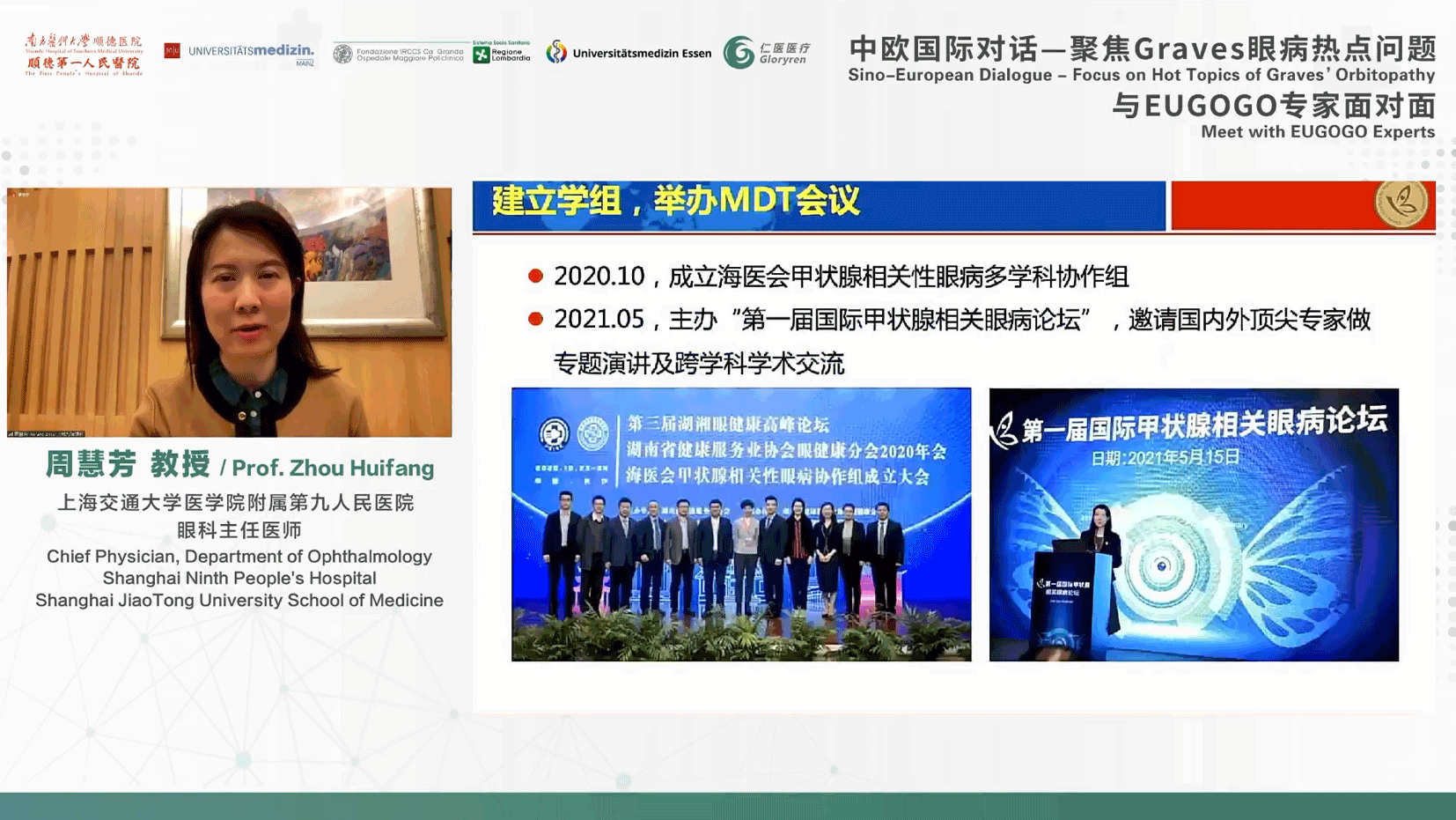 Prof. Zhou Huifang, Chief Physician of Department of Ophthalmology, Shanghai Ninth People's Hospital, Shanghai JiaoTong University School of Medicine, introduced the multi-disciplinary treatment(MDT) mode of Thyroid Associated Ophthalmopathy(TAO) in their hospital. The MDT team will design an overall treatment plan for patients with refractory GO, ensuring a better treatment outcome. The main responsibilities of the MDT center for TAO include managing multidisciplinary joint TAO diagnosis and treatment clinics, carrying out multi-center RCT study on surgical treatment, drug and radiotherapy, constructing a standardized case sample database for TAO patients, starting in-depth exploration and research on pathogenesis and conducting research on precise orbital surgeries, such as robotic surgery and AI-assisted surgery.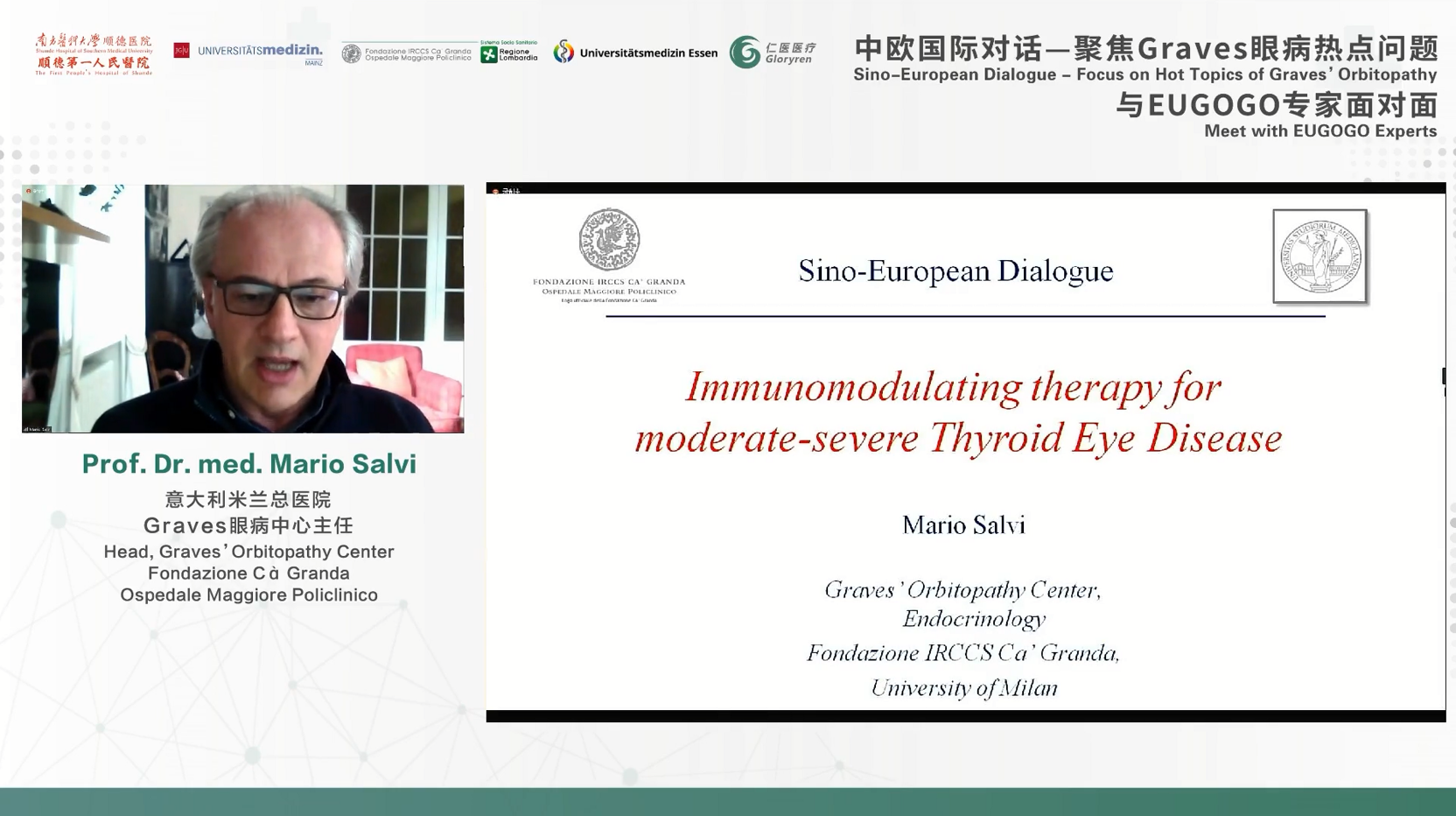 In the end, Prof. Mario Salvi, Head of Graves' orbitopathy Center, Fondazione IRCCS Ca' Granda, University of Milan, delivered a talk about immunomodualting therapy for moderate-severe Thyroid Eye Disease. The clinical efficacy and safety of immunomodulatory therapy in TED by using Methylprednisolone, Rituximab, Teprotumumab and Tocilizumab were introduced during his speech.
The conference was broadcast live worldwide with simultaneous interpretation in English and Chinese. During the discussion sessions, experts from China and Europe actively exchanged their ideas about the diagnosis and treatment of GO, which attracted thousands of audiences from all over the world to watch online. It has a profound meaning for promoting the system of tiered diagnosis and treatment and MDT for GO. Audiences benefited a lot from this fruitful conference. The Sino-European Dialogue - Focus on Hot Topics of Graves' orbitopathy and Meet with EUGOGO Experts came to a perfect conclusion.