Sino-European Dialogue - Focus on Hot Topics of Graves' orbitopathy
08:00 - 11:00 a.m., Saturday, November 13th, 2021 (CET)
Please click the picture to watch the live stream
(double track simultaneous interpretation provided)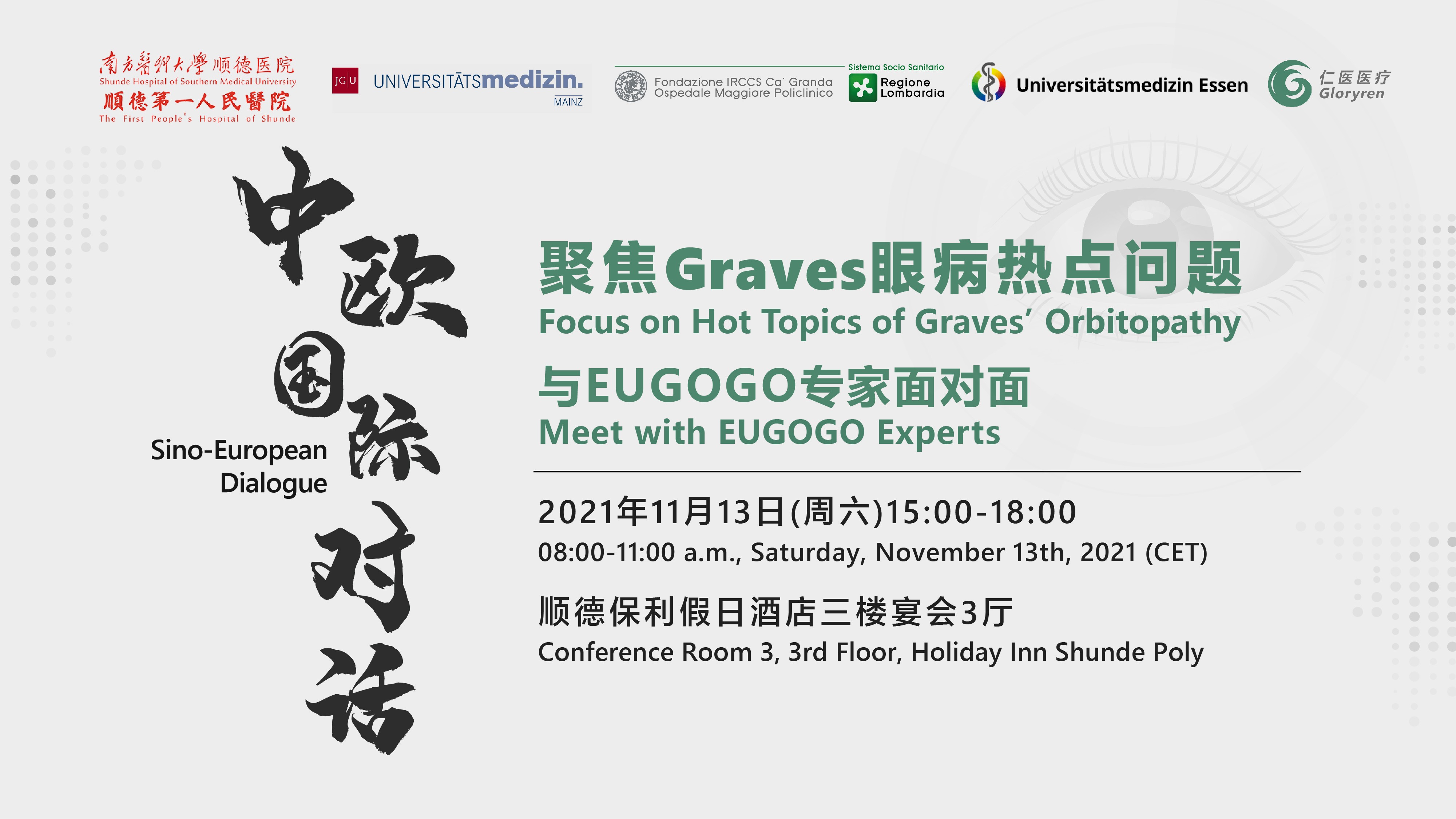 On November 13, 08:00 - 11:00 a.m., CET, Sino-European Dialogue - Focus on Hot Topics of Graves' orbitopathy will be held by Shunde Hospital of Southern Medical University. The global live conference will be equipped with simultaneous interpretation.
Prof. Shen Jie, the Chairperson of the conference, Medical Director of Shunde Hospital of Southern Medical University, has specially invited Prof. George J. Kahaly, Chief Physician of the University Thyroid Outpatient Clinic and Director of the Academic ORPHAN Disease Center for Graves' orbitopathy, Johannes Gutenberg University (JGU) Medical Center, Treasurer and Principle Officer of the Executive Committee of the European Group on Graves' orbitopathy (EUGOGO) to the conference. Prof. Shen jie called him "the giant among giants". Prof. George J. Kahaly is also one of the authors of the 2021 European Guidelines for the Management of Graves' Orbitopathy.
Prof. Shen Jie also is honored to invite other two international speakers Prof. Mario Salvi, Head of Graves' Orbitopathy Center of Fondazione Cà Granda, Ospedale Maggiore Policlinico, Guidelines Leader of EUGOGO(2021), and Dr. Michael Oeverhaus, Senior Consultant of Department of Ophthalmology of University Hospital Essen to share the latest treatment protocols for Graves' orbitopathy in Europe.
Conference Introduction
Agenda