The first phase of Guangzhou International Health Station Complex has finished, which will be put into operation soon.
Below is the report from New Huacheng section,Guangzhou Daily.
Currently the Covid-19 is still a challenge worldwide. As the front-line of Chinese reform and opening up, Guangzhou serves for busy international exchange and business so that it is greatly stressed by prevention and control of imported cases.
To prevent imported cases infection, to strengthen the prevention and control of the pandemic, and to safeguard the southern part of China, Guangzhou initiated the International Health Station mode to fully promote safety of concentrated quarantine facility from layouts, management and technologies.
Location: Zhongluotan, Baiyun district, away from densely populated area
Numerous experts in nosocomial infection, diseases control and psychology got involved at the very beginning of the project and gave whole-process advice.
As for location, based on the concept of close-looped management, and considering factors such the climate and geographical wind direction, the station is located in Maliju, Zhongluotan, Baiyun district, which is away from densely populated area and pollution. It only takes 30 to 40 minutes to downtown, the Eighth People's Hospital ( specialized hospital for infectious diseases) and Baiyun International airport in convenience for transporting people and supplies.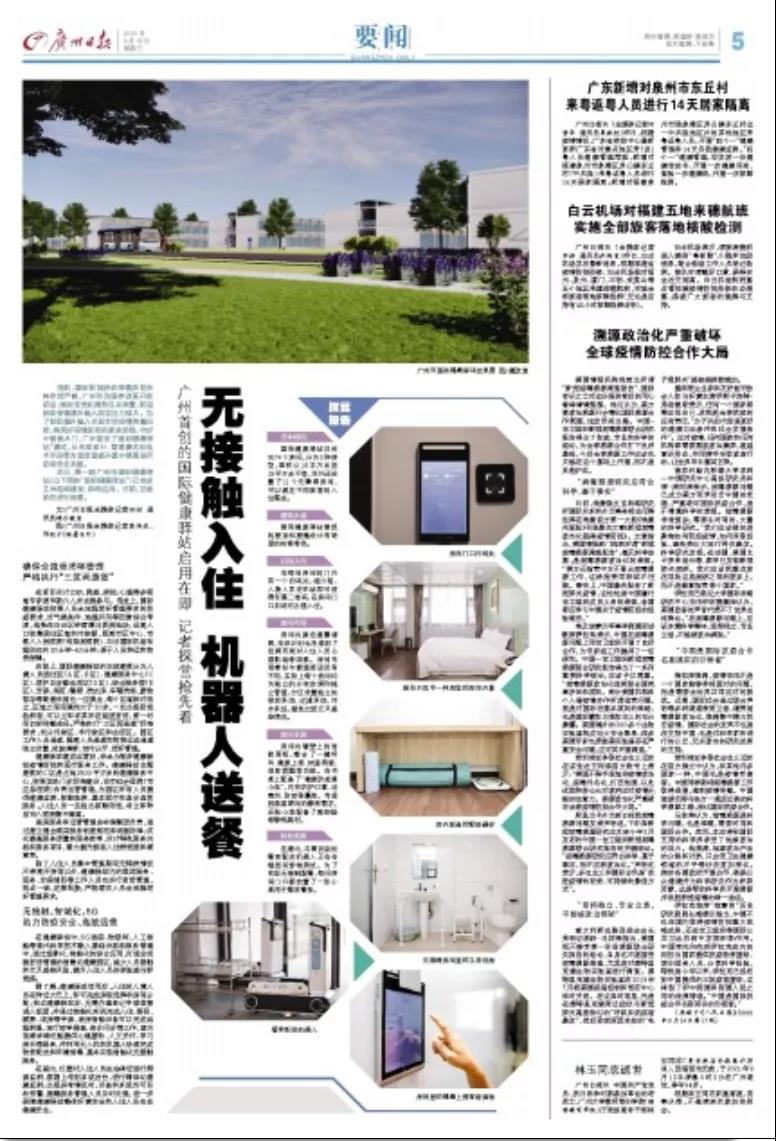 As for the layout, the main structures of the station are divided into international traveller residential area (Zone A, Zone B), health service center (Zone C) , residential area for medical professional and logistic personnel (Zone D), integrated service building (Zone E) and are well equipped with the security, fire control, catering, laundry rooms, car washing and disinfection, garbage restoration.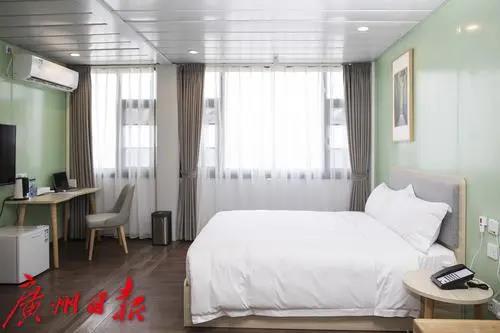 Each zone is respectively independent. They are away from each other over 20 meters so that it can be immediately closed and cut off transmission route if positive cases tested.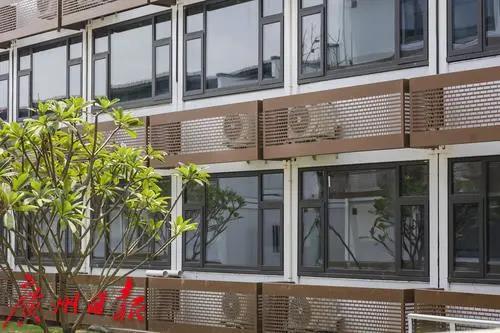 Three zones - polluted zone, half-polluted zone and residential zone will be strictly divided by two special channels in the station. The channels resepectively for the staff, for the international travelers and for the supplies will be set independently for clear divination, pollution separation and close-looped management.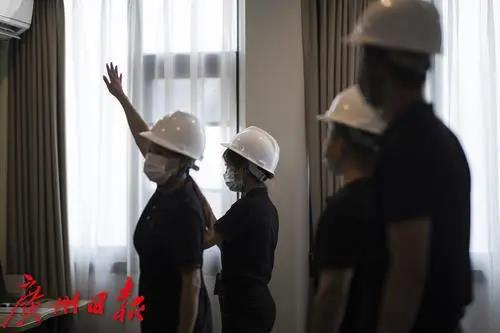 Management: The international travelers and the staff are all under close-looped management
The station will contribute to the control and prevention of Covid-19 and ofefr medical service during its operation.
Zone C of the main structure is a health service center covering an area of 2,500 square meters. It is built up based on the standard of fever clinic and operated by Guangzhou Red Cross Hospital( Guangzhou Emergency Hospital) , providing health monitoring, nucleic acid tests, basic medical services and emergency for the residents of the station. Once tested positive, the patient will be sent to the Eighth People's Hospital for quarantine.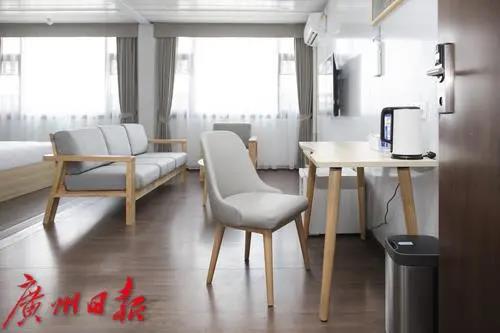 While room service and operation are undertaken by Lingnan Group,which strives to improve visitors' experience by establishing a mature hotel system of service and procedure, optimizing quality and efficiency of service and designing characteristic service content and programs.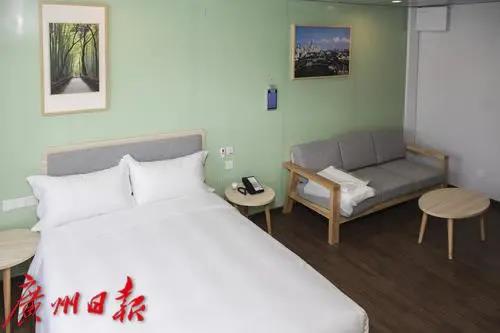 The international travelers are not allowed to leave the room during quarantine except for special situations. The staff of room services, medical services, security and fire control are also under strict closed-loop management and rotate regularly.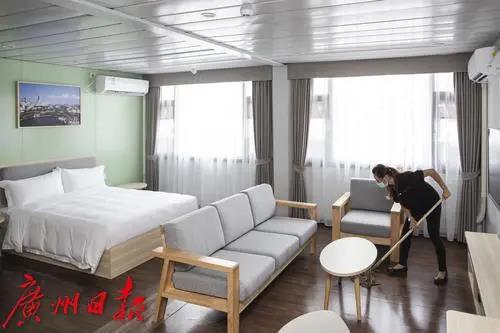 Operation: Intelligent non-contact services, elaborated health monitoring
5G communication, internet of things and artificial intelligence are put into infrastructure and services management in the station. The application of the intelligent technologies makes a intelligent health community under close-loop management, which lowers the risk of physical contact and cross infection and promotes the experience and satisfaction of the residents.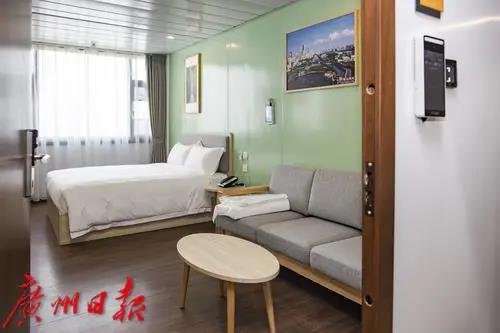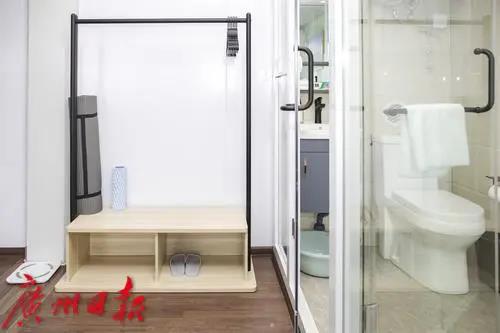 It is learned that, the international travelers can select their room when they are in shuttle bus. Upon arrival, they can enter into the designated zone without check-in procedure because procedures like check-in, sign in, payment, check-out can be done via intelligent system.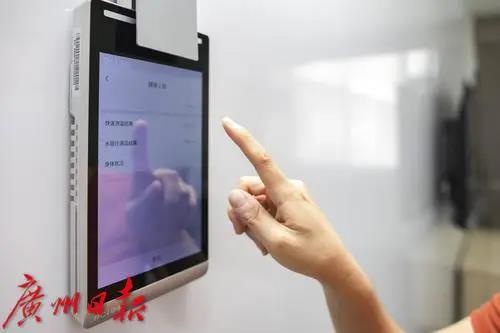 The built-in intelligent devices support works of remote temperature measurement, epidemiological study, consultation, and the built-in video terminals support services like psychological aid, humane care, study and entertainment. The delivery, distribution and disinfection of the supplies will be done by drones and robots, offering intelligent non-contact service.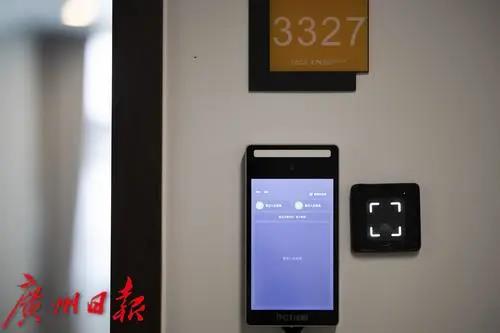 Reporters on spot: What does the station look like
Before its opening, reporters from Newhuacheng section, Guangzhou Daily visited Guangzhou International Health Station.
The station offers 5 different types of room, each room covering an area from 18 to 39 square meters differently. There are a total of 5,074 rooms in facility, among which contains 11 barrier-free rooms for different visitors.
Take a look on the appearance, the roof and eave of the station is characterized with Lingnan features.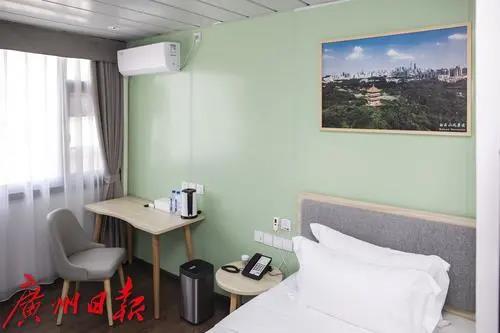 That reporters saw in A1 zone, in the hallway,that the staff were busy at cleaning and the meal delivery robots hooked with a shelf was being tested to go from floor to floor.
To make non-contact meal delivery, a small desk is placed in front of every room to place meal, and there's a code outside every room. It is introduced that each international traveler receives his/her own QR code when they are in the airport so they can scan the code for check-in just outside the room.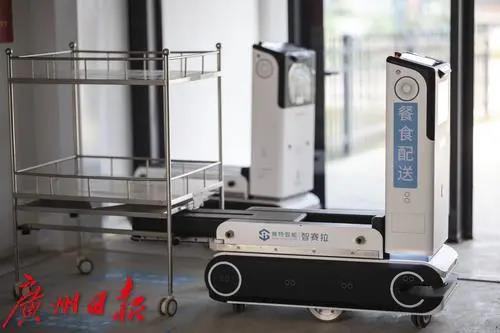 The rooms are colored warm and fresh, considering that the layout and color affects residents' mental situation. It seems that the layout of the rooms share no difference with the normal hotels, but actually each room owns independent split air conditioner and tube, and each zone owns independent emission system, filtering system and sewer system in case of cross infection.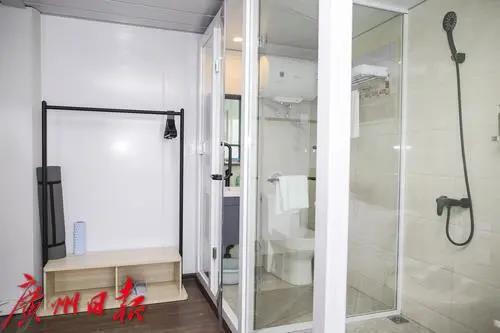 An intelligent panel is placed on the wall for each room, which serves for one-touch calling, health reporting, fast temperature measurement, intercom service and information reminder.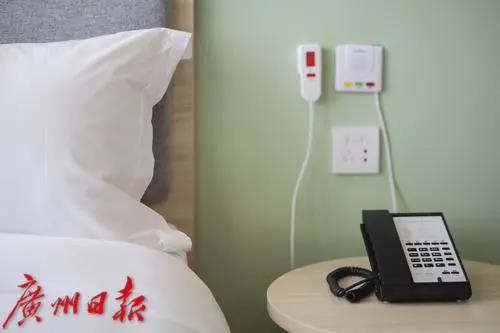 There will be a care package on the desk, which contains masks, disinfectants and pandemic-prevention sachets. Considering the exercise demand of residents during quarantine, Yoga mats and other exercise equipment are also offerred indoors.