The team of Prof. Zhongde Zhang from the State Key Laboratory of Dampness Syndrome of Chinese Medicine, the Second Affiliated Hospital of Guangzhou University of Chinese Medicine, Guangzhou, China, recently published an article in Phytomedicine. The result of their study showed that for patients with severe coronavirus disease, the use of Chinese Herbal Medicine(CHM) granules, Chai-hu-jie-du and Fu-zheng-jiu-fei, reduced the 28-day mortality rate from 21% to 5%.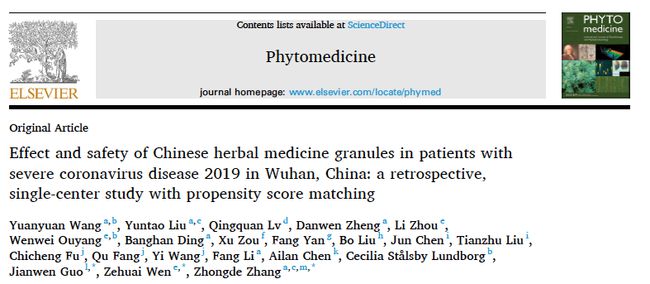 They conducted a retrospective, single-center study with propensity score matching on patients with severe COVID-19 in a designated hospital, Hankou Hospital, Wuhan from January 15, 2020 to March 30, 2020.
No statistical difference was observed in disease improvement or deterioration when compared between the control group and the CHM group. However, the use of CHM granules greatly reduced the 28-day mortality rate in CHM group than in the control group (21% vs 5%). Additionally, on Day 28, compared with the control group, relative risk in the CHM group was 0.222, relative risk reduction (RRR) was 0.775, absolute risk reduction (ARR) was 16.2%.
In addition, the study showed that in CHM group, patients' main symptoms such as fever, cough and dyspnea were relieved after CHM treatment, and the duration of fever was significantly shorter than that of the control group (4 days vs 7 days).
Under the leadership of the Science and Technology Group of the Joint Prevention and Control Mechanism of the State Council and the National Administration of Traditional Chinese Medicine, and under the guidance of experts from the China Academy of Chinese Medical Sciences, Prof. Zhongde Zhang led the Chinese medical team to get deeper into the quarantine wards in Wuhai to investigate the causes of the patients' severe COVID-19 symptoms, and finalized the solution in treating COVID-19 - using two CHM granules, Chai-hu-jie-du and Fu-zheng-jiu-fei. This treatment strategy has been patented in China and is under the protection of Patent Cooperation Treaty (PCT).
The previous studies have shown that CHM could generate a better efficacy in treating patients with mild COVID-19 symptoms, while this study shows the advantages of CHM in treating patients with severe COVID-19, which provides an important reference value for people to fight against the pandemic and improve the survival rate of severe COVID-19 patients.
The study was conducted by the medical team of Guangdong Provincial Hospital of Chinese Medicine in support of Wuhan Hankou Hospital in Hubei Province, and was funded by National Administration of Traditional Chinese Medicine; National Key Research and Development Project of China; Guangdong Provincial Key Laboratory of TCM Research on Emergency; the Zhen's Miscellaneous Diseases School in Lingnan; and Zhang Zhongde's workshop of TCM celebrity doctors in Guangdong province.
This article is forwarded from the official WeChat account中国中医(satcm01).
Click the link below to read the full article.
https://www.sciencedirect.com/science/article/pii/S094471132030235X