At 16:00 pm on July 3rd,Dongguan TCM Hospital together with Dongguan Kanghua Hospital and Dongguan Eighth People's Hospital held a video conference with Dr. Stinus, Chairman of the German Society for Foot and Ankle Surgery (GFFC), to discuss the difficult cases of foot and ankle surgery.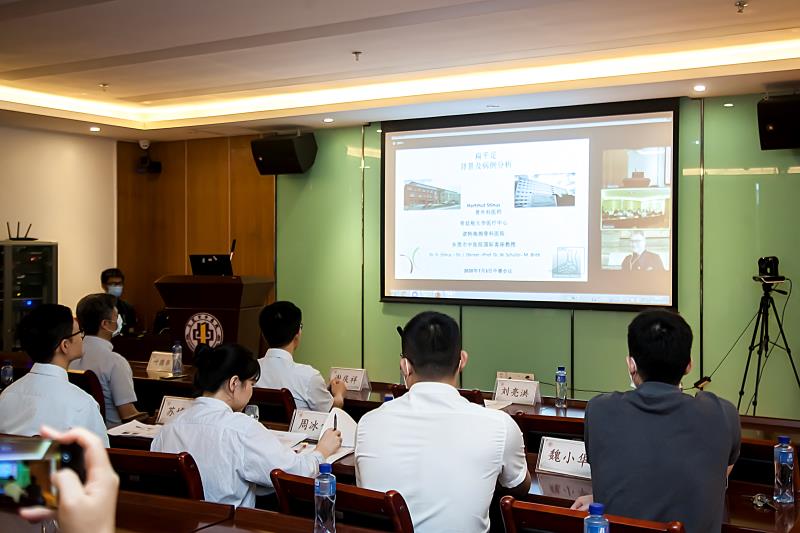 Guohua Ye, Medical Director of Dongguan TCM Hospital, said that Dongguan TCM Hospital attaches importance to strengthening cooperation with international universities and medical institutions. Thus as early as 2019, Sino-German Ankle Exchange Center and Sino-German Spine Exchange Center have been established in Dongguan TCM Hospital.
In June and September last year, Dr. Stinus went to Dongguan TCM Hospital twice for academic exchanges,which brought many new ideas and new techniques about foot and ankle surgery to this hospital.

As an important part of strengthening international communication, Dongguan TCM Hospital also sent Director Qingxiang Xie to University Medical Center Göttingen in Germany for a three-month study and exchange from October to December last year.
Dongguan TCM Hospital and University Medical Center Göttingen, therefore, established a profound friendship.
The video conference is a communication platform for both sides to learn from each other, work together and promote friendship. Dongguan TCM Hospital hopes that it will not only broaden the academic horizons of orthopedic specialists in Dongguan city but also improve the development level of foot and ankle surgery in the city.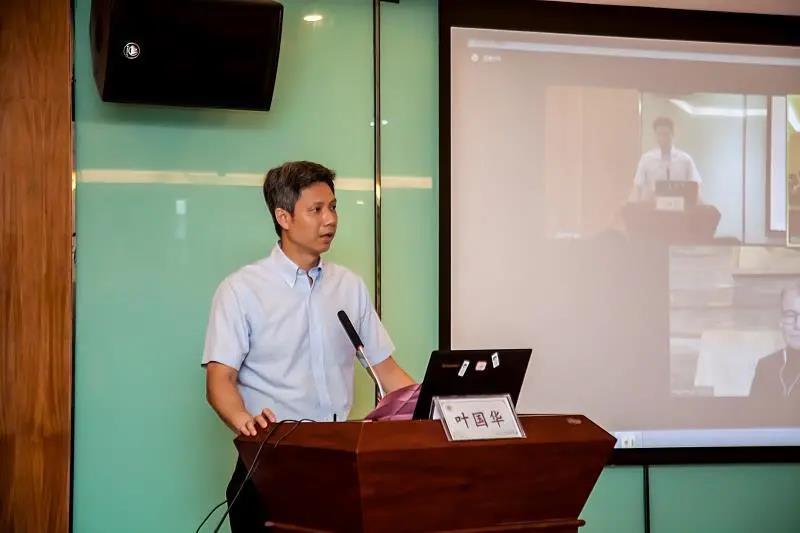 At the conference, Dr. Stinus gave a keynote lecture on Case analysis of flat foot that view from the coronal, sagittal, and horizontal planes. During the lecture Dr. Stinus emphasized the relationship between tibialis tendon and flat feet and introduced the classification of posterior tibial tendon dysfunction (Johnson & Strom 1989), and also analyzed the examination and treatment options at different stages through vivid cases.
Dr. Stinus interpreted the TMT Angle for evaluating valgus deformity via X-rays
Dr. Stinus explains how to perform MDCO and Evans osteotomy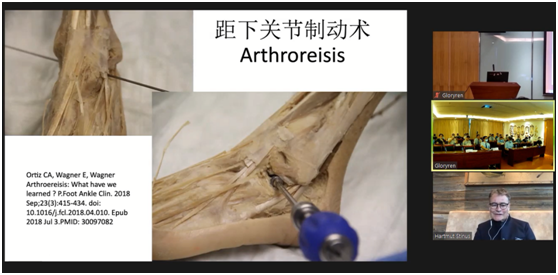 Dr. Stinus explains how to perform Arthroreisis
Dr. Stinus also introduced the key points of using protective equipment and orthotic insole after operations.
Finally,he summarized the treatment of flat feet.
For flexible pes planovalgus, suture Tib.post tendon or FDL- Transfer is usually adopted. From the perspective of osseous operation, MDCO can be used, or it can be combined with Evans osteotomy or Cotton osteotomy. Sometimes a Lapidus osteotomy or Flection osteotomy is also performed. For rigid pes planovalgus, double or triple arthrodesis is performed. If there is osteoarthritis, subtalar arthritis, or subtalar joint instability, triple arthrodesis is recommended. The probability of residual deformity and improper fusion is 10-15%, but there are also cases of gastrocnemius injury in patients. Overall patient satisfaction is as high as 90%.
Director Qingxiang Xie is very grateful to Dr. Stinus for his meticulous preparation for this meeting during his postoperative recuperation. Director Xie also expressed his gratitude to Dr. Stinus for his warm hospitality during his three-month study trip to Germany last year and shared his experience of visiting the orthopedic insole company founded by the professor's family with the audience.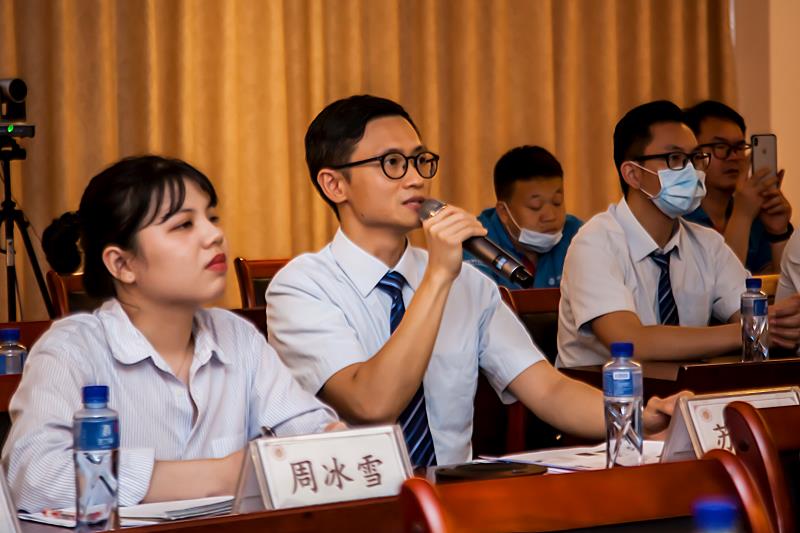 Dr. Boyuan Su from Dongguan TCM Hospital discussed issues related to the subtalar joint brake with Professor Stinus. Dr. Stinus said that in most cases of children, he would remove the brakes in about two years, and there were almost no complications in the children's cases. About 15% of adult cases will have complications such as postoperative pain, and he usually takes out the brake within six months to two years.
Dr. Su also asked the professor for his insights into tendon transposition using osteotomy for forefoot valgus. Dr. Stinus said that patients with forefoot valgus usually have some symptoms of digitus minimus. He usually performs some minimally invasive myotendolysis, combined with some osteotomies, to eliminate arthritis and pain of the fifth metatarsophalangeal joint. In the case of a flat foot combined with a severe hallux valgus, he prefers to use Lapidus osteotomy to stabilize the joint first so that First Ray can be pressed down and the head of the first metatarsal can be better able to withstand the force.
Afterward, Dr. Boyuan Su from Dongguan TCM Hospital shared a case of bilateral hallux valgus with everyone. This case has multiple difficulties. The patient is a 75-year-old female, which is older than the average patient, with mismatched first metatarsophalangeal joints, osteoporosis, metatarsal arthritis with sesamoid rotation, hallux valgus and pronation, and more severe symptoms on the left side. Dr. Su had a heated discussion about the choice of procedure for this case with the attendees.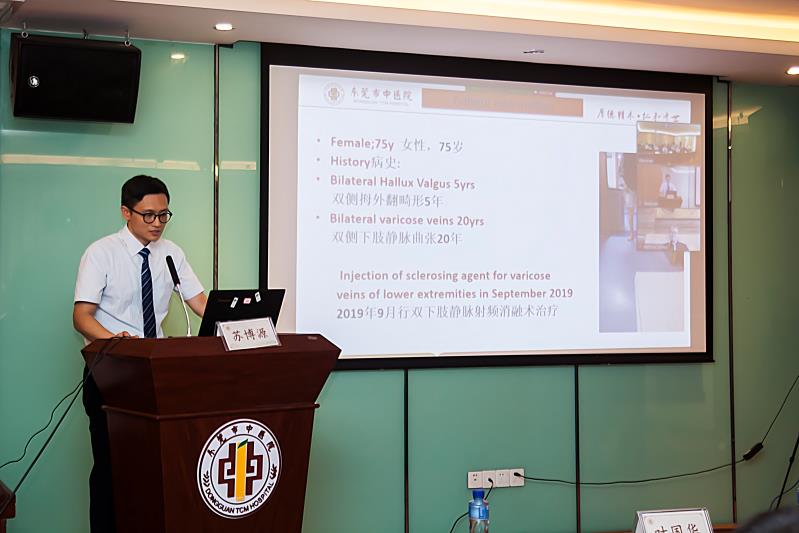 Dr. Stinus was very pleased with the results of Dr. Su's surgery and thought he did a great job. He said that for this patient, he is more inclined to choose Scarf osteotomy and Weil osteotomy. Although the patient had undergone varicose vein surgery on the left ankle leaving skin scabs, it did not affect the surgery, as this surgery was performed on the forefoot. In terms of whether to perform surgery on both sides simultaneously or to complete one side first, the professor recommended completing one side first, as he had experienced performing surgery on both feet of a patient who ended up with a bilateral infection because of the patient's infected toe.
Dr. Su also shared the experience and lessons he had learned from this operation. During the operation, Kirschner wires were used to treat the deformities of the second and third mallet fingers. After the operation, the third toe was observed to be ischemic and turning pale. Then the Kirschner wires of the third toe were removed to restore the normal blood supply of the third toe and instead of using tape to fix the deformity. Because the blood vessels that suffered from long-term contracture may not be able to withstand the corrected tension, there is a risk of ischemic necrosis, so it is very important to closely monitor the blood supply to the ends of the toes.
Dr. Jinchang Zhan from the team of Director Yue Lin of the Hand and Foot Microsurgery Department of Dongguan Kanghua Hospital shared a lecture titled Treating Diabetic Foot with Minimally Invasive Transverse Bone Transport Technique: a 2-Case-Report. Dr. Stinus was very grateful for the wonderful and impressive cases shared by Director Lin's team and he saw excellent results in both cases.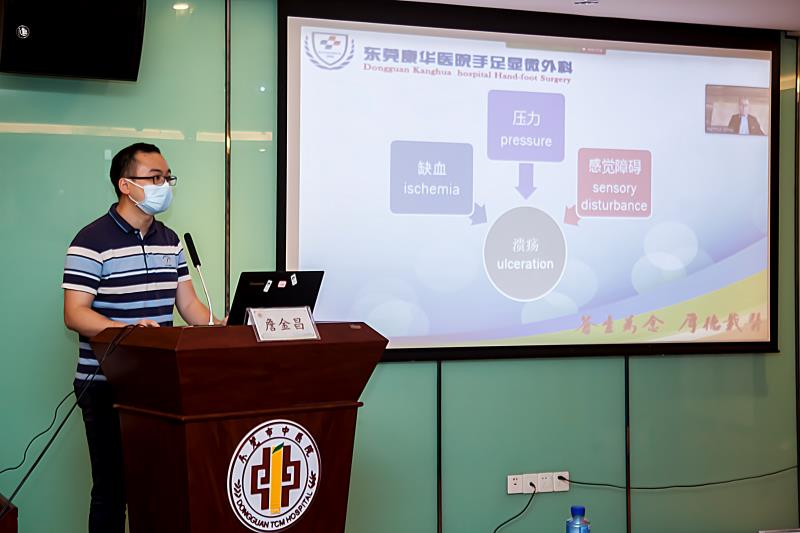 At the conference, Dr. Su also discussed with Dr. Zhan of the sequence and appropriate timing of debridement and doing external fixation braces, as well as the skin tension issues when performing bone transport.
Dr. Xiaohua Wei, Deputy Director of the Dongguan Eighth People's Hospital, shared a lecture entitledHeterotopic Ossification after Syndesmosis Screw Fixation : Case Report. The case shared by Dr. Wei was rare, thus the orthopedic colleagues on the scene launched a heated discussion on it.
At the end of the meeting, Director Xie was very grateful to Dr. Stinus for participating in this video conference and making a wonderful speech during his postoperative recuperation. Although we are thousands of miles apart, we feel the same as if Dr. Stinus came to Dongguan TCM Hospital as a visiting professor last year.
Dr. Stinus thanked the Dongguan TCM Hospital for providing an opportunity for him to meet with all the doctors online. And he hoped that the COVID-19 will wane as soon as possible, and he looks forward to visit Dongguan TCM Hospital in September and December to have face-to-face communication with the doctors and specialists.