On June 19, 2020, the Lingnan-Xinqiao Spine Minimally Invasive Summit Forum and the Second Sino-German International Spine Summit was broadcasted live online. The Summit, which co-founded under the direction of Professor Yue Zhou at Xinqiao Hospital of AMU and with the team of Professor Chen Bolai at Guangdong Provincial Hospital of Chinese Medicine, focuses on the latest advances in full endoscopic spine surgery, endoscopic fusion techniques and other cutting-edge technology. The summit also features a special invitation to Prof. Dr. med. Heinz-Michael Mayer, Founding President of the German Spine Society and Former President of the European Spine Society, and Prof. Dr. med. Christoph J. Siepe, Head of Spinal Surgery, Halarching Orthopaedic Hospital, Munich.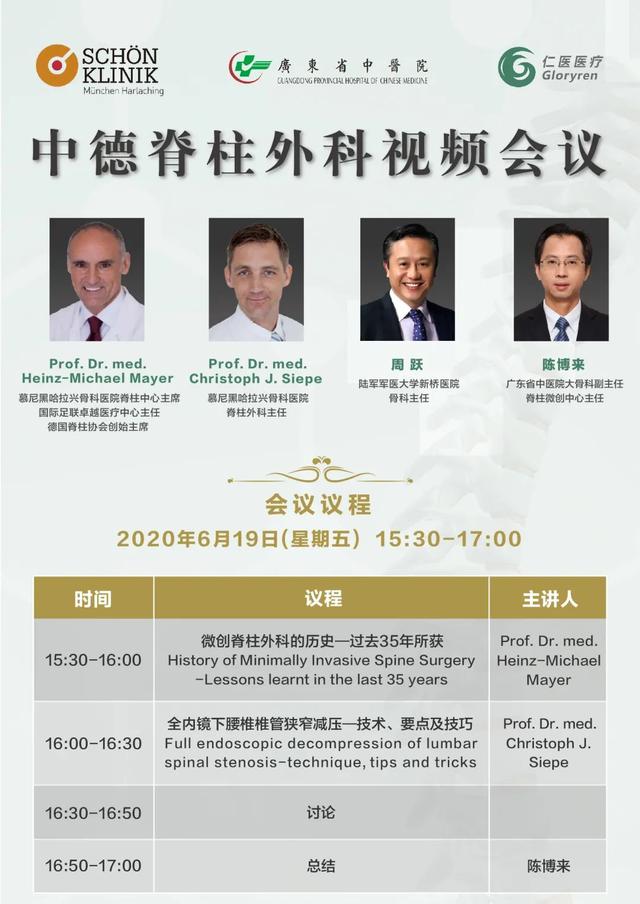 Via online screen-sharing , Prof. Mayer presented a keynote lecture on the history of minimally invasive spine surgery, and shared some of his 35 years of medical experience.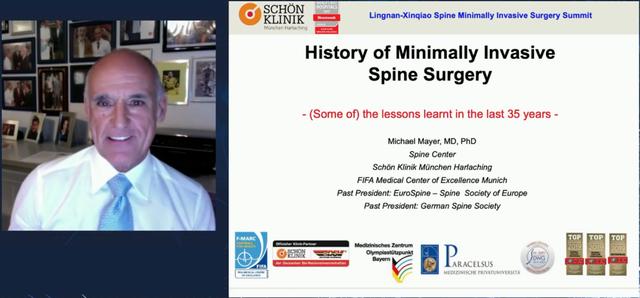 When Prof. Mayer graduated from medical school in 1982, young doctors preferred operating joint and trauma surgeries than spine surgeries because spine surgeries were simple and few in variety, only including open discectomy, decompressive laminectomy, fusion through posterior approach, etc.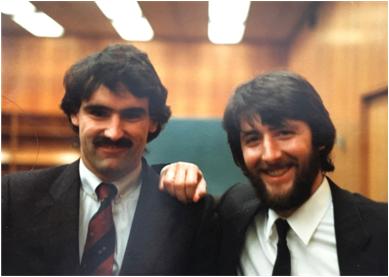 In 1983, Prof. Mayer performed his first spine surgery and realized that there was something wrong with this type of surgery: the surgical incision is large, but the nidus is small.
From 1982 to 1985, spine surgery was very traumatic and the curative effect was inferior so that there was much room for further research and improvement, and there were few spine specialists.
A History of Minimally Invasive Spine Techniques
The first minimally invasive disc surgery dates back to 1977 when MG Yasargil, at the University of Zurich in Switzerland, performed the first microscopic discectomy, and in the same year W Caspar performed a microscopic discectomy and invented the renowned Caspar retractor.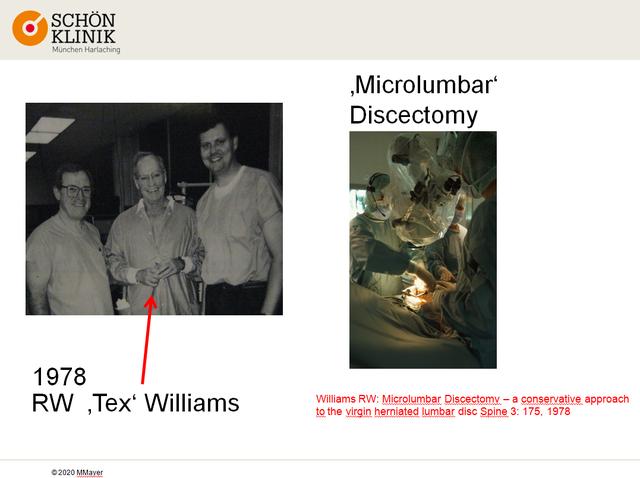 In 1978, Professor Williams invented a technique named microscopic lumbar discectomy (MLD).Professor Mayer was training in Europe at the time, and since then, MLD surgery has become a routine procedure.
After practising microscopic and minimally invasive surgery for one year, Prof. Mayer came to realized that the operations of microsurgery and minimally invasive surgery were very important teaching tools, and they allow young doctors to learn more about surgical standards, such as preoperative planning, choice of surgical approaches, and deeper understanding of anatomy; another is that microscopic and minimally invasive surgery reduces the associated soft tissue injuries.
The Birth of Neucleolysis
In 1963 Smith first reported the use of injecting chymopapain into lumbar intervertebral discs to treat herniated discs. This technique was very popular and quite effective in the 1980s.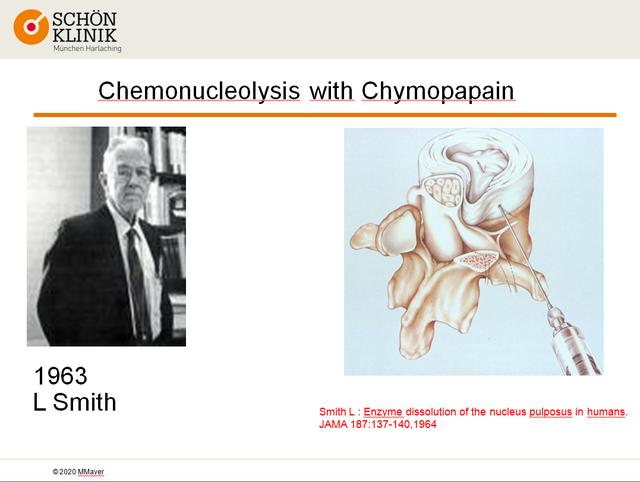 In 1985, chemonucleolysis was introduced to Prof. Mayer's hospital. In the 1980s, the hospital made a 10-year return visit on chemonucleolysis and found that the overall results were statistically good, with a 66%-82% success rate and a moderate complication rate; however, allergic reactions was a bit high (1.2%). Since some serious complications occurred from time to time, the wide application of the operation was limited. Also doctors thought this kind of simple operation is too boring.
Development of Minimally Invasive Spine Surgery
In 1975, Prof. Hijikata published percutaneous nucleotomy.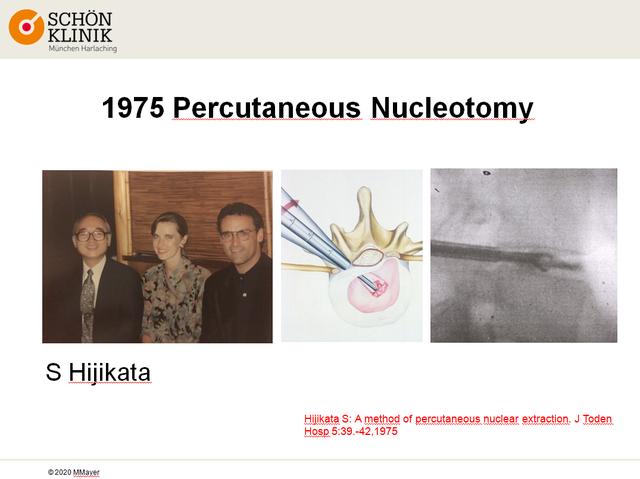 In 1987-1993, Kambin and Leu first published endoscopic and arthroscopic discectomy.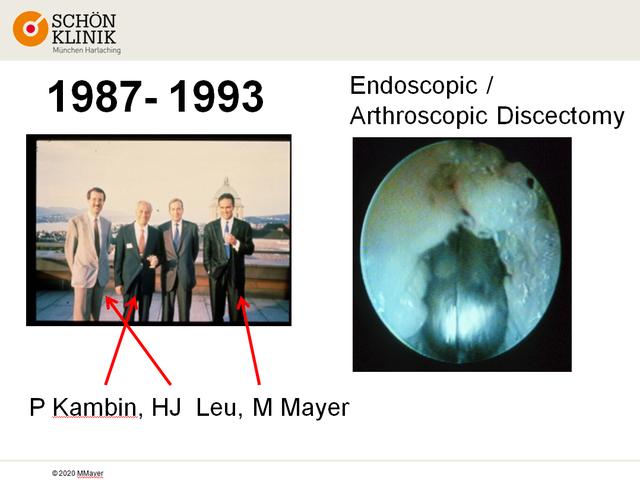 Over the next few years, Mayer was very interested in this technique. He and Brock worked on percutaneous discectomy, and also published related books.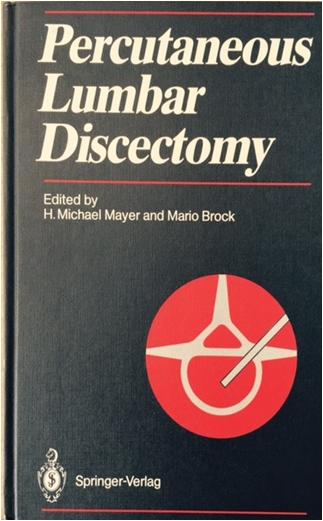 In 1995, the famous professors Mathews and Yeung used a more lateral transforaminal approach.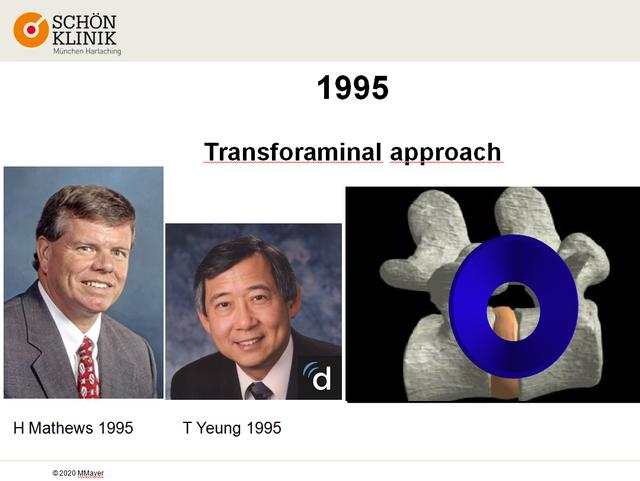 In 2008, the renowned professor Ruetten developed a full endoscopic spine surgery performed through an interlaminar approach.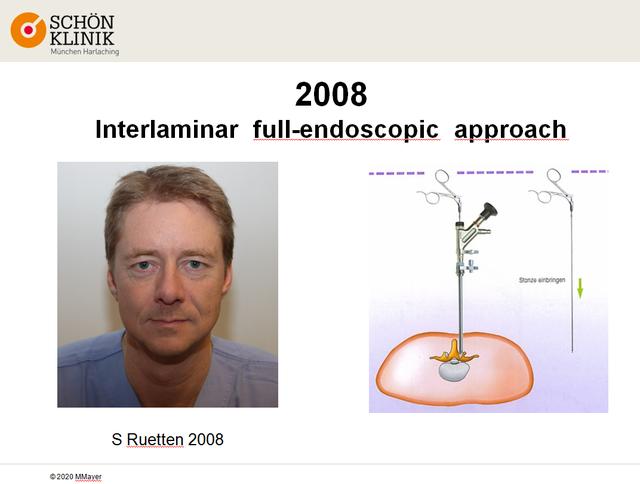 Prof. Mayer also introduced the history of transforaminal endoscopic spine surgery.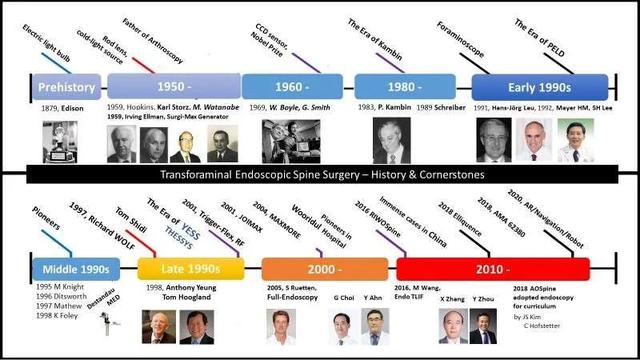 Source:provided by Luke Kim, South Korea
According to PubMed data, 82 out of 100 published articles on endoscopic treatment of herniated discs and spinal stenosis between 2017-2019 were from Asia, where endoscopic techniques are leading the way.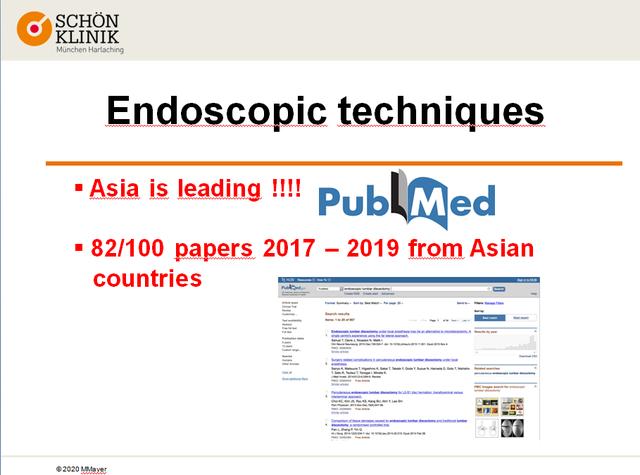 Prof. Mayer also compared the use of microscope and full endoscope in spine surgery.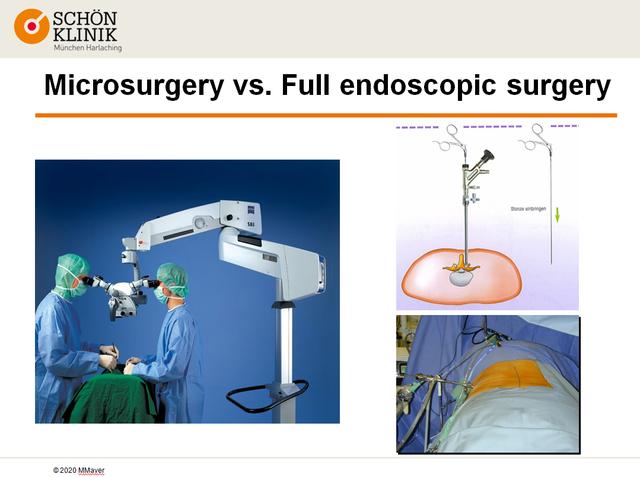 On the indications for interlaminar approaches, there was a small overlap between microsurgery and full endoscopic surgery in the 1990s and now there's a complete overlap.
And for transforaminal approaches, the indications for microsurgery and full endoscopic surgery in the 1990s were mostly overlapped, and have now developed to completely overlapped.
Prof. Mayer also mentioned that the learning curve of spinal surgery is important to the outcome of the surgery. The study found that endoscopic discectomy through the transforaminal approach is easier to learn, while the interlaminar approach is more difficult to master.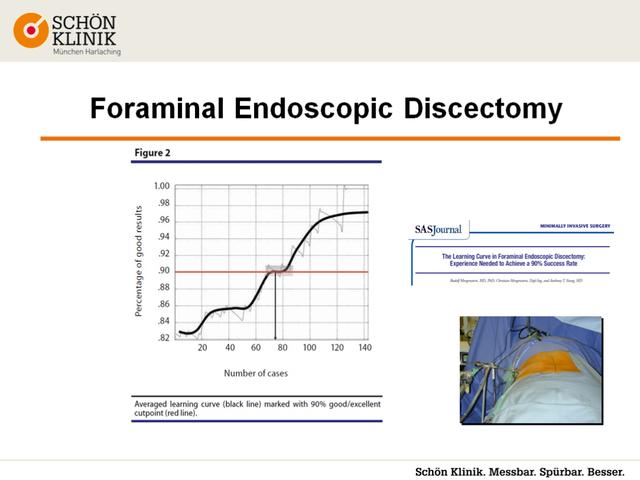 Therefore, Prof. Mayer emphasized that it is necessary to master the learning curve. From the beginning, you need to be familiar with the operating specifications. Whether it is a surgery under a microscope or open surgery, you need to make a response plan to prevent unexpected situations during the surgery. Finally, of course, practice makes perfect and doctors should improve their proficiency and technical level by increasing the number of operations.
A study in 2015 showed that compared with open discectomy, the clinical efficacy of endoscopic discectomy was slightly better, patient satisfaction was significantly improved; and patient would have less intraoperative blood loss and a shorter hospital stay .
Minimally invasive spine surgery can achieve less surgical trauma, lower complications rates, less post-operative pain, and shorter re-integration time The realization of these short-term curative effects has great implication on prompting the long-term curative effects in the future.
Since the postoperative short-term curative effect can indicate the long-term effect, what can prompt the former one?
Reducing surgical damage is the key. Endoscopic surgery, which can reduce trauma, will become the "gold standard" while physicians should also be equipped with microsurgical techniques to deal with the problems that endoscopy can not handle. Unfortunately, not every surgeon is willing to accept and learn microsurgery techniques.
The Invention of OLIF Technology
In May 1994, Prof. Mayer performed the first Mini ALIF surgery which is now called OLIF surgery, and some special retractors were made x-rayable at that time. Nowadays, there are many similar products .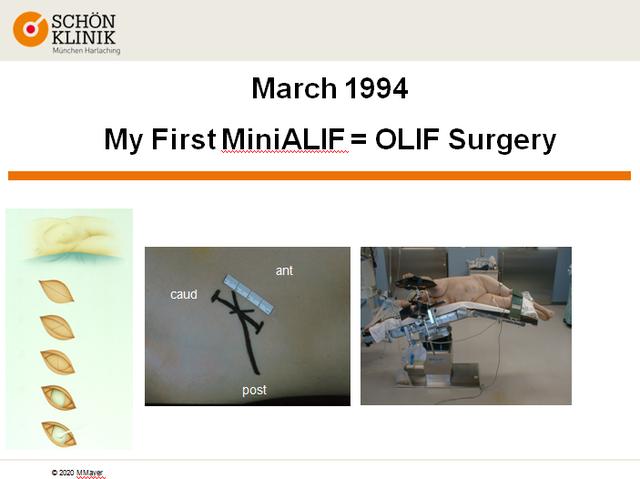 Here are some cases of the retractor application during the operation. When it is pulled out, the patient's intervertebral disc can be displayed.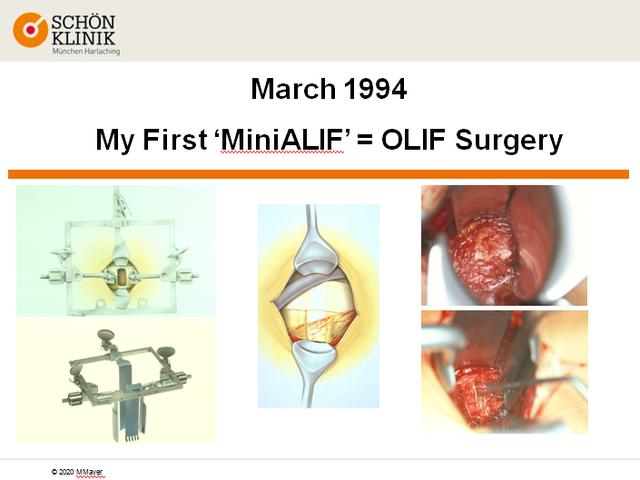 OLIF technique goes through between the large blood vessel and the psoas major muscle without damaging the lumbar plexus nerve or ligating the segmental blood vessel, and multiple segmental operations can be performed in a small incision.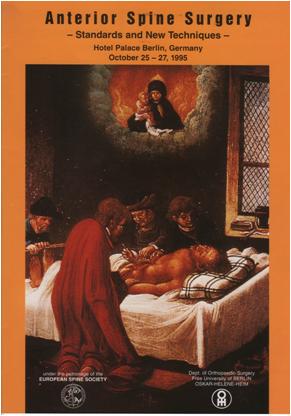 In October 1994, Prof. Mayer shared his presentation of MiniALIF for the first time.
In 1997, Prof. Mayer officially published the MiniALIF technique on SPINE magazine. This technique is an improvement of traditional surgery in the aspect of microsurgery. As it is logically consistent with open surgery, this technology is very easy to learn.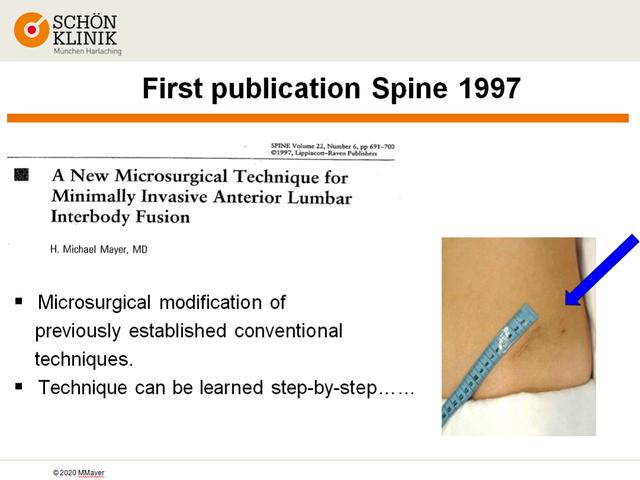 The biggest advantage of OLIF is its higher safety. A study in 2016 counted 812 operations and the complication rate was only 3.7%, which is very low compared to that of XLIF technology.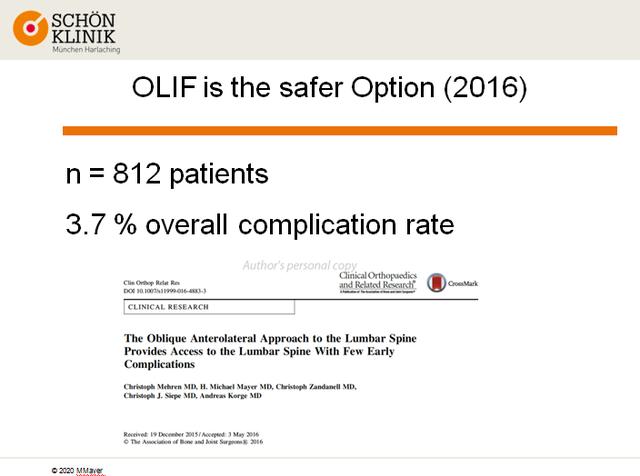 From 1994 to 2000, Prof. Mayer realized that OLIF technique is the best minimally invasive solution for L2-5, and segments involved can even be extended to L5-S1, which is suitable for all types of pathologies.
They also developed some anterior approaches for L2-5. The special position applied is called Da Vinci position at which the patient needs to spread his legs and surgeon can stand in the middle in order to perform the procedure well.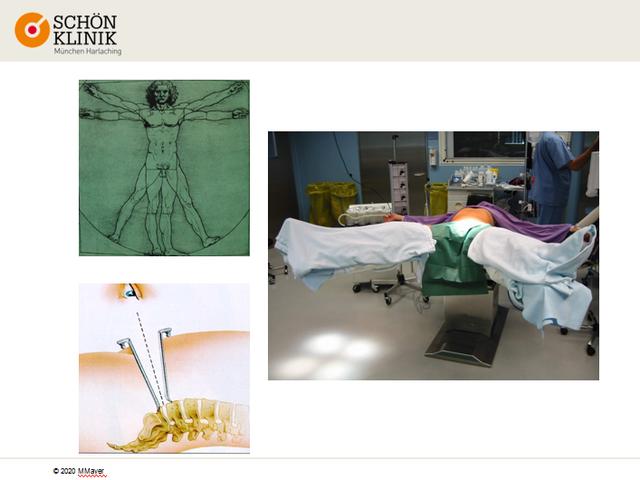 For L5-S1, it is not a big problem. At this position, there is a sufficient operating space under the vessel bifurcation.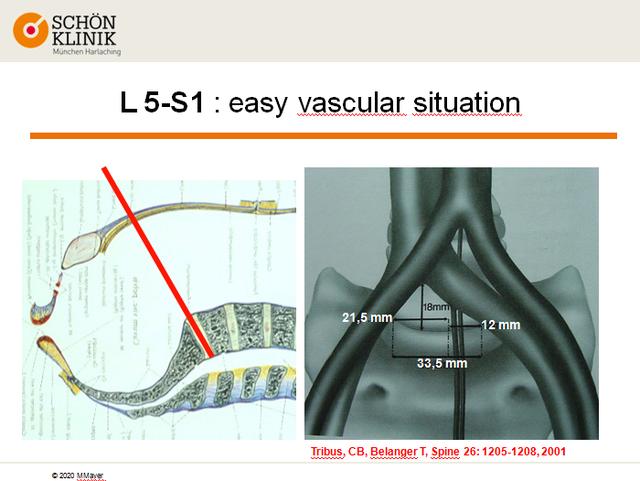 But segmetns from L2 to L5 are little more difficult to handle, as there are more vascular problems to be dealt with, and the incidence of vascular complications is fairly high.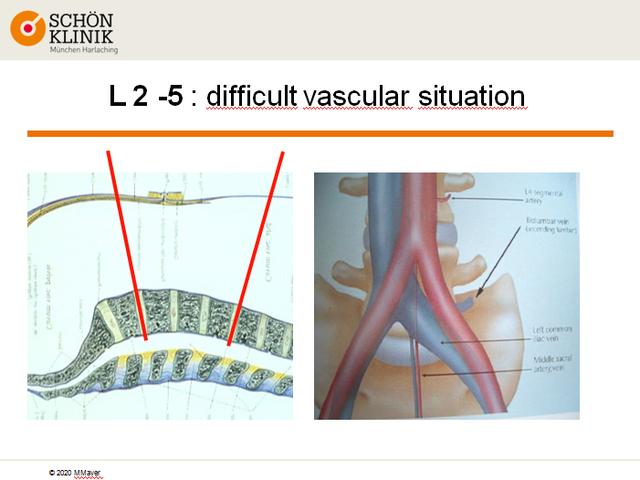 Vascular risk will be lower if L2-5 is performed using minimally invasive technique. Traditional open surgery rates at 15.6%, while minimally invasive is quite lower at 2.8%, and Prof. Mayer can personally reach 0.5%. This kind of anterior approach surgery can be used for disc replacement or centrum replacement.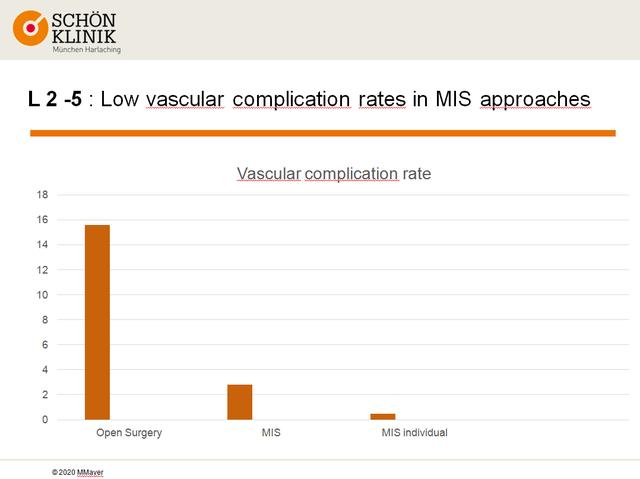 How to View Minimally Invasive Spine Surgery
The purpose of minimally invasive surgery is to reduce the surgical trauma, lower the incidence of complications, and speed up the recovery of patients.
Therefore, preoperative planning is very important. To achieve good results, doctors are required to fully understand anatomical structure and relevant pathologies. In addition, doctors ought to undergo a lot of trainings and increase the number of practice. Only in this way can they improve professional level and surgical skills.