A promise from the former Medical Director of Orthopädische Klinik Volmarstein: No matter what happens in the future, he will definitely come to Jiangmen Central Hospital, Guangdong, China on May 11th for an academic exchange to support the construction of the Foot and Ankle department.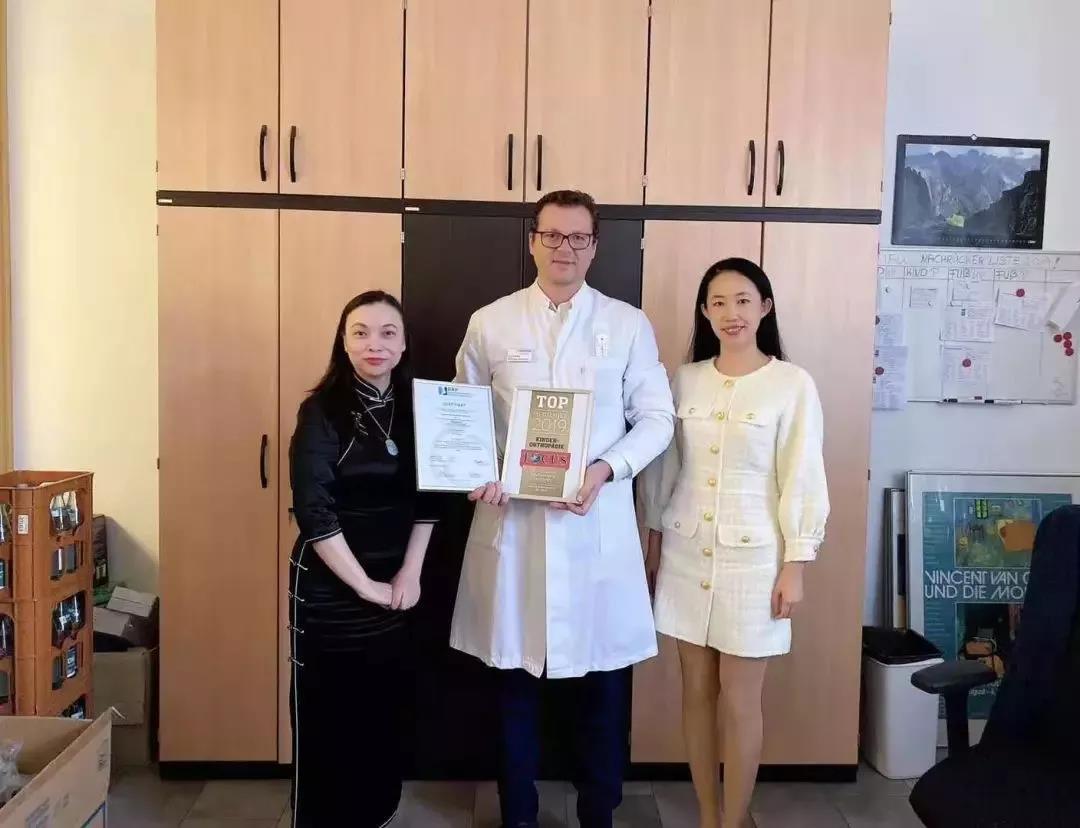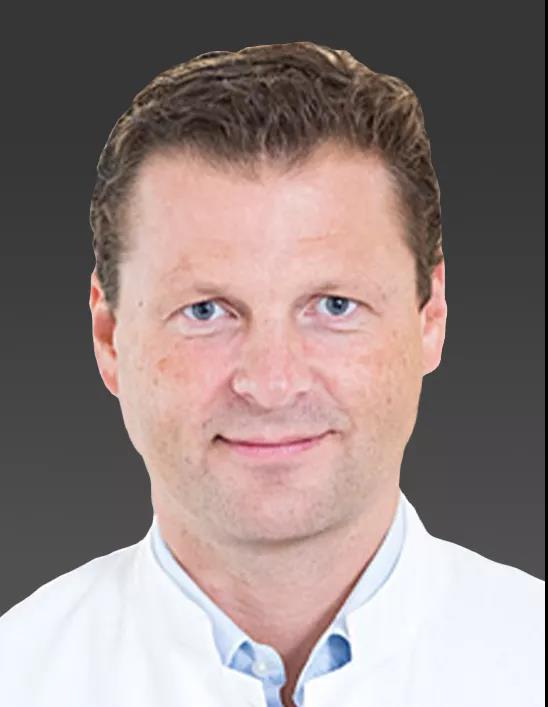 Dr. med. Benedikt Leidinger
Orthopädische Klinik Volmarstein, Germany
Former Medical Director, Consultant on Foot and Ankle Surgery
Work Experience:
• Consultant Foot and Ankle Surgery (since 2012)
•Medical Director (since 2011)
Athletic Career:
• 1993-1996 Athletes Speaker German Pentathlon Association
• 1992 Member of the German Olympic Team Barcelona
• 1989 German runner up Champion
• 1988-1993 Member of the German National Team
• 1987 German Youth Champion
• 1983-1993 Modern Pentathlet
Education:
• 25.06.1998 Medical License
• 04.06.1998 State Board Exam, WW University Muenster, Germany
• 12/97-03/98 University of Tulane, New Orleans, USA, Internal Medicine
• 07-10/97 University of Sheffield, GB, Northern General Hospital
Orthopaedic and Trauma Surgery, (Mr TWD Smith, Prof. M Saley)
• 04-07/97 University of Münster(WWU Münster,) Orthopedics (Univ.-Prof. Dr. W. Winkelmann)
Brief Introduction of Orthopedics Klinik Volmarstein

Orthopedics Klinik Volmarstein is located in Volmarstein, Nordrhein-Westfalen, Germany. The hospital is a modern specialist clinic that offers a wide range of specializations in addition to the general orthopedics and trauma surgery to improve and expand the treatment of our patients.
5,000 operations per year (including more than 1,400 hip and knee prostheses) and just as many conservatively treated patients speak for our great experience. The goal is to find the optimal treatment for each patient individually.
The Orthopedics Klinik Volmarstein belongs since the founding times of the Evangelical Foundation Volmarstein to its range of services. The clinic was inaugurated in 1931 and was constantly adapted to the requirements of modern, high-quality patient treatment and care.
In addition to the designated Departments of General Orthopedics and Trauma Surgery and Rheumatoid Orthopedics, the Orthopedics Klinik Volmarstein offers pediatric and neuro-orthopedics, tumor orthopedics and revision surgery, hand surgery and foot surgery as well as special departments for the excellent treatment of our patients.
Training is a tradition at the Orthopedics Klinik Volmarstein. Therefore, together with its partner hospital, the Ev. Hospital Hagen-Haspe, founding member of the "Ev. Bildungszentrum für Gesundheits- und Sozialberufe GmbH" based in Iserlohn. The nursing school, which they operate in cooperation with Protestant hospitals in the region, offers 143 apprenticeships.
The Pediatric Orthopedics Department deals with the entire spectrum of treatment of congenital and acquired disorders of the musculoskeletal system in childhood and adolescence.
The aim is to prevent structural damage and functional deficiencies at an early stage and to improve the quality of life of children in order to give them the best possible chances for an active life in our society. This is especially true for children with the most severe disabilities.
The spectrum of pediatric orthopedic diseases is very wide. At the same time, some clinical pictures are very rare, such as in clubfoot 1 child per 1000 births. Competence in their field of expertise can therefore only be achieved through additional specialization. For this reason, special focuses of their activity have been structured, which can be found in the individual sub-headings.
In 2019, Orthopedics Klinik Volmarstein was selected as the "Top Medical Center for Pediatric Orthopedics".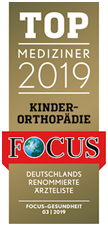 Master tour in China
From 2020/5/11 to 2020/5/15
Brief introduction
May 11th
Jiangmen Central Hospital
Welcome Ceremony
Hospital and Department Introduction
Outpatient Consultation
May 12th
Jiangmen Central Hospital
Joint Ward Round
Outpatient Consultation
May 13th
Jiangmen Central Hospital
Surgical Guidance
Difficult Cases Discussion
May 14th
Jiangmen Central Hospital
Surgical Practice
Department Training and Department Management Discussion
May 15th
Jiangmen Central Hospital
Surgical Practice
Public Lectures on Shoulder Surgery
Extremities, Joints and Sports Medicine Department, Jiangmen Central Hospital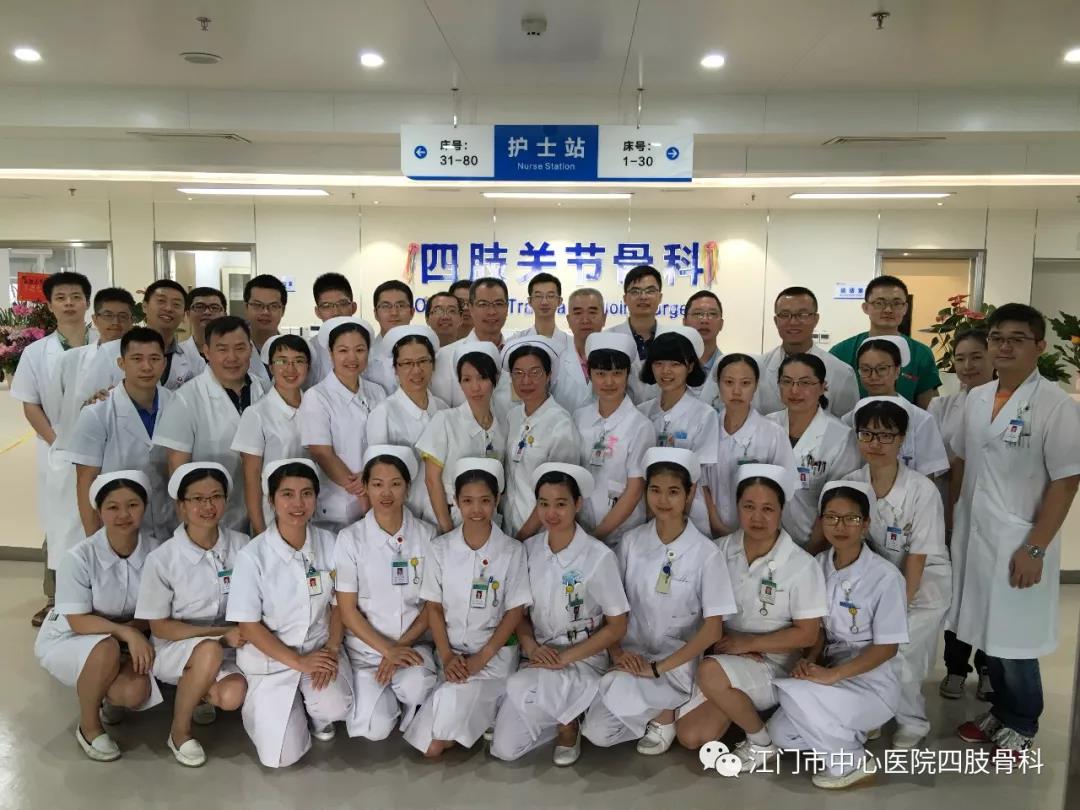 Extremities, Joints and Sports Medicine Department of Jiangmen Central Hospital is the only orthopedic academic specialty in Jiangmen city with three sub-specialties of "Joint Surgery, Traumatic Orthopedics, Sports Medicine, and Foot and Ankle Surgery" as its developmental orientation, which integrates clinical, scientific research, health care, and teaching. It has been considered as the first batch of prior clinical specialties in Jiangmen city and the A-level pivotal clinical construction specialty in Jiangmen Central Hospital.
Team members and beds allocation:
So far, there are 1 chief director, 1 deputy director, 5 chief physicians, 4 deputy chief physicians, 3 attending physicians and 1 resident. Among them, there are 3 Doctors of Medicine and 5 Masters in the department. The department now contains 70 hospital beds.
Introduction of Sub-speciality
1. Joint Orthopedics
Scope of treatment: disorders of the shoulders, elbows, wrists, hips, knees, ankles and other joints, various arthrosis, arthralgia: such as osteoproliferation, joint degeneration, arthritis, rheumatoid arthritis, chronic infectious arthritis, tuberculous arthritis, and syphilitic arthritis as well.
Special medical spectrum: head salvage treatment of femoral head necrosis and femoral neck fracture, complex primary his replacement such as congenital dysplasia of the acerabulum and coxa plana, knee-salvaged treatment of degenerative arthritis, uniconpartmental knee arthroplasty, high tibial osteootomy, minimally invasive total hip arthroplasty and total knee arthroplasty, postoperative revision of the hip and knee arthroplasty, infection management of hip and knee joint, hemi and reverse replacement of the shoulder, radial head replacement, total elbow replacement, periprosthetic fracture treatment, minimally invasive treatment of pelvic and acetabular fractures.
2. Traumatic Orthopedics
Scope of treatment: Fractures of the limbs, fractures and / or dislocations of the peripheral joints, pelvic acetabular fractures, bone infections of the limbs, bone tumors, bone defects, osteomyelitis, damage and defect of the limb skin and soft tissue.
Special medical spectrum: utilize "Green passages" to treat hip fracture(closed reductive internal fixation) of middle aged and elderly, closed reduction with intramedullary nails or minimally invasive plate osteosynthesis (MIPO) for extremity fractures, internal fixation for peripheral joint fractures. Plus, treatment of nonunion or malunion, bone infection, bone defects, also osteomyelitis. Various types of repair of free skin flaps, perforator flaps, musculocutaneous flaps and bone flaps transplantation for skin and soft tissues defects of the extremeties.
3. Sports Medicine and Foot and Ankle
Sports Injury
Knee joint: cruciate ligament rupture, meniscus injury, cartilage injury;
Shoulder joint: rotator cuff injury, dislocation of shoulder joint, labrum injury, frozen shoulder;
Ankle joint: acute and chronic ankle ligament injury, ankle cartilage injury, Achilles tendon injury
Foot and Ankle Surgery
Correction of hallux valgus deformity, correction of all kinds of varus arches, flap foot, diagnosis and treatment of foot and ankle arthritis, complex foot and ankle trauma fracture, post-traumatic sequelae and sports injury of foot and ankle.
Outpatient services:
Outpatient clinic is located on the north side of the 5th floor of the South Building of the Outpatient Building. Most of the consulted physicians are senior specialists. Outpatient clinic is currently open five and a half days a week (Monday to Friday all day and Saturday morning), provides a wide range of diagnosis and treatment for common diseases and complicated diseases in extremity orthopedics. In the meanwhile, different sub-specialty clinics (including joint surgery clinic, traumatic orthopedics, microsurgery clinic, bone infection and osteomyelitis outpatient, shoulder pain, ankle, sports injury clinic) are set up. Besides, consultants and associate consultants provide outpatient services for the International Medical Center (IMC) from Monday to Friday.
Research and Teaching:
The department undertakes many projects of Guangdong Science and Technology Department, and more than ten projects of Jiangmen Science and Technology Bureau.
It was awarded 1 third prize of Guangdong Science and Technology Award, 2 first prizes of Jiangmen Science and Technology Award, 3 second prizes, and 5 third prizes, with more than 100 professional academic papers at home and abroad, including 6 SCI papers. It bears the goal to cultivate orthopedic postgraduate training at Sun Yat-sen University and also is considered as an orthopedics teaching base for standardized training for residents in Jiangmen City. Secondly, it is clinical teaching and practical training for Sun Yat-sen University, Southern Medical University, Guangdong Medical University, and Guangzhou Medical University. Currently, various advanced orthopedic doctors are now being recruited.