Doctors should have a wise mind, great skills and benevolence
During his 37-year stint as a medical doctor, Prof. Lin Haibin has created one after another miracle.
In the 1990s, Prof. Lin Haibin followed predecessors in orthopedics to perform about 300 orthopedic operations for sequelae of poliomyelitis, saving most of the patients with sequelae of poliomyelitis in the region.
In 1995, he performed the first correction of scoliosis with Cotrel-Dubousset(CD) instrumentation in Fujian Province.
In 2000, he served as the Vice president of the Affiliated Hospital of Putian University. In 2004, he became the Executive Deputy Dean, being responsible for administrative work of the hospital.
In 2007, he was appointed as the President of the Affiliated Hospital of Putian University. In his 14-year stint, the hospital turned into a Grade-Ⅲ A Hospital. The hospital, with its floor area expanding from 30,000 square meters to over 200,000 square meters now, has become the biggest clinical medical center in Putian.-
Prof. Lin Haibin
Former Secretary of Party Committee and Former President of the Affiliated Hospital of Putian University
Full Professor in China
Doctoral Supervisor of Southern Medical University
The State Council Special Allowance Expert
He is an expert who enjoys a special allowance issued by the State Council of the People's Republic of China, the winner of National Excellent President of Hospital in 2018, and an expert with outstanding contributions to the health system in Fujian Province, engaging in clinical medical care, teaching and scientific research for 37 years with rich clinical experience in orthopedics. He has carried out an in-depth research on spine surgery, joint surgery, complex reduction and internal fixation of fracture and is especially adroit in theoretical innovation and application of minimally invasive spinal surgery. He has made achievements in promoting the development of orthopedics, especially minimally invasive spinal surger. He was awarded the Second Prize of Scientific and Technological Progress of Fujian Province once and the Third Prize twice, the First Prize of Scientific and Technological Progress of Putian three times and the Second Prize twice. He has set up one of China's National Key R&D Programmes for BESS/UBE under the Thirteenth Five Year Plan, major national science and technology projects, 863 sub-projects of the Ministry of Science and Technology, Natural Science Foundation of Fujian Province and so on. He coauthored books such as "Surgical Flap Vasculature of the Chinese" (chief editor), "The World of 5G Intelligent Medical" (chief editor), "Neurocutaneous Flaps" (deputy editor-in-chief), "Spine Anthroplasty" (editor) and "Navigation Spine Surgery" (editor). He translated "Imaging Spine After Treatment: A case-based Atlas" and "Epiduroscopy: Atlas of Procedures" and was granted two patents. His 100-odd treatises have been included in list of SCI journals and published in various Chinese journals and national core journals
1. Could you please share with us when did you decide to practice medicine and why did you decide to specialize in Orthopaedics?
My family has a great impact on my choice on practicing medicine. My mother is a barefoot doctor, and I grow up under her influence. I was one of the first university students after China's reform and opening up and resumption of College Entrance Examinations. In 1980, I was admitted to the Suzhou Medical College(now Suzhou Medical College of Soochow University) with excellent grades.Why did I choose to specialize in Orthopaedics?
When I was in internship, I preferred Surgery very much. Men usually have strong hands-on skill. And I have a very strong interest in Surgery, especially Orthopaedics. Because I interacted with patients of Orthopaedics Department much and got along well with them, this makes me think it's a pretty good major for me. I had been a surgeon in Orthopaedic Microsurgery since graduating from the five-year medical undergraduate. My career started in clinical medicine. In fact, I am a also general practitioner, and I can do internal medicine, surgery, gynaecology, pediatrics, infectious diseases, etc. After graduation, I decided to specialize in Orthopaedics. I have gone a very long way in Orthopaedics. From resident to attending doctor, deputy chief physician, associate professor, chief physician, full professor, I have went through a lot all the way. We bring many patients back from the brink of death. One of the most unforgettable experiences is that we started our work at 7:30 in the morning and lasted until the afternoon of the next day. We worked for 36 hours without a break, and we made it and treated batches of seriously ill patients. At the same time, we also pushed our limits. In the past, hospitals at municipal level were only competent to perform limited trauma surgeries. In December 1994, I came back from my study at the Peking University Third Hospital. And I successfully performed the first correction of scoliosis with Cotrel-Dubousset (CD) instrumentation in 1995, after that I also performed a series of such surgeries. At that time, I was awarded the First Prize of Scientific and Technological Progress of Putian because of this technique. It also helped me take a big step in my career.
I became an attending doctor from an ordinary resident doctor. But in those days, a doctor could only be appointed as an attending doctor after 10 years of graduation. While nowadays, a doctor can be appointed as an attending doctor in 3 to 5 years. We had a hard time then, but we worked hard and treated our patients well. I think a doctor should have a wise mind, great skills and benevolence. Patients are bread and butter for doctors, even the origin of this profession. Our Spine Surgery starts from scratch, and it has created miracles one after another, today it is influential at home and abroad. I have won the First Prize of Scientific and Technological Progress of Putian three times. In addition, I have also won the Second Prize of Scientific and Technological Progress of Fujian Province once and the Third Prize twice. And I am also one of the few experts in Fujian Province who enjoys a special allowance issued by the State Council of the People's Republic of China. In 2010, I became the doctoral supervisor at Southern Medical University. Which was one of the few professors and doctoral supervisors in Fujian Province. That's all my career experience.
2. Who are the people that inspired you in your career and how did they make you memorable to this day?
One of the more profound influences on my practice of spinal surgery was Professor Wu Tianzhong of the First Hospital of Fujian Medical University. At that time, he was the Head of the spinal surgery group in Fujian Province and the founder of spinal surgery in the hospital, and he was the first to perform spinal surgery in Fujian Province. At that time, many patients undergoing spinal surgery were very helpless and depressed, and basically the medical expertise of many (hospitals) at that time was quite underdeveloped. So at that time he strongly recommended me to visit the Third Hospital of Peking University for further training in spinal surgery.
During my study in the Third Hospital of Peking University, the person who had the most profound influence on me was Professor Cai Qinlin. From the first day of my attendance, he asked us to write a complete medical record, that is, for a newly admitted patient, you have to examine the patient, perform medical examination, have case analysis, and finally give comprehensive evaluation of the patient and so on. We also spent one night writing a full medical record, and later we got a high evaluation from Professor Cai Qinlin: "Good job, Xiao Lin from Fujian can now make good-written medical records". I was very impressed by this experience. I learnt a lot not only from his clinical instruction, but also from his medical ethics, especially the way he treated all patients, regardless of whether they were rich or poor, without discriminating between the rich and the poor. He even helped some of the patients who had difficulty travelling to Beijing for treatment, and this had a profound impact on my practice of spinal surgery. He has been a lifelong beacon and mentor to me.
Of course, there are also some of my predecessors in this hospital, including the former Director of the hospital, Director Chen Chongyao (who stayed in the UK for his PhD), as well as the head of the department then, and so on, and some of the teachers at the moment, both at home and abroad, who are some of the teachers I cannot forget.
3. After graduation, you were assigned to work at the Affiliated Hospital of Putian University, and you received the title of "National Excellent President of Hospital" in 2018, would you please share with us your story in this hospital?
After the resumption of the high school entrance examination, we were the first few groups to be admitted to universities, and college students were not that much back then, so after graduation, we could choose to work in big cities like Beijing, Shanghai and Guangzhou. Most of my classmates chose to go to the Jiangsu-Zhejiang region, such as Jiangsu Province, Zhejiang Province and Shanghai, but I chose to go back to Fujian Province. Three cities in Fujian Province were on my list, which are Fuzhou, Xiamen and Putian, and at last I chose to go back to my hometown Putian to practice medicine, and to work at the Affiliated Hospital of Putian University.
The Affiliated Hospital of Putian University, founded by the British as a church hospital, has a history of 127 years and is one of the first church hospitals in Fujian Province, therefore most of the concepts of clinical practice, research and teaching in the hospital were developed from western medicine. The hospital is a large comprehensive hospital and is directly affiliated with Putian University, the only undergraduate university in Putian, so it is also a teaching hospital. I was appointed Vice President of the hospital in 2000 and then Executive Vice President in 2004, being responsible for the administration work of the hospital, and President of the hospital in 2007. In just 14 years, the hospital has been upgraded from Grade III B hospital to Grade III A hospital, making it one of the earliest comprehensive tertiary hospitals in Putian that integrates clinical practice, research and teaching.

At the same time, we enlarged the hospital by building a new hospital campus with an area of the original of less than 20,000 square meters to now over 200,000 square meters. The original building area of the hospital was 30,000 square meters, but now it is up to 200,000 square meters, and after the completion of the provincial regional medical center, the hospital will cover an area of up to 300,000 square meters, making it the largest clinical medical center in Putian. From a hospital fit on the tiny speck of land to a large general hospital, we all started with nothing as back then the government could not afford to invest. We did created a miracle by building a standardized, digitalized, modern, ecological, comprehensive hospital. The environment is very beautiful with a Lychee Park.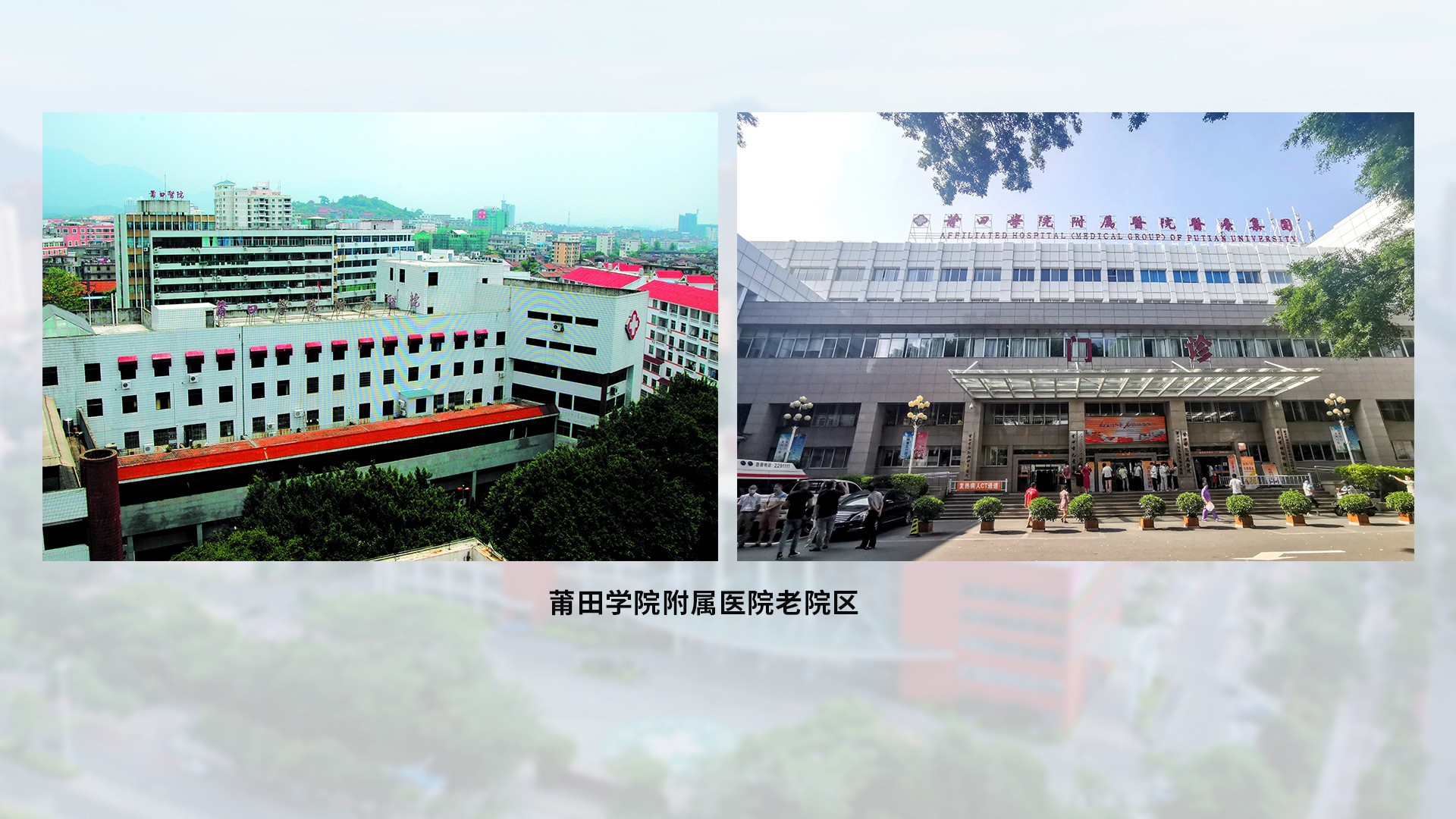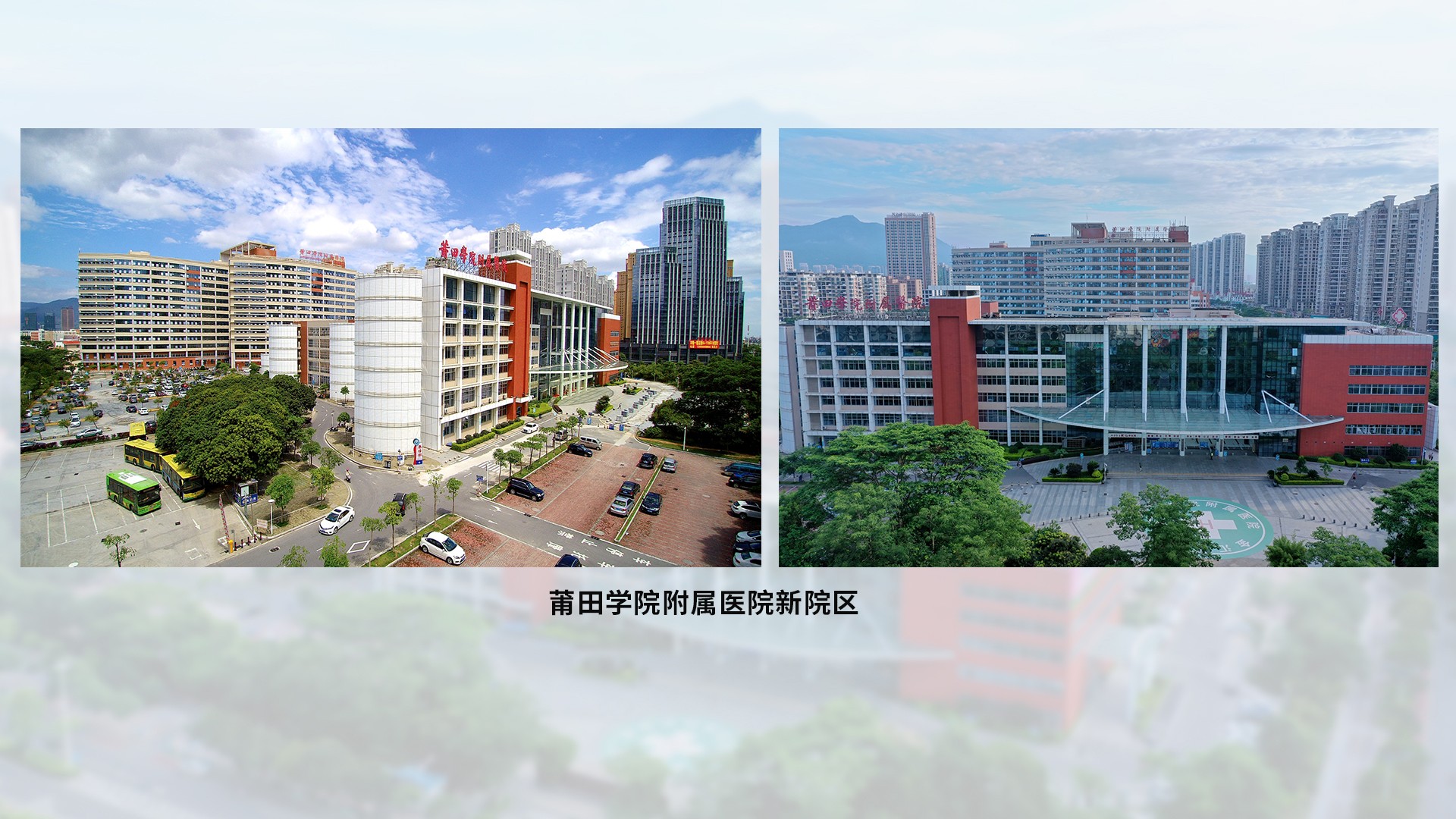 During the pandemic, the hospital was the only designated hospital in Putian to receive COVID-19 patients, from 2020, 2021, 2022 to the beginning of 2023. So far, we have achieved zero death, zero complaints, zero transmission and zero infection in the hospital, and finally realized full recovery of COVID-19 patients, which is a satisfactory result to the Party, the country and the people.

The hospital are also the advanced institution in Fujian Province in regards to fight against the pandemic, and has gained the recognition from two Provincial Party secretaries. Putian's experience in fighting against the pandemic is a good example for Fujian Province and even for the whole country. We have also gained the recognition from our country, Fujian Provincial Health Commission, and provincial and municipal departments at all levels. There is a special separate infectious disease facility in the hospital. We had planned for building a separate infectious disease facility 12 years ago, and it was just completed in 2019. This building is one of the few in the country, and has 525 beds that could accommodate patients with COVID-19. We put it into operation in 2020 when the pandemic was rampant. We also have capacity and capability of public health and emergency response systems for the people in Putian. With the joint efforts of our colleagues, I was very honored to receive the title of "National Excellent President of Hospital" in 2018.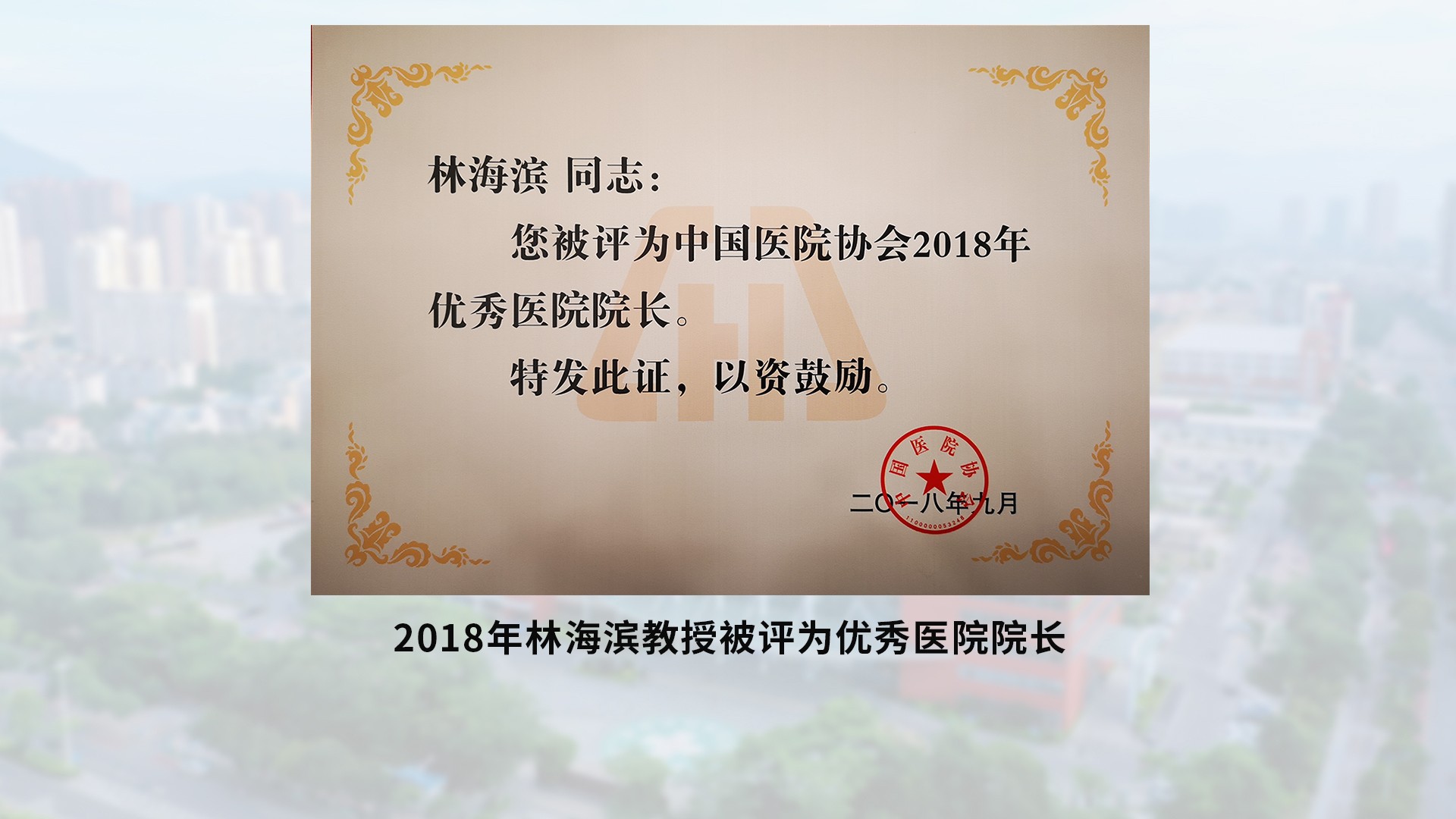 4. In a career spanning several decades, you are highly thought of among the patients. Can you describe a particularly memorable case?
I have been a clinical surgeon for 37 years. Despite my clinical practice, I also put a lot of efforts into research, teaching and prevention care. We still remember that China was far less developed at that time. In the 1990s, there were quite a few polio patients, who were very poor. They were with severe disability,and their family were not able to support the treatment. The government and China Disable Person's Federation set up an exclusive funding, for the treatment of polio. Our hospital was appointed as one of the designated hospitals at that time. We organized regular events at the primary hospitals and in rural areas for the screening of polio. After a few months of screening, we selected many patients, and did operations on 131 patients with complex polio within one month.Their expenses were covered by the government and China Disable Person's Federation. I was very impressive that we learned a lot during the treatment of this patients. We saw many disabled children and adults, among them, the eldest one underwent the operation in the age of 38. We achieved very good clinical outcomes after the operations, and were highly recognized by the government and the public. Despite regular and basic clinical techniques.
In December 1994, I started treating scoliosis with Cotrel-dubousset(CD) instrumentation, after I finished my fellowship at Peking University Third Hospital. At that time, only experts from Peking Union Medical College Hospital can do this. Therefore, I invited Prof. Ye Qibin too perform the first Scoliosis Correction with CD instrumentation in Fujian Province, which was also the first operation for scoliosis in Fujian Province. Many colleagues asserted that only senior experts or professors were able to perform this kind of difficult operation and that it is not possible for me to perform this. But I did it, and treated more than 30 patients with this technique. I was awarded the First Prize of Putian Municipal Science and Technology Advancement Award for this. Despite treating patients clinically, we helped patients economically. I keep in my mind that patients are the source of everything we have and we should have a benevolent heart. Once there was a car-accident who could not afford a transfusion. We prepaid the expenses for the patient, Of course the patient paid us back in the end. I remember once there were a child from the rural area, who suffered from hemorrhagic shock after a car accident and was really painful. The relatives of the patient did not have a cent in their pocket. For emergency treatment, we also prepaid for this patient. His family was very grateful for our help and paid us back with thank-you letter after the patient was discharged. The average people were really poor at that time since China was far less developed. Unlike today, life is much better, which is very different from the old days when we started our career. I think the patient-doctor relationship was quite harmonious then without disputes, and my patients also trust me a lot.

So far I have met many patients who were treated by me two or three decades ago. They don't address me with my position of a hospital president of party secretary. They call me directly by my name and say that, Haibin, finally I found you. Decades ago my operation was done by you. Please treat my family member as well. I have met so many this kind of cases. Despite treating patients in the hospital, we offer a lot of voluntary medical service. We often organize free consultation events in the rural areas and on the islands, in the name of some professional societies. For example the Orthopedics Society, the Fujian Society of Minimally Invasive Spinal Surgery and the Cross-Strait Medical Health Exchange Association. We are also highly praised by the public for this.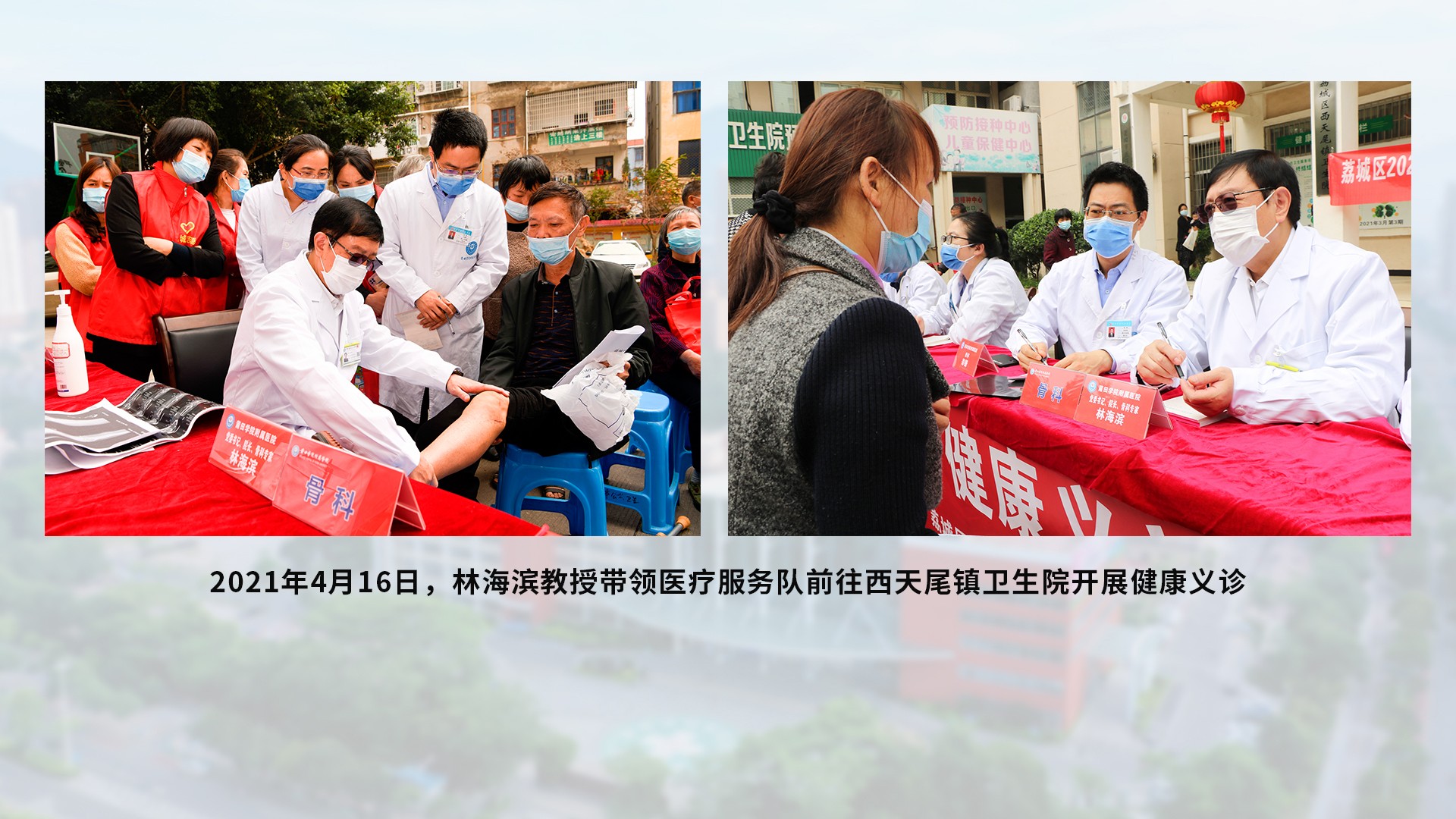 5、In 2017, Professor Lin received the honor of the Special Government Allowance of the State Council, how has your career changed afterwards?
In 2017, I was awarded the State Council government allowance, only two in the whole Putian city, one is the president of our Meizhou Daily News and the other is me. We didn't have it for almost decades. There is such a competition wining this award, generally more chances for the bigger cities like Fuzhou and Xiamen, then it is difficult in smaller Putian. I could be awarded the honor because we works hard over the years to get the second prize of Fujian Province Science and Technology Advancement Award, which is a turning point. From basic research to clinical application, We summarized Innovation transformation results in last 14 years and published them.
Our older presidents all received PhDs in Britain, very prestigious internationally, so it was easier for them to get this allowance from the State Council. After 1949, it was very difficult for us to get the State Council allowance. After we got this award, it also filled the gap in the history of our hospital, that is, there was no one being awarded with this allowance for 35 years.
For our entire team and for me personally, this should be a leap forward. Why do we say so? Because after we get the State Council allowance, I could be honored to be awarded the national second-class professor, which is the national second-class chief physician and a series of titles. For our whole team, it is more like a milestone. Because to this level of hospital, there are more fellows of Chinese Academy of Science and second-class professors in Guangdong Province. The highest title of experts in Fujian Province is also the second-class professor, which is our State Council allowance owner. So far, Fujian Province does not have an fellow of Chinese Academy of Science in clinical medicine, and this will also be a joint effort of experts and scholars in Fujian. Now I could be awarded as a second-class professor, which is also the highest honor in Fujian Province.
6. As one of the "Science and Technology (S&T) Innovation Talent Leaders in Putian", you has won many Science and Technology Progress Awards at provincial and municipal levels, and are in charge of establishing 863 sub-projects of Ministry of Science and Technology of China, and has made great achievements in scientific research. Would you please share your experience in this regard?
I am one of the first "Science and Technology (S&T) Innovation Talent Leaders in Putian", and has won many awards at the provincial level, such as the high-level talent of healthcare in Fujian Province. At the same time, I also received some of the few awards in Putian. These are all hard-earned honors.
Why did I say that, it is because the municipal hospitals are always lagging in scientific research. Therefore, as a municipal hospital, we have been persistently developing our capability in scientific research. We not only carry out the clinical research, but also strive to translate basic research evidence into clinical practice. For example, we are practicing basic anatomy, digital anatomy, digital orthopedics, 3D printing as well as robotic orthopedic surgery, we are at the forefront of cutting-edge science at home and abroad. Only in this way can the municipal hospitals have a place in Fujian Province and in the country, and even in the international arena.
We often carry out academic activities for international exchanges, and also develop a lot of new technologies, work on new projects, striving for innovation and transforming research evidence into clinical practice. This is the career we have been working on. We will keep pace with the latest trend of medical care, to develop the disciplines, and to make achievements. If we don't work on it, and we won't have the results, and we will achieve nothing. We are now not only working on our own, but also combining our experiences with those from hospitals in Beijing, Shanghai and Guangzhou, building different teams and alliance to jointly work on the major research projects. In addition to jointly working on research projects, we are also working on making some guidelines and expert consensus, etc. I personally have participated in more than ten of such projects so far. I believe this innovative cooperation is a very important component for the development of medical care.
7. Prof. Lin, under your leadership, the hospital has conducted a series of international academic conferences, what do you think is the significance of international exchange?
First of all, there is a lot of emphasis on "going out and inviting in" in the development of medicine. In fact, only by "going out and inviting in" frequently can we develop medicine as a whole. It is not only the case for clinical medicine, including preventive care and rehabilitation, but also for basic science. In our hospitals, the medical fields from preventive health care to clinical medicine, and even to rehabilitation, have all seen rapid development in this context.
But in fact medicine itself has not evolved that much in the past few decades. Why would I say so. From the most basic undergraduate teaching to the study of clinical medicine, for example, the science of anatomy has probably been the same for nearly a hundred years, the pathology we study is still the same, the physiology we study is still the same, the biochemistry we study is still the same, and so on.



But meanwhile we have witnessed the dramatic advances in mathematics, physics, optics, materials science and so on. If we can combine these technologies into modern medicine, then it will develop very fast as well. This is also the reason why we are now developing orthopedic robots, why we are developing AI, why we are developing VR, why we are developing 3D technology and why we are also now using 5G technology.


Me and Prof. Huang Wenhua from Southern Medical University edited The World of 5G: Smart Medicine out of this context. All these modern developments can be used by us for the development of medicine. The development of medicine must be achieved through international exchange, without which we will always be at a standstill. It must be through international exchanges, domestic exchanges, and exchanges between a wide range of sister institutions, that is, "going out and inviting in", that we can really develop modern medicine and really achieve some results, and we have been doing so.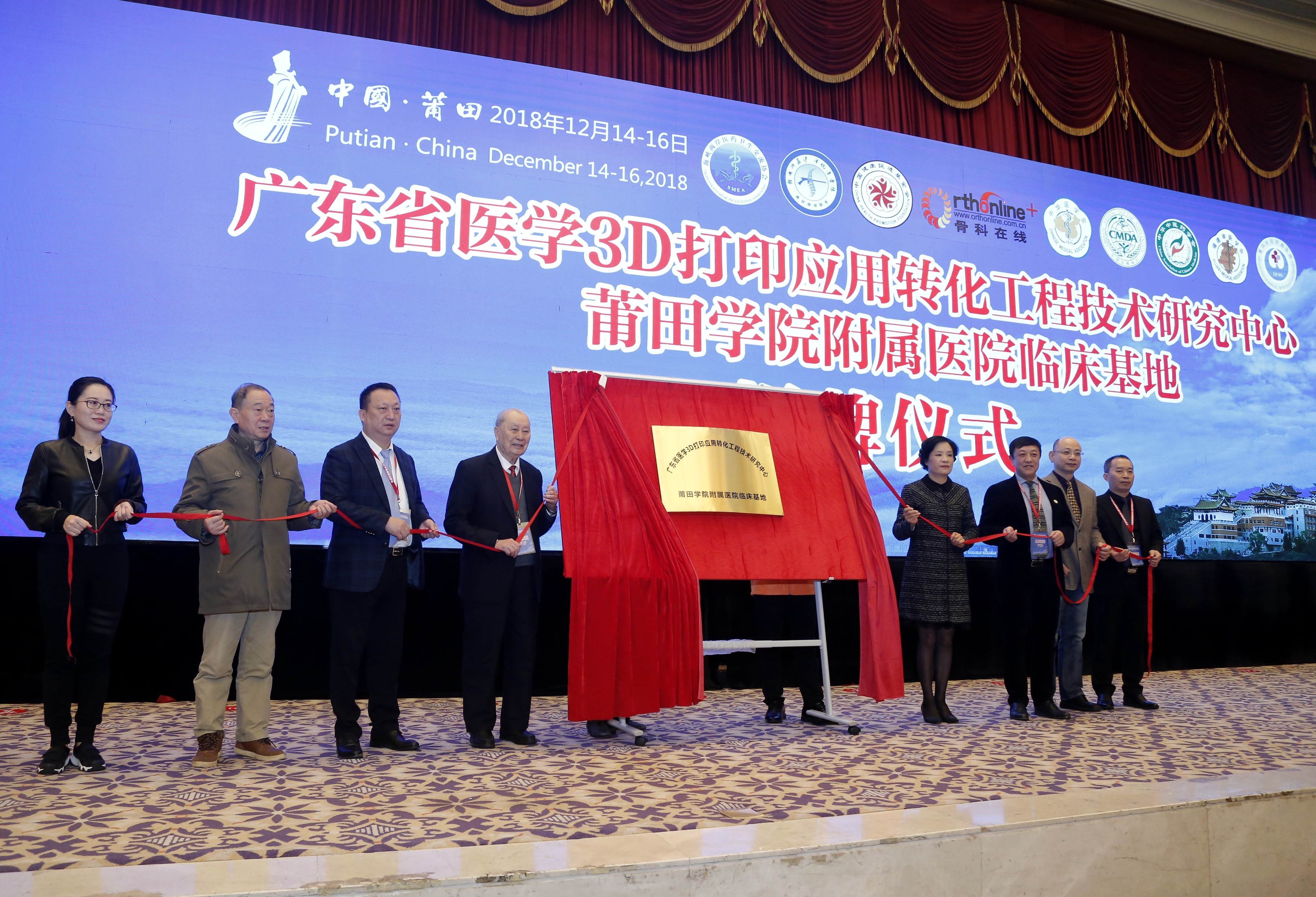 8. As a doctoral supervisor, you have trained many excellent orthopedic surgeons, how do you think young doctors can grow up to be an excellent spine surgeon? What is your advice on it?
At our level of hospital, we not only train the post-docs, doctors, post-graduates, but even the undergraduates. I have been in medicine for 37 years, but so far, I still haven't given up undergraduate teaching that is teaching a big amount of students in one class. And I still teach General Orthopedics to the medical students of Putian College.
So training a doctor, in fact, the most important thing is "morality", that is, virtue. I teach students these words every day: "Be a man, do something, and learn something". Another is "be a man, do something, and pursue a career". After graduating from medical school, some people may go into politics and become the president of a hospital, the president of a health bureau, the vice mayor, the mayor, or even the governor of province or the secretary of the provincial party committee. There are some provincial party secretaries in our country who used to study medicine. When it comes to one of the most fundamental, "be a person" must be placed first. Your IQ is high, emotional intelligence is high, the last thing we need is your "morality quotient", I think "morality quotient" should be placed first, especially in the medical industry which deals with people every day and in every case.
My deepest impression is that when I was in college, one of our teachers said: "We are different as doctors. If a machine breaks down, you can buy a part to fix it, repair it, and then even replace it with a new machine. What if a person breaks down? Can you buy a hand? Or buy a leg? Or buy a heart?" . Therefore, we still treat each patient with "morality" first. A person without "benevolence" can not practice medicine. As a spine surgeon, my request to the young is still that you must take benevolence important. Because when you are a doctor, especially in our country, you must not pursue economic benefits more than patients' outcome, otherwise, it is our patients who will suffer in the end.
9. How could you balance your time for management, clinical work, research and teaching, given that you are a professor with multiple responsibilities?
This is a very good question. It is also the biggest problem and the most challenging topic that many of we are now encountering after being in management as practitioners of medicine. Why? Since you are in a management position, you are a director first and then a specialist. Management must come first. Only after you have done everything in your administrative duties can you engage in your clinical work. Time is like the water in s sponge. You will have it while you squeeze, but the key is whether we can be persistent and whether we can overcome some difficulties. For instance, we can use our rest time and time in the evening to realize our clinical, scientific research, teaching and so on. From the management point of view, the priority of a director is to fulfill the management role. Otherwise, we can not call ourselves specialists, as we are then putting the cart before the horse.
Also we are practicing management duties and we should not make it so complicated. I often say, make some complex issues simple, instead of making simple issues complex. Otherwise, you will never be able to finish your work, and at the same time, it will be very tiring for others to work with you. Therefore, I hope that administrative personnel, including our staff and relative workers, should master that if we can provide help to others, we should do so. I am very much in favor of this principle. If you can decide to help others or not, you should do so. I am very opposed to misconducts like accepting bribery and making things complicated intentionally, and I am also very opposed to it.The above deeds are what I don't advocate going for them.
10. Your team has rich experience in robotic-assisted surgeries. What's the prospect of surgical robots in China? What are the keys and the difficulties in applying surgical robots during operations?
Surgical robot is a standing worldwide hot topic and difficulty in the field of medicine. Actually, many international colleagues have accumulated rich experience in surgical robots. In particular,the da Vinci Surgical System has been put into clinical practice for almost 20 years. I think, in the future, surgical robots will be a mainstream assist during orthopedic operations. Because human will never be replaced by robots, we as surgeons should keep refining our clinical expertise, experience and surgical skills, and can never rely on a machine. We must have solid expertise in our field, and have a wide horizon to keep ourselves updated on the advanced techniques. Currently there are still many unsolved hot topics and difficulties in surgical robots. For example, the available robots are not artificial intelligent enough. It is a long way to make them more intelligent in the future, and to promote the accuracy of them, including to make their arms further flexible.
In the future, surgical robots will be a good assist for the surgeons, if we integrate the 5-G technology, blockchain technology, AI technology, VR and MR technology into the application of surgical robots. But the robots could only act as an assistant and are not able to replace the surgeons, at least not now, maybe it will be possible one day. But at least the robots are not able to replace the surgeons' experience and expertise at the moment.
11. What are the biggest challenges facing the Spine Surgery after COVID-19 restrictions are lifted? And how did they impact your career?
Human beings have been fighting against virus, germ, natural disasters and man-made calamities. Looking back at our history for thousands of years, actually it is the history of all peoples and all nations learn how to live with nature and fight against it. And in the post-epidemic era, I think COVID-19 would be normalized in the future. Except for the COVID-19, there is SARS, other viruses such as Avian influenza, and even all kinds of germs. So under such circumstance, our challenges are not just all about spine surgery but something more complicated, for example, a patient with spinal diseases combined with other diseases in heart, brain, lung and kidney. Imagine if we meet a patient who has COVID-19, what should we do? My answer is multidisciplinary cooperation, which is MDT. With the help of MDT, We can resolve a problem that cannot be done alone. In my view, the future development of discipline is not only the development of one single discipline, but also the comprehensive development of multiple disciplines. So I always say that a general hospital is not just about internal medicine, surgery, gynaecology and pediatrics, it must equip with infectious disease discipline. I also mentioned the importance of infectious disease discipline in the 2021 President Forum of Fujian Province that. All general hospitals must undertake the treatment and diagnosis function of internal medicine, surgery, gynaecology and pediatrics, especially infectious diseases. So MDT is of great importance. And it is also a challenge to us, that is to say how we conduct an MDT in our department and how to conduct an MDT team in various forms. MDT is vital to the future development of disciplines. With the help of MDT, we could be more confident when faced with difficult cases.
12、What else do you want to say to people?
Since I am a doctor, I think it is more important to be "a doctor with benevolence". The common goal of all doctors in Fujian, China and the world should be to fight and overcome diseases together. I think this is our common goal, and this is our eternal theme.