The Danube University Krems (German: Universität für Weiterbildung Krems) is located in Krems an der Donau in Lower Austria, Austria, and it is the only public university for further education in the German-speaking area. Danube University Krems currently offers various courses for more than 8,000 students, of which, 26% come from abroad.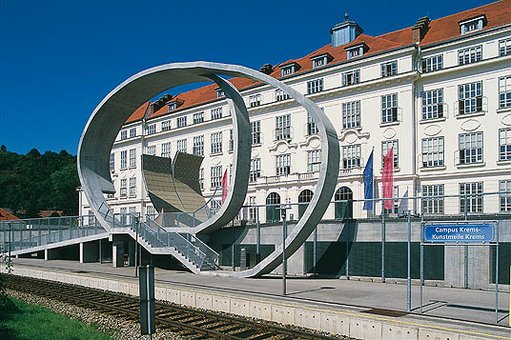 In 1995 Danube University Krems started its studies as a "university center for further education" as the first state center in Europe for postgraduate education and training with 3 courses [EURAS (European Advanced Studies), EURO-JUS and EJA (European Journalism Academy)]. In 1997 the University Studies Act came into force and the University of Krems was the first Austrian university to be authorized to award the academic degrees "Master of Advanced Studies" (MAS) and "Master of Business Administration" (MBA).
As of 2002, as a state university in Austria, it was authorized to award the academic degrees "Master of Laws" (LL.M.) and "Master in European Studies" (MES); A branch of the Center for Visual Studies was opened in Göttweig Abbey.
In 2004, the new Federal Law on the University for Continuing Education Krems came into force, which was largely based on the University Law of 2002. With this law, the official name of the Danube University Krems was changed to "University for Continuing Education Krems", and the university was given the right to appoint its own university professors.
Danube University Krems specializes in continuing education and it has three faculties: Health and Medicine (about 47% of the students), Business and Globalization (about 40% of the students) and Education, Arts and Architecture (about 13% of the students). The research of the university is focused on four areas: health care, educational research and lifelong learning, art, culture and architecture, and European integration and migration and economy.