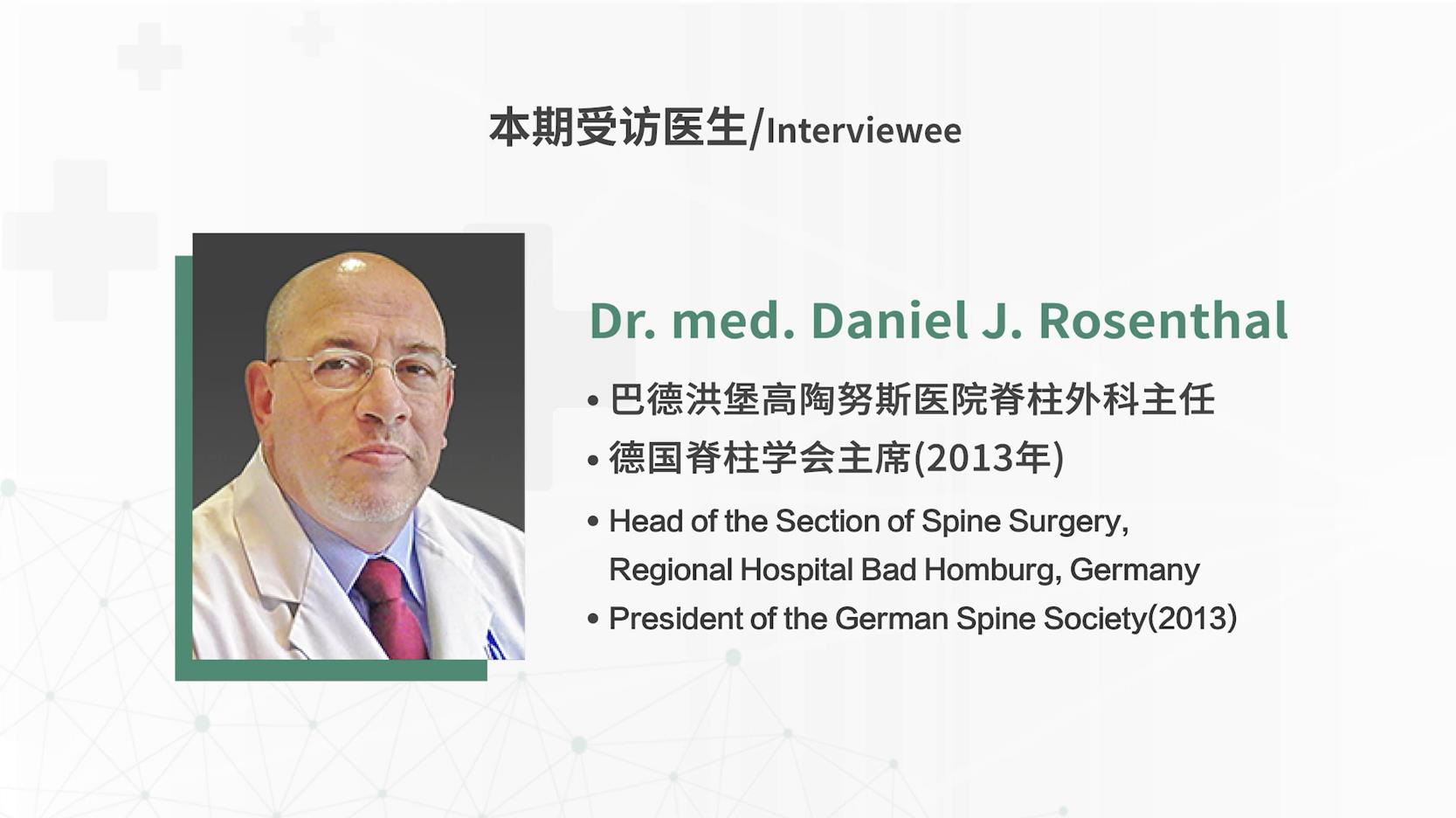 本期仁医医疗特别邀请到国际著名脊柱专家Daniel J. Rosenthal教授做专题访问。Rosenthal教授现任德国巴德洪堡高陶努斯医院脊柱外科主任,曾担任德国脊柱学会主席(2013年)。
Daniel J. Rosenthal教授出生于阿根廷并在阿根廷完成了医学学业,毕业后他赴德国法兰克福大学进行进一步的医学研究,并取得博士学位。他从 1992 年到 1996 年担任德国法兰克福大学附属医院神经外科主任和副院长。在胸腔镜脊柱手术方面,他有极大的成就。
精彩回顾
戳视频 抢先看
1、您出生于阿根廷并在阿根廷完成了医学学业,能否分享一下您早年在祖国的经历?
As you was born and finished your medical study in Argentina, could you please share with us your early experience in your home country?
我在英文学校接受了14年的教育,后来我在家乡罗萨里奥学习医学。当时的罗萨里奥是阿根廷的第二大城市,现在是第三大城市了。24岁那年我通过考试正式成为了一名医生。40年后回想起来,我在家乡度过了最美好的时光,我有很多陪伴我的朋友,我的学习充实,空余时间我会去打橄榄球,所以我的时间安排得很满。
I was educated for fourteen years in an English school. And after that I started my medicine studies in my hometown, that's Rosario. At that time, it was the second biggest city in Argentina, now I think it's the third. And at the age of 24, I was fully approved as a medical doctor. So those were, forty years later, the best times I had. A lot of friends, a lot of stress with study and tests, and apart from that I was playing rugby, so I had a pretty occupied timetable.
2、毕业后,您为什么会选择赴德深造并决定留在德国开启您的医学职业生涯?
After graduation, why did you choose to further your study in Germany and decide to stay there to start your career in medicine?
虽然我出生在阿根廷,但是我的家族、我的父母都是德国人。我和我的兄弟是我们家族700多年来唯一不在德国出生的成员,我们的家谱也可以证实。
我选择到德国深造的原因很简单,因为我想在更好的教育环境里完成学业。所以当时我几乎把所有的申请信都投去了德国的学校。我本来也有机会去西班牙或者瑞士的学校,但是当时我有一位在法兰克福的舅舅,他是城中资历最深的医师,他和我说:"你来德国吧,我会尽力指导你的学业"。所以我在德国的前十年我的舅舅非常照顾我。其实我在德国完成专科进修后已经很熟悉德国医院的日常工作流程,而且当时我的事业也在快速起步阶段。这就是我选择留在德国继续医学事业的原因。
I was born in Argentina, but my family, it's a German from father and mother's side. And in fact my brother and I were the only ones born outside Germany in almost 700 years of history that we were able to follow back in our genealogy. The reason why I chose Germany was simply that I wanted to have a better education in my specialist career. And that's why I sent all my applications, not only to Germany, but the vast majority of them were sent to Germany. I had also the chance to be accepted in Spain or in Switzerland. But at that time, I had in Frankfurt an uncle of mine who was the oldest physician practicing medicine in the city. So he told me, "Just come over here and I will try to guide you and help you." And he did it for almost ten years after I arrived in Germany.
In fact, I forgot to say I decided then, when I finished with my specialization, I was already pretty much involved in a clinic daily routine and I was just climbing positions, so that was the reason why I stayed here and continued my medical career.
3、您为什么学医,又为什么决定专注于脊柱微创手术呢?
Why did you decide to pursue a career in medicine and why, in particular, did you decide to specialize in the minimally invasive spine surgery?
我一直都对医学或者说自然科学感兴趣,我觉得研究动植物的自然生命周期是非常让人着迷的。读完高中后我就决定从事和自然科学相关的职业。当时我对兽医学不太感兴趣,因为阿根廷的兽医学是个很狭窄的学科。这个学科与农工业有关,兽医的大部分时间都在照顾牛群和猪群,它们是阿根廷农业经济中最重要的组成部分。所以我的选择很有限,实验室的工作也不适合我,我觉得它很无聊,所以最后我决定学医。至于为什么选择专注于微创手术,其实我并没有特意选择专攻微创,更多的是一种机缘巧合。九十年代初,我做了很多脊柱前路手术。1991年我和我的兄弟共同发明了胸腔镜手术。从那时起,我就自然而然地专注于现在的微创手术了,因为这种前路手术对脊柱的损伤比较小。
Medicine was always, let's say natural sciences, was always an interesting topic for me, and I found it fascinating to read about the normal cycles of plants or animals. And I think when I was finishing high school, I already took the decision, that I wanted to pursue some careers related to natural sciences. Veterinarian medicine didn't attract me so much, at that time at least, because in Argentina it's a very narrow field. That's mainly to do with the agro-industry, so the majority of the time you are looking after cows and pigs who are the most important economical branch of the Argentinian agriculture economy. So I didn't have too much left over, but laboratory was not an option for me, because it was pretty boring from my point of view, so I decided to get into medicine. That was the reason why I decided to apply for a career in the medical sector.
And concerning minimally invasive surgery, I didn't decide myself to specialize in minimally invasive, it was more a lucky circumstance, because at the beginning of the nineties, I was working a lot with anterior approaches to the spine, and together with my brother we developed the thorascopic technique, that was 1991. So since then I've been mainly or formally pushed into what it is called minimally invasive surgery, in this situation, it would be less aggressive approaches to the spine.
4、您的早年经历如何塑造你的成就?
How did your early youth experience shape your success?
我的早年经历对我所取得的成就影响不大。我天生是一个擅长理性分析的人,我对事物充满好奇,喜欢对复杂疑难问题寻根问底。正因如此,我当时开始研究全新的手术入路。我觉得自己很幸运,能够有机会进入脊柱外科这个当时刚刚起步的领域。总而言之,我不觉得我的早年经历对我的职业生涯,还有我在脊柱领域耕耘近30年取得的成功有太大的影响。
I don't think that my youth experience had a big influence in success. I am by nature a very analytical person, I am curious, I try to find some logical explanations for things that maybe a little bit confused or complicated. And that's the reason why I started developing approaches that at that time didn't exist. I was lucky because I just had the opportunity to get into a field that was just starting to progress and to expand, that's spine surgery, but I don't think that my youth experience had much influence in the career and the results of almost thirty years of medical practice in spine in my case.
5、您是否有在其他领域投入了您的时间和专业技能?
Do you have other fields in which you are investing your time and know how?
我和我的朋友在阿根廷投资了一个农场,这个农场运营了大概有10年。这是一件非常有趣的事情,我能尽我所能地投入我的时间和知识。
另一个方向是在脊柱领域,但与软件开发有关。我投资了一家做脊柱测量和分析软件的德国公司。我们计划开发出一个先进的系统,帮助外科医生在没有导航设备的情况下进行手术导航。这个软件系统是一种混合技术,预计在今年年底问世。
Yes, I'm still binding part of it to Argentina where there is a project of agriculture running there since more or less ten years now, together with some of my friends that are also partners, that's a very interesting thing where I'm also dedicating my time and my know how as far as I can. And the other one is in spine field but linked to software. That's a German company that has the software for spinal measurement and analysis. We are pretty far advanced to develop a system that will allow the surgeons to navigate surgery without a navigation device. That's a hybrid and I think we will show it by the end of the year.
6、在您的职业生涯中,是否有对您来说很重要的导师?他们教会您什么,是如何启发您的呢?
Who have been your greatest influences? What have they taught you and how have they inspired you?
年少时,我的父母对我影响深远。后来是我已故的神经外科老师Lorenz教授,还有当时的骨科主任Schmitt教授。Schmitt教授深刻地影响了我对脊柱疾病的认识。当然我的同事和病人对我的影响也很大,他们总是给我反馈意见。我认为同事和病人是医生最重要的导师,因为医学是动态的,它时刻都在变化,你永远都不可能在医学领域内做到完美。完美看似一步之遥,实则触不可及。所以在医学领域真正深刻影响我们的是,我们能否获得让自己和病人都满意的治疗效果。
For sure my greater influences were my parents in my young ages, followed by my teacher in neurosurgery that's Prof. Lorenz who passed away many years ago, and the head of the orthopedic department at that time, who's Prof. Schmitt who also had a big influence in my way of interpreting spine diseases. And the rest are the influence and the feedback I get from my colleagues and from the patients. I think that the last one, the colleagues and the patients are the most important influences you have in medicine, because that's a dynamic process, it is always changing, and you never achieve the perfection in what you are doing in medicine. You may be close to it, but it will never be perfect. So the real influence you have in medicine is, if you are satisfied and if the patients are satisfied with the results of your surgery or your treatment.
7、2013年您当选成为德国脊柱学会(DWG)主席,能否谈谈德国脊柱学会在德国医院和专家中的非凡地位?
In 2013, you were elected as the President of the German Spine Society(DWG), could you please talk about the importance of DWG to the hospitals and specialists in Germany?
德国脊柱学会汇聚了一众骨科医生、创伤外科医生和神经外科医生多年的努力成果。在德国,这三个学科和脊柱疾病息息相关。德国有一个创建了五十多年的脊柱研究学会,是世界上最古老的脊柱学会。上世纪九十年代末,德国出现了第二个脊柱学会——脊柱外科医生学会。多年来两个学会互融互洽,2000年初双方理念达成一致,德国脊柱学会应运而生。Michael Mayer教授作为德国脊柱学会的创始主席,他为学会的发展指明了方向,此后德国脊柱学会一直在蓬勃发展。德国脊柱学会是欧洲最大的脊柱学会,我认为它的规模和北美脊柱协会相当,同样拥有着享誉世界的知名度。德国脊柱学会提供了一个很好的平台,让所有的同行能够互相交流,彼此分享保守治疗、手术治疗脊柱疾病的心得。我们也为护士开展了相关的脊柱治疗培训项目。2013年我们在法兰克福开展了第一次研讨会,把脊柱疾病的护理纳入到德国脊柱学会的培训项目中,这个项目已经进行了近10年。
德国脊柱学会的重要性体现在我们的话语权,我们能够和医院、德国卫生部以及一些国外组织机构在同一语境下交流。从而避免病人一边听神经科医生解释治疗方案,一边听骨科医生分析病情,虽然双方意见不合的现象在全世界普遍存在。我们开展了一个严格的培训项目,完成培训的人员会获得证书。这份证书虽然不是官方认可证书,但对于病人来说,这份证书说明了医生掌握了一定程度的知识,能够有效治疗脊柱疾病。
我们为医院设置了两种证书,考察医院工作质量和医院设备情况,这两种评判指标是基于医院规模和治疗病种而设定的。病人在小医院和大医院接受的医疗服务是不一样的,设备有限的小医院只能治疗简单的疾病,而大医院能够治疗更多种类繁多、病程长的疾病,比如创伤、肿瘤和复杂的脊柱疾病。我们的证书分为不同等级,有一级、二级和三级。医院综合质量最高是一级,最低是三级。所以德国脊柱学会的重要性就体现在为脊柱外科的需求发声,无论何时都坚决捍卫其立场。
The DWG is the result of long years of trying to match the interests of orthopedics and trauma surgeons together with neurosurgeons. Those are the three main specialties dealing with spine diseases in Germany at least. We had in Germany for more than fifty years a society called the Society of Investigation in Spine that was I think the oldest society related to spine worldwide. And at the end of the nineties, a second society appeared, and that was the Society of Spine Surgeons. So for a lot of years, the research societies were not competing, but trying to adapt to each other, and at the beginning of 2000, the interests of both societies were similar, and we managed to create the German Spine Society. At that time, Michael Mayer was the one who leaded that way or showed the way to follow, and since then this society hasn't stopped to grow. It's the biggest spine society in Europe and I think it's the biggest spine society or at least as big as the North American Spine Society, although both of them have a very high level of recognition worldwide. The spine society has now got under one umbrella, all the persons that are willing to share their knowledge, but also their field of expertise in spine treatment, not only operative but also conservative.
We have even started to develop a program for nurses related to spine treatment. And in 2013 in Frankfurt we started with the first symposium where nursing was included in the scientific program of the spine society, and this has been kept for almost last ten years as well. Now the importance we have with this society is that, we are now in the position to talk with the hospitals with the German health authorities or with other groups outside Germany with one language. It is not that the neurosurgeons are explaining something about treatment on the left, and the orthopedics on the right, and they are struggling against each other as it happens in lots of countries worldwide. Here we have a strict program of education that leads you to a certificate, and that gives you at least there's no official recognition for quality, but it's important as I told you, for the patients, if you have that certificate, it means that you've reached a certain amount of knowledge capable to treat effectively and successfully spine diseases. From there, we've moved two certificates for the hospitals, so we have a structure that looks after the quality of the work you are doing at the hospital, how is the hospital equipped and that's based also the degree of structural and also medical part you are treating in the hospital. So it is not the same to have a patient treated in a very little hospital with low infrastructure where they are only treating simple cases compared with a bigger hospital where they are dealing with a lot of pathologies that are also time consuming, and also needed for the population like trauma or tumors or any kind of complex spine surgery. It has a different level of recognition. And we've graded that in Grade one, two and three, being one the clinics were the highest complexity, and three were the lowest one. So the importance of the DWG is that we have now a society that is expressing the needs of the spine surgery, but also defending their positions against whoever and whenever it's needed.
8、在胸腔镜脊柱手术方面,您有着极大的成就,请问对此类手术您有什么心得分享?
You have great achievements in thoracoscopic spine surgery, what insights would you like to share about performing this kind of surgery?
我认为胸腔镜脊柱手术本身并不特别,只是需要外科医生学习使用手术器械,因为这类器械的长度比开放手术中常用的长得多。这项技术还有一个问题,就是它采取的是前入路,对于不敢做前入路手术的医生来说这就是弊端。
因为当时欧洲的医学界认为前入路手术都是一些高难度、危险的手术。但事实恰恰相反,前入路是通往脊柱最直接的入路,而且在治疗一些脊柱疾病上,它的创伤性更小。熟悉掌握这项技术最重要的是多花时间学习,获得更大的信心。
1991年我研发出这项技术时,很多同行觉得操作这项手术要承受很大压力,而且对于他们来说前入路手术是一个全新的、未知的领域,所以他们把病人推荐到我的诊所。当然我非常感谢他们的推荐,经过大量的手术积累,让我在胸腔镜手术治疗胸椎退行性疾病方面得到高度认可。
It's difficult to say. I think it's nothing special on the technique, except that the surgeons have to learn how to work with the longer instruments than they are used to in an open surgery. One of the biggest problems, or I don't call it a problem, but the drawbacks of the technique is that, it uses an anterior approach. That's a drawback for those who are afraid to perform anterior approaches, because anterior approaches at least in Europe are surrounded by a sort of aura that means a difficult surgery, dangerous surgery and it's exactly the opposite. It's the most direct approach to the spine and it's the less aggressive technique to treat some spinal diseases. The most important thing is to dedicate some time and use that time to gain confidence in order to get used to this kind of technique and this kind of approach, there is nothing spectacular in the technique itself. The result is that, when I developed that in 1991, a lot of people had decided that they don't have the intention to deal with stress and with all the unknown world of anterior approaches for them, so they are sending the patients to my clinic which I appreciate a lot. And that's the reason why I got such a big recognition concerning thoracoscopic approaches mainly for the degenerative disease of the thoracic spine.
9、能否分享一下您治疗过的最具挑战性且最印象深刻的病例?
Could you please share one case that you think is the most challenging and impressive one?
我回想了很多以前的病例,但是我真的找不出一个最重要或者说最令人印象深刻的病例,你可能会惊讶于病变的复杂程度或者出人意料的手术效果。但是我认为每一个病例都非常重要。其实不用被病例吓到,比方说很多人看到片子时会先入为主觉得病情很复杂。
我认为我们这里是没有令人印象深刻的"病例",但有令人印象深刻的"手术效果",因为有时手术顺利但术后效果不如人意,或是手术进行得不太顺利,但术后效果出乎意料。我认为对于医生来说,每一个病例都很重要且印象深刻。我可以给你展示大量成功手术摘除大椎间盘突出的病例,我也可以给你展示一个由小椎间盘突出导致严重神经功能障碍的病例,这类手术难度不大,病人手术后就完全康复了,所以令人印象深刻这个标准在我看来是相对的。
When I read the question I was trying to remember one. But I really don't have one case that is the most important one if you call it like that or the most impressive, because it may be impressive because of the size of the pathology, it may be impressive because of the results you have achieved with the surgery. But I think every single case for itself is important. It may be not so subjective to surprise, or for a lot of people be extremely complicated when you see the picture. I don't think that there are impressive cases in what we are doing. Maybe we have impressive results because we don't expect to have a bad result in a good surgery or a good result in a bad surgery. But I think every single case is for the surgeon important and impressive. I can show you tons of big discs that have been successfully operated, but I can show you also one small disc causing serious neurological deficits, and after a surgery that's technically really not demanding, the patient recovers completely, so the term impressive is a very relative one in my opinion.
10、至今您最自豪的职业成就是什么,为什么?
What is your proudest career achievement to date and why?
我觉得让我最引以为豪的就是身边每天和我共事的同事。我们不仅仅是一个部门,还是一个团队,管理团队需要很多的精力和经验。我的团队就是我最自豪的成就。除了行政管理上的成就,我还很自豪这40年来病人和同事对我的认可。
I've also been thinking about that question as well. I believe that my proudest achievement is the group of people I have around me working with me every day. I don't call it a department, but it's a team, and to keep that team working, you need a lot of efforts, a lot of experience, and I think that's the proudest achievement I have. That's the part of the administrative part and the rest is the recognition of the patients and my colleagues during the last forty years.
11、您的科室一年的手术量有多少?以及您至今做了多少台胸腔镜脊柱手术?
Gloryren adds: How many spine surgery that are performed in your department every year and how many thoracoscopic spine surgery that you have performed so far?
现在我们一年的手术量是1100到1200台,这只是脊柱手术的数量。可能这个手术量在中国不足为奇,但是在德国已经算很多了。到2021年为止,我已经主刀了3000多台胸腔镜脊柱手术。
We are performing now about eleven to twelve hundred surgeries a year. And that amount is being done for spine surgeons. For China, these numbers are not so big, but for Germany, they're big enough. I've just made a summary until 2021, and I went above 3,000 thoracoscopic spine surgery performed by myself.
12、您对年轻的脊柱外科医生有什么建议?
What advice would you give to young spine surgeons?
保持好奇心、忠于你的身份和职责、永远相信一切皆有可能。这是我给年轻脊柱外科医生的三个建议,也是我职业生涯里一直奉行的准则。如果我没有保持好奇心,只是随波逐流,跟着主任医师或者其他同行做一样的手术,我就不会发明出胸腔镜手术还有其他入路的手术。要常问自己:这件事可行吗?这件事可能做得成吗?如果你不能坚持初心,后果将是一事无成,即使前方困难重重,只要我们坚持,事情就会有转机。

Be curious, be committed to what you are and what you are doing, and never accept the words "it's not possible". I think those are the three advice that I can give them, and those are the three things I've always been doing during my career. I wouldn't have developed thoracoscopic surgery or all the other approaches I'm using if I would have just done what my chief was doing or what the others are doing, and that was the result of a curiosity. Can it be done? Is it possible to do it? And if you don't stick to your plan, you will end up doing nothing, so even if you have drawbacks, you should keep working on it and it will happen that as some sort of solution appears in the horizon and leads you to the solution of the problems you are facing.
13、假如您不从医的话,您会从事什么行业?
What would you have been if you had not been a medical doctor?
这是个好问题,我想可能我会成为一名农业工程师。越是了解这个行业,你就会发现它还涉及生物知识、商业知识,而且这个行业有很大的空间让你发挥创意。现在我们在研究如何以更快速、经济实惠的方式运输农作物,长途运输农作物对于阿根廷来说是个问题,我想中国应该也有同样的问题。我们可以等时机成熟再讨论这个技术,现在它还是个雏形。
Another good question, probably I would have been an agricultural engineer, because the more I get involved with the topic, you have the biological parts, you have the entrepreneur part and you have also the room enough to develop new things. So in fact, we are working on an idea I have in order to have crops transported in a very quick and cheap way, that's a problem in Argentina because of the long distances, and it should be a problem in China as well, but we'll talk about it when the time is mature for it, now it's just a project.
14、除了学医外,您还有什么兴趣爱好?
What are your interests and hobbies outside medicine?
我的爱好就是足球、旅游和烹饪。
That's easy, soccer, traveling and cooking.