专访嘉宾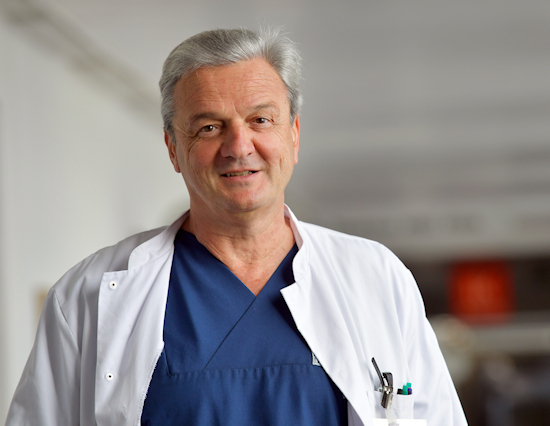 Prof. Dr. med. Christian Stief
本期仁医医疗特别邀请到德国国家科学院院士、慕尼黑大学附属医院副院长、泌尿外科主任兼慕尼黑大学泌尿外科教授 Prof. Dr. med. Christian Stief 做专题访问。
Prof. Stief 成长于医学世家,他分享了小镇的成长环境对其成就的塑造,介绍了医生到不同医院访学的重要性,并衷心感谢中国科研人员在新冠疫情作出的贡献。
One of the world's foremost urologists, Prof. Christian Stief talks to Gloryren about his illustrious career. Prof. Stief, who serves as a member of German National Academy of Sciences Leopoldina, the Deputy Medical Director of the University Hospital of Munich, Professor, and Chairman of the Dept. of Urology at the Ludwig Maximilians University of Munich, reflects on his inspiring youth, the importance of international exchanges and scientific research for a medical doctor.
精彩回顾
戳视频 抢先看
1、您是何时决定从医的呢?又为什么专攻泌尿外科呢?
Why did you decide to pursue a career in medicine and why, in particular, did you decide to specialize in Urology?
我来自一个非常古老的医学世家,自我曾曾祖父那代起就从医了,我的祖父、曾祖父等人他们都是外科医生。他们不是传统意义上的外科医生,是妇产科医生。当时的医生一般身兼两职,是普外科医生同时也是妇产科医生。
I come from a pretty old family of medical doctors. Already my grand-grandfather has been a doctor. And almost all these people, my grandfather, my grand-grandfather, they all have been doctors and they all have been surgeons, not really surgeons, but gynecologists. But at that time, usually people were at the same time both general surgeons and gynecologists.
所以我从未考虑过自己未来的职业。对于我来说,成为一名医生好像是自然而然的事情。后来我很幸运地被医学院录取了。学医的过程很有趣,而且欧洲的医学教育普适性非常高,我学到许多对日常生活很有价值的知识。所以首先我是非常愿意从医的,其次是我有幸进入医学院学习,其三我在学医过程中获得很多乐趣。
And I even haven't thought about it, but for me, it was all-natural that I should at least consider becoming a medical doctor. And I was lucky to be accepted into the university. Later on, I really had lots of fun in the study to become a doctor, because at least the study for medicine here in Europe is so broad that I can learn a lot of things that are useful for daily life. So I was first positive to go into medicine. I was fortunate to get a place over there. And I had lots of fun studying medicine.
大学期间我辗转过很多学校求学。我一开始在德法交界处的洪堡市学习。然后我到了弗莱堡,那是一个非常可爱、典型的欧洲大学城。后来我去了南非博茨瓦纳学习。从南非回来后我又回到弗莱堡,又从弗莱堡到法国蒙彼利埃大学完成我最后一年的学习。
I changed universities many times. I started in the countryside, what is called Homburg at the French border. Then I studied in Freiburg, which is a very lovely, smaller, classical European student town. Then I went to Africa, to Botswana. Then I went back to Freiburg, and from Freiburg, I went to France and studied my last year in France at Montpellier.
刚才你们问我为什么选择泌尿外科,不得不说,一切纯属巧合。一开始我想成为像我的祖辈一样的妇产科医生。但是大学毕业后,我需要到军队服兵役15个月。当时在德国每个成年男性都要义务服兵役。当时我没有选择的机会,我被分配到一家军队医院的泌尿科服役。接触下来后,我不得不承认我非常喜欢这份工作,非常喜欢做泌尿科手术,也非常喜欢科里的病人,因此我决定深耕泌尿科。
And then you ask me: "why did you become a urologist?" I have to admit that this has been a pure coincidence. I, as my people before me, obviously wanted to become a gynecologist. But in Germany, at that time, after I finished my university studies, I had to go to the military for 15 months, what we call is "being drafted", which means it's mandatory that anybody had to go to the military. And since I finished my medical studies, they offered me a job in a military hospital for 15 months. And I didn't really have the chance (to choose). They just put me into the department of urology. And then I have to admit, I liked the job a lot, I liked the surgery a lot, I liked the patients a lot. And then I stood in urology.
2、您的早年经历如何塑造你的成就?
How did your early youth experience shape your success?
我来自一个小小的乡镇,并不是什么大城市。我成长的环境非常安全,小镇里没有罪案、没有毒品,一切"坏影响"都不存在,所以我有一个非常幸运的少年时代,我的双亲非常疼爱我。周边的社会环境和氛围很好,小镇的孩子们有快乐的童年、安全的成长环境,同时亦明白要非常努力。诚然,我们可以尽情享受人生,但是我们更可以通过努力在学校获得好成绩,并获得一份体面的工作来取得成功。
I come from the countryside, from a small town, not from a big city. And I have been brought up, let's say, in very safe ways. It means that it's a small town where the crime did not exist, where there were no drugs, there were no bad influences. So I had a pretty lucky youth. I was brought up by parents who really love me.So the circumstances were pretty good and what you learn in the countryside when you have a reasonable childhood and grow up in safe circumstances, is to work reasonably hard. Still, you can enjoy life, but you can make succeed just by working hard, trying to get good grades in school, and just trying to do a reasonable job.
除了在学校努力学习之外,课余时间也是非常重要的一部分。在校外培养能力和视野很重要。我们一般会参加小规模团体活动,在欧洲一般是到教堂或者慈善组织参加活动。活动过程中,我们学会如何与他人沟通、合作。随着年龄增长,我们学会如何承担责任,甚至是学会带领小团队,渐渐地学会带领更大的团队。在课余活动中我们学会如何跟不同的人交往,如何建立自己的影响力,如何积极引导他人,如何通过不向他人施压的方式使人信服。我觉得这些都要在青少年时期,甚至是童年时期就要开始学习。
And besides this, I learned that, besides working hard at school, it's important to have spare time besides the time in school. Because the capabilities, the things you learn outside the school horizon are very important. Like, if you live in the countryside and you organize yourself in smaller groups, whatever, in our society, it's often the church, or it's often charity organizations, you learn a lot, you learn to cope with others. If you then grow older, you learn to take over responsibilities, even lead a smaller group and then lead broader groups. So you learn how to manage groups of people, how to have a reasonable influence, how to have a positive influence on people, how to manage things without putting pressure but in convincing people. And I think this you learn very, very early on in your childhood and adolescence.
我从15岁左右加入摇滚乐队玩音乐,这鼓舞了我的一生。在乐队里我学会玩乐器、唱歌,学会跟别人一起做音乐。通过音乐,我学会了很多在学校学不到的东西,我学会了许多社交技巧。所以我对年轻人的建议是,要在课余之外有自己的一片天地,学习当下看起来没有特殊意义但一定会让你受益终生的技能。
But when I was an adolescent like 15, 16, 17 years of age, I started playing music in a rock band. And even that has been very inspiring. You learn an instrument, you learn to sing, you learn to do music with others together. And by playing music, you learn many different things that you would not learn in school. I think you learn a lot of social skills, too. So my advice for young people is to do things outside the regular school schedule, to learn things that may not have a specific purpose at the moment, but will help you a lot during the course of your life.
3、您职业生涯中是否有对您来说很重要的导师,他们教会您什么,是如何启发您的呢?
Who have been you greatest influences? What have they taught you and how have they inspired you?
说到我生命中对我影响最大的人,肯定是我的父母。但从我的职业生涯来看,这个人是我的舅舅——我妈妈的兄弟。在三十年前甚至是四十年前,他已经是全德国最具影响力的妇产科医生。他是一名非常谦逊、德高望重、技术精湛的外科医生。很久以前,他手把手地教我,带我做手术、照顾病人,教我学习和思考问题的方式。他还会教我如何给予病人最好的照顾,除了治疗疾病之外还能如何帮助病人。比如说,他教我从社会心理学方面考虑,我应该在什么时机、如何跟病人家属谈话,这些对我来说影响深远,让我获益匪浅。每当我做决定时,他总是无条件支持我,比如我想出国、想到不同的大学学习,我想拜访不同的医院和科室,我想到美国去做科研等。
When it comes to the greatest influence of my life, obviously, it's the parents, but maybe for my professional development, it was my uncle, the brother of my mother. At that time, 30 or even 40 years ago, he has been the most influential gynecologist in the country. He has been a very modest man, but a very influential, very good, and extremely skilled surgeon. He kind of took me by the hand, and introduced me very early to surgery, to patient care, to how you learn a lot, how you can see things, how you can possibly best treat patients, what are strategies to help people even beyond their immediate disease. Like, are there psychosocial aspects? Do you have to talk to relatives and not just treat the disease? That has been a very strong influence and a very big help. And he always supported me when I had ideas like going abroad, going to a different university, visiting different clinics, visiting different hospitals, going to the U.S. doing research over there...
我觉得每个人都要有一个人生导师,他不一定是你的家人。他帮助你不是出于私利,但对你来说大有裨益。他会在你人生和职业生涯的路上给予你合适的建议和帮助。
I think you benefit largely when you have a mentor. It does not have to be a family member. But it's very helpful if you have somebody who takes care of you, not for their own interest, but who helps you during different steps during your life and during your career.
4、从您自身经验出发,对于一名医生来说,到不同医院或者不同国家访问的重要性?
Based on your experience, how important is it for a medical doctor to visit different hospitals or different countries?
对于任何一位医生来说,去不同的医院、国家访问都是至关重要的。你可以看到、感觉到甚至亲身体验到治疗同一种疾病的不同疗法,甚至同一种疗法也有很多不同的实现方法。更重要的是,你的思维会变得更加开阔,你对同一个问题的不同解决方案也有更多想法。
I really think it is of paramount importance and of utmost importance. The thing is, if you go to different places, if you go to different countries, you can see, you can feel, you can experience that the same disease that the same problem can be solved by different approaches. And you can see that there are many ways leading to one solution or to one good solution. The important thing is that your mind becomes broader, and you become more open to different solutions to one specific problem.
如果你一直在同一家医院学习、工作,工作方式一成不变,你的上司只教你用一种方法,你也只会用一种方法解决问题。如果你到不同医院访问,你会发现其实还有很多方法。而且你在外院学到、看到的这些方法,疗效可能跟你原有方法一样甚至更好。所以访问不同的地方、不同的国家会开拓你的视野,我确信多外出访问不仅能使我们成长为更好的医生,也能使我们成长为更好的人。
If you grow up just in one hospital, you always do the same thing. Your boss always tells you to use the same approach, and you always solve the problem in one and the same manner.If you go to different places, you see that you can solve it in different manners. Probably, and most likely, you can see and you can learn that other solutions are at least equally as good or maybe even better.So going to different places, visiting different countries broadens your horizon and I'm absolutely convinced that it makes you a better doctor and a better person.
在德国,所有医院职位都是公开招聘的,全世界的应聘者都可以申请。我们不像美国、法国或者意大利,(这些国家)的职位是国内分配的。在德国大家可以直接写求职信到相应的科室求职。我们的系统非常灵活,但因此竞争也非常激烈。我们绝对不会聘请一个没有海外经验的年轻医生。我们要求最少有半年海外经验,一年为佳。
To put things straight, we have the system in my country that if you have open positions, people can apply from all over the world. So we don't have a national distribution pattern, like in the US or like in France, or in Italy. In my country in Germany, you can write a letter to a chairperson and tell the people that you would like to apply for a job. So the system is very flexible, is very competitive. And we would never ever hire a young doctor who has not been abroad, at least for half a year or better a year.
在欧洲,出国学习是极度容易的事。欧洲有一个伊拉斯谟计划,所有欧洲大学生都能通过申请这个项目到国外交换,项目费用由欧盟资助,所以现在出国是非常简单的事。最起码在我的理解里,假如一个年轻医生想找份好工作,或者想在简历里增添一些闪光点,他们必须到不同的国家去,多看看新鲜事物。
In Europe, it is extremely easy to go to different countries and to study in different countries. We do have a program that is called Erasmus, which allows every European student to study abroad during university studies, and it is even financed by the European Union. So nowadays, it's very easy (to go abroad). At least in my understanding, if you wanna work at a good place, if you wanna really add something as a young doctor, you must have benefited from that program and visit different places to see different things.
5、恭喜您成为慕尼黑大学医院副院长。您任职后接下来几年的计划可以跟我们分享下吗?
Congratulations on taking the position as the Deputy Medical Director of LMU hospital. Could you please share with us your plan on this position for the following years?
首先非常感谢大家对我的祝贺。说实在的,慕尼黑大学医院副院长的工作量真的非常大。最有趣的是,这个职位是没有工资的,这是一个为公共利益奉献自己的职位,并且我要尽可能低调行事。
Thank you so much for your congratulations. Just to put things straight, becoming a deputy medical director here at the LMU is a lot of work. And the fun is that it is not paid, which means it is an extra time that you really devote to the common benefit.
也就是说,我做副院长并不会影响我们医院未来十年的发展战略。我的职位相当于一个紧急联系人,其他的科室主任和教授联系不上院董事会的时候,他们就会联系我。我是院董事会里最容易联系得上的人。所以每当其他教授和主任出现问题的时候,他们会直接打电话给我,让我帮忙解决问题。
I really try to do a very modest life, which means my job as the Deputy Medical Director is not affecting the strategy where we wanna be in the next 10 years. My position is more or less the the emergency call for the other Directors or the other professors who usually cannot reach the board of the hospital. It's very difficult to reach other board members than myself. So if other professors or Chair people have a problem, they take their phone to call Chris Stief. And they ask me to help them with their problems.
副院长的日常工作就是帮大家解决问题。举个例子,我们现在面临的一大危机就是新冠肺炎。比如说我们泌尿外科日常开放病床是103张,但是现在只有60张,医院里1/3的医疗资源都投入到新冠病人的照护中。现在新冠肺炎是德国医疗系统的一个大危机,所以我每天都要做很多协调工作,帮助大家同时照顾好"常规病人"和新冠病人。所以一句话总结,我把我的职位看作一个给大家解决每天、每周、每月甚至每年问题的职位,而不会影响医院未来十年的发展战略。
Like, at the moment, we have a big big problem with Covid-19 over here. To give you an idea, on normal days as a department of urology we have about 103 beds. And at the moment we have about 60, so at least 1/3 of the capacity of our hospital is in taking care of Covid patients, both intubated and non intubated. So it's a big big thing here in our health care system. And I try to help people solve problems so that they can take care both of their so-called normal patients and of their Covid patients. So to summarize, I see my job as Deputy Medical Director to solve daily or weekly or, let's say, monthly problems and maybe yearly problems, but not the strategy for the next 10 years.
6、您未来几年的个人计划是什么?
What about your personal plan?
我个人的计划非常简单。我们科室已经成为全球范围内最大规模的泌尿外科之一。在德国有很多调查,有好几个手术质量及医疗质量评估系统,并且这些调查结果都是非常公正的。在过去几年的德国泌尿外科医疗质量评估中,我们科室一直名列前茅。因此我在未来几年的计划是,我们要尽一切努力让我们的诊疗人次、护理质量、手术质量和保守治疗质量都保持在领先地位。最重要的是,在力所能及的范围内给予病人最高质量的照护,我不能说全球之最,但起码在德国是这样,这就是我的动力所在。
My personal plan is very simple. We have become, let's say, one of the real big departments of urology worldwide. And at least there are several systems that you can look at the quality of the medical care and of the surgery you provide to the patients because we have nationwide surveys. And these surveys cannot be influenced. During the last years, we were even the leader in medical quality in urology, in our country. So my strategy for the next years would be that we try anything to keep the high patient numbers and that we try definitely anything to provide the high-quality care of care that we provide to the patient, both in surgery and in conservative medicine. That is of paramount importance that the patient care we provide should be the best possible. I won't say on earth, but at least in my country, that is what drives me.
7、您如何平衡行政、临床、科研、教学工作及个人生活?
How do you balance the personal life, administration, clinical practice, research activities and lecturing?
这是一个非常棘手的问题,我的个人生活和工作之间的分配是非常不均衡的。我必须承认,我这一生当中,起码在过去的35年中,我大部分的时间和精力都投入在工作上了。
That is a very, very terrible question. The question is so terrible because there is, obviously a huge discrepancy between my private life and professional life. And I really have to admit that I kind of dedicate my lifetime, at least the last 35 years to the job and not to private matters.
自我24岁从医以来,我每天工作14小时,周末甚至更久。工作日的大部分时间我都投入在临床活动上。周末我一般规划科研活动。以我现在的职务,即使我想亲手做科研也不能自己做。我一般会为年轻医生规划、组织他们的科研项目,为他们争取资金,为他们提供实验室的位置,帮他们找一些比较有意义的课题。因此我的工作是主导科研方向,而不是亲自去做研究。所以我一般在周末和工作日的晚上9到11点做行政和科研工作。
Since I was 24, I work about 14 hours a day. And I usually work long hours on the weekend. During the week, I devote almost all my time to patient care. And over the weekend, I structure research, which means at my position, even if I am very motivated, I cannot do the research myself. The only thing is that I can facilitate research for the young ones. I can try to provide money for the young ones. I can try to provide lab space. I can try to find interesting projects. Thus my job is to structure the research, but I cannot do the research myself. Usually, I do administration and research activities over the weekend or in the evening between 9 and 11.
8、作为多个领先泌尿科学会的活跃成员,您认为这些学会对泌尿外科和临床医生有何重要意义?
You have been an active member of many leading organizations or societies in the field of urology. How important do you think these societies are to the field of urology and to the urologists?
从我的自身经验来说,我们参加活动的初衷是为了更好的病人护理。只有当同行们相聚一堂,对治疗理念、科研项目各抒己见的时候,才能为病人创造好的甚至卓越的护理。因此要尽可能加强与国际同行的思想、科研和学术交流。
My lifetime experience is that basically good patient care is the aim of our job. And good or even excellent patient care is only possible if you have a free exchange of ideas, of concepts, of projects, of research activities, with other ones, and the best is the case where you have a free exchange of ideas, of science and knowledge with as many international colleagues as possible.
这意味着我们要参加大型的国际会议,比如美国和欧洲的泌尿外科年会,每年吸引世界各地15,000到20,000名专家参加,大家可以在年会上畅所欲言,讨论泌尿外科现有的问题、新的科研方向、新的治疗理念。国际会议和国际交流的意义在于为学科建设规划蓝图,推动整个学科发展。另外我们还有国内会议或区域性会议。
This is usually done on big international meetings like the American or the European urological meetings where about 15,000 to 20,000 specialists come from all over the world, where you discuss very openly and very freely what ongoing problems are, what ongoing ideas are, and what ongoing concepts to solve these problems are. International meetings and international exchange are all about the big picture and are really advancing the field.
注重临床服务的泌尿外科医生一般会参加区域性或者国内的年会,学习近两年最新的诊疗理念。这些会议一般不讨论学科5年内的发展方向,因为那是国际会议讨论的事情。国内的会议一般讨论当下的诊疗方案,这就是参加区域性和国内会议的意义。
On the other hand, there are so-called national or local meetings. These national and local meetings also have very important features. The office-based urologists, who work in the city and take care of daily patients, go to national and to local meetings and learn what is up to date in the year 2021 or next year 2022. They don't care so much about what will be the future in 5 years, which will be discussed in international meetings. These national meetings focus more on what the treatment for today is up to. And that's the role of local and national meetings.
总而言之,学会和学术会议分为两种,一种是大型的国际学会或者学术会议,大家参会是为了讨论学科5年内的发展战略,包括诊断和治疗方案的发展。其次是区域性和国内会议。以泌尿外科为例,在这些国内会议上大家可以了解到前列腺癌或尿失禁现有的治疗方案,同时国际会议也可推动科研发展,进而改善病人护理,但是国际会议只适合在本领域深耕多年的专家参与。
To summarize, there are two entirely different levels of international meetings and of international societies. There are really the big international meetings. We go there to have an idea of where the development of diagnostic and therapeutic procedures is, where the strategy in 5 years will be. And then, on the other hand, there are local and national meetings where we go to see what the treatment of, let's say, prostate cancer or incontinence nowadays is. And big international meetings definitely help to advance the science, to advance patient care. But that really is for the ones what deeply involved in the field.
9、您是德语国家每年完成最多泌尿系统癌症手术的医生,同时是德国国家科学院成员之一,您认为科研对一个临床医生有何重要意义?
You are the surgeon operates most major urological cancer operations per year in German-speaking countries and at the same time scientifically active as a member of German National Academy of Sciences Leopoldina. How important do you think scientific research is to the clinical doctors?
这是医学界的关键。无论是临床研究还是临床前研究,对医学各个专业的发展都至关重要。作为一名外科医生,每天都要完成日常的诊疗工作。这些日常工作基于过去或者当下的经验。但是当涉及到明天、明年或者十年后的诊疗策略时,就要求医生必须参加科研活动。我们必须从细胞、亚细胞、组织的层面去考虑疾病的潜在机制,去研究某种特定疾病的诊断方法。研究出诊断方法后,我们还需要研究治疗方案。
Scientific research, both clinical and preclinical, is of paramount importance for the development of every specialty in medicine. As a doctor, especially as a surgeon, you do your daily job based on the experience of the past and maybe on the experience of today. But when it comes to treatment strategies to diagnostic approaches for the patients for tomorrow, for next year, or for 10 years, you have to be engaged in research.You have to see what the underlying mechanisms of disease are on a cellular level, on a sub-cellular level, on a tissue level, to think about what may be the next step in diagnostics for a specific disease. And obviously, as the next step, if you understand what may be the next diagnostic, you may think about what may be the next therapeutic approach for better patient treatment.
因此在日常的诊疗工作中,我们只要掌握以前或者当下的经验就足够。但是假如我们想治疗明天、明年甚至十年后的病人,就必须要参加科研活动,为未来可能会发生的疾病作打算,并从个人、团队、科室、医院的角度考虑如何给病人提供最好的照护。
So, in daily clinical practice, experience from the past and today is sufficient. But when you think about treating patients tomorrow and next years or 10 years, you definitely have to be engaged in scientific research to see what comes next for our patient and how can I help, how can we help, how can the department help, how can the hospital help in achieving that goal.
10、至今您最自豪的职业成就是什么,为什么?
What is your proudest career achievement to date and why?
这个问题很简单,我从业至今最自豪的成就是成为利奥波第那科学院的院士。这是德国国家科学院,同时也是世界上现存最古老的学术机构。现有约1500名院士,大部分来自德国、奥地利及瑞士,30%的院士来自其他国家。这里拥有过百位诺贝尔奖得主,因此选举过程严谨而复杂。
That's very simple and very easy. The proudest achievement of my scientific career is becoming a member of the Leopoldina, which is our National Academy of Science. It is the oldest scientific academy still existing worldwide, with about 1,500 active members in Germany, Austria, and Switzerland. Plus, it has about, I think, 30% of international members. It holds hundreds of Nobel laureates. So, it really is very, very selective.
令我自豪的是,我是科学院内第一个也是唯一一个泌尿科医生。利奥波第那科学院从来没有推选过泌尿科医生成为院士,我是唯一一个,这是一件很酷的事情。
And what is very nice for me is that I am the only and first urologist that has become a member over there. There has never been a urologist at the Leopoldina. And at the moment, I'm the only one. So that's a pretty cool thing.
打个比方,现在为德国政府提供应对新冠疫情相关建议的是利奥波第那科学院。政府有任何科学相关的问题需要寻求建议的时候,利奥波第那科学院会提供建议。当选院士不仅很酷且极具影响力,因为国家科学院的院士能直接接触政府高官。
And just to give you an idea, at the moment, the adviser who advises the German government on how to cope with Covid-19 is the Leopoldina. So, if our government has a scientific problem or a problem that needs scientific advice, they ask Leopoldina. So being a member of Leopoldina is both very cool and very influential because you have direct access to high politics.
11、您对中国科研人员有什么了解吗?
How much do you know about the Chinese researchers ?
我觉得全世界和整个科学界都应该衷心感谢中国的科研人员。虽然我不是新冠疫情的一线抗疫人员,但是据我了解,新冠病毒基因序列是由上海的科研人员首先发布的,这为后续的病毒检测和治疗策略提供了基础。
I really think the world and the scientific world owe a lot to Chinese researchers. Like, I'm not involved in Covid-19, but as far as I know, it has been a Chinese researcher from Shanghai who first published the genome of the virus, which allowed to develop the tests, to develop the treatment strategies.
我认为中国科研人员是全球科研团体不可或缺的一部分,我们需要开放的渠道和无间的交流。中国有非常多优秀且能力极强,受过良好培训的科研人员和医生,我们需要在各种数据和项目上跟中国的科研人员进行友好、广泛的交流和讨论。
I think it's very, very important that the Chinese researchers become or stay part of the worldwide scientific bodies, that we have open access, free exchange. There are so many smart and extremely well-trained and extremely intelligent researchers and medical doctors in China that we definitely need a friendly tone, a daily discussion, and an open exchange of data and projects with them.
幸运且值得自豪的是,我们与广州一所大学正在进行两项大型科研项目的合作,一个是膀胱癌相关项目,一个是良性前列腺增生相关项目,两个均由中国政府资助。
We are fortunate and very proud that we have two big scientific projects with Chinese researchers from a university in Guangzhou. We have one on bladder cancer and another big one on benign prostatic hyperplasia sponsored by the Chinese government at the moment.
12、对于想要从事泌尿外科的人,您有什么建议?
What advice would you give to someone hoping to start a career in urology?
我有一些普遍适用的建议给孩子们和年轻学生。第一,努力学习、努力工作;第二,保持开放和好奇的心态;第三,多去不同的地方和国家访问、学习;第四,不努力的时候就努力地玩。努力工作学习之余,也要尽情享受人生,我认为这也是很重要的。第五,学会低调谦逊,越成功就要越谦逊。
I think these are general advice you give to your kids, to young pupils, to young students. First, work hard. Second, stay open, stay curious. The third one would be to go to different places, go to different countries. Fourth, if you don't work hard, party hard, which means to enjoy life after you have worked hard, I think that's very important. And the fifth suggestion would be if you become successful, be very modest, the more successful you become, the more modest you should become.
13、假如您不从医的话,您会从事什么行业?
What would you have been if you had not been a medical doctor?
这个问题对我来说太难了,因为我出生以来就认为自己是要成为医生。现在想想,如果不当医生的话也许我会成为一名经济学家吧。
That's a very difficult question because all my life I thought I would become a medical doctor. I think I would have become an economist.
14、除了医学外,您还有什么兴趣爱好?
What are your hobbies outside medicine?
我喜欢打网球,偶尔会去爬山,平时会阅读很多书籍。我喜欢艺术,我在学医的同时修了艺术。我最喜欢的是11—14世纪期间的欧洲艺术,也就是罗马式艺术和哥特式艺术。我经常去看展会、飞到各地教堂参观、到处看画。我家到处都是艺术品。我会读很多艺术类的书籍,学习艺术相关知识,我非常享受这一切。
My hobby is playing tennis. I hike a bit. I read a lot. And I like fine arts. When I studied medicine, I studied fine arts in parallel. What I like a lot is European art between the 11th and the 14th century, what we call Roman and Gothic Art. I like that a lot. So I go to exhibitions, I fly to all churches, I look at all paintings. My house is filled with art. I like it a lot, I read a lot and I learn a lot. I really enjoy this.
2022年 Prof. Stief 将在中国招收泌尿外科临床医学博士,学时两年,完成博士毕业论文即可获得德国医学博士学位(MD)。
Prof. Stief's team is now open for application from China for an M.D. degree in Urology. The qualified candidate could get a degree of Doctor of Medicine from the Ludwig Maximilian University of Munich after finishing a 2-year full-time study.