With the development of China's economic level, the continuous growth of the population and the accelerated process of ageing, and transforming China's medical model, general practitioners are assuming an increasingly important role in medical health service. The Report to the 19th National Congress of CPC pointed that community-level healthcare services, and general practitioner team construction should be strengthened.
On October 11, the Sino-German Video Conference on General Practice was held successfully at Shenzhen Luohu Hospital. The conference was organized by Lin Jinchun, Vice President of Shenzhen Luohu Hospital Group and was greatly honored by the participation of Prof. Eva Hummers, Chair, Department of General Practice/Family Medicine, University Medical Center Göttingen and Vice President, German College of General Practitions and Family Physicians, DEGAM. Prof. Hummers shared a lecture on the German General Practice service, training system and management of Diabetic patients in German community with us.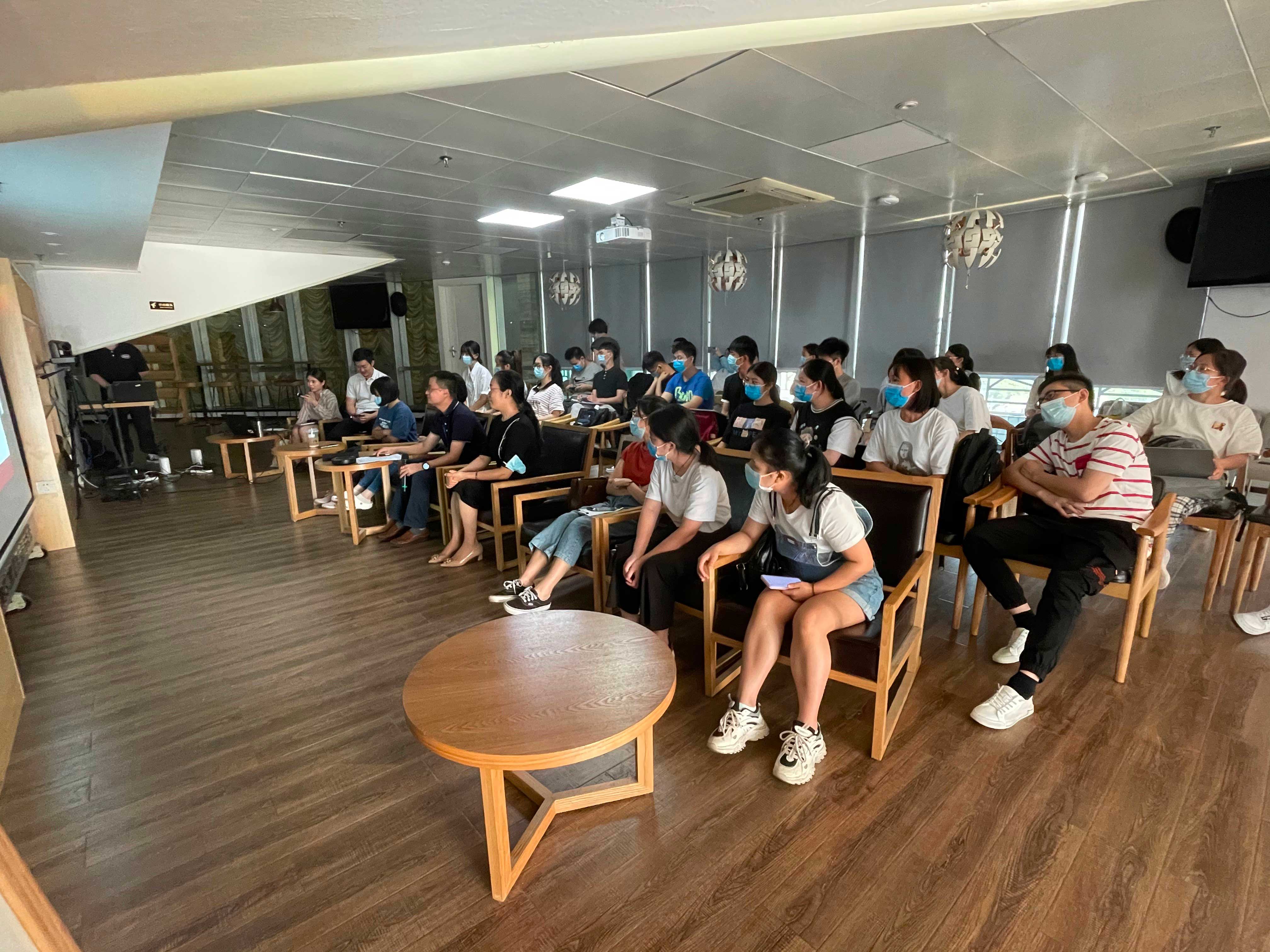 At the beginning of the meeting, Vice President Lin Jinchun gave a warm greeting to Prof. Hummers and appreciated her joining the academic exchange. Shenzhen Luohu Hospital Group aims to cultivate GPs with international vision and caring attitude. Focused on citizen's health, it strives to achieve goals of "Less Disease, Less Hospitalization, Less Burden, Precise Treatment". In recent years, Shenzhen Luohu Hospital Group absorbed advanced concepts of General Practice globally and learned from the best system, mechanism and experience to develop the thinking and service concept of medical students and physicians on General Practice.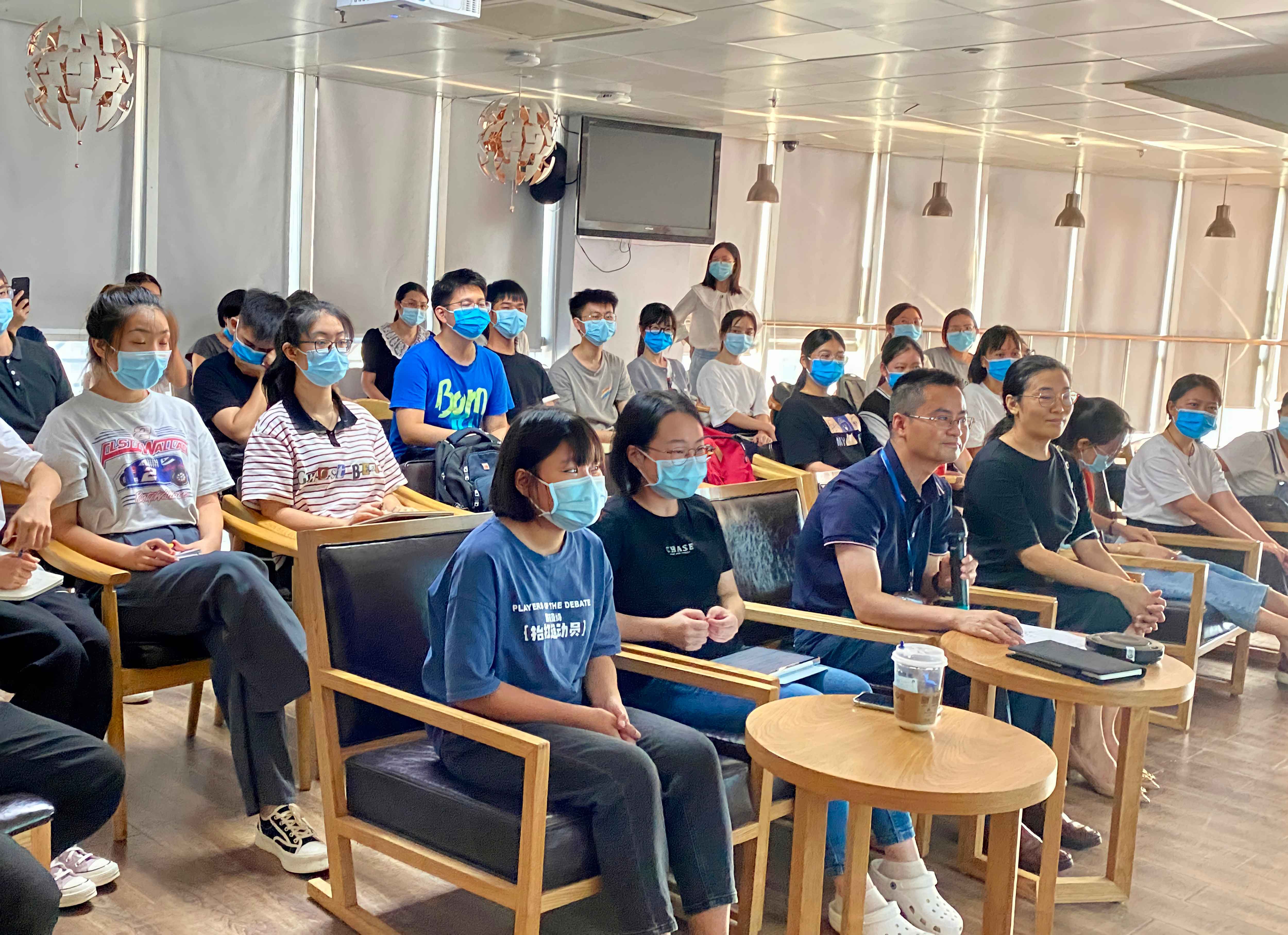 Prof. Hummers shared the German General Practice and training system in the conference.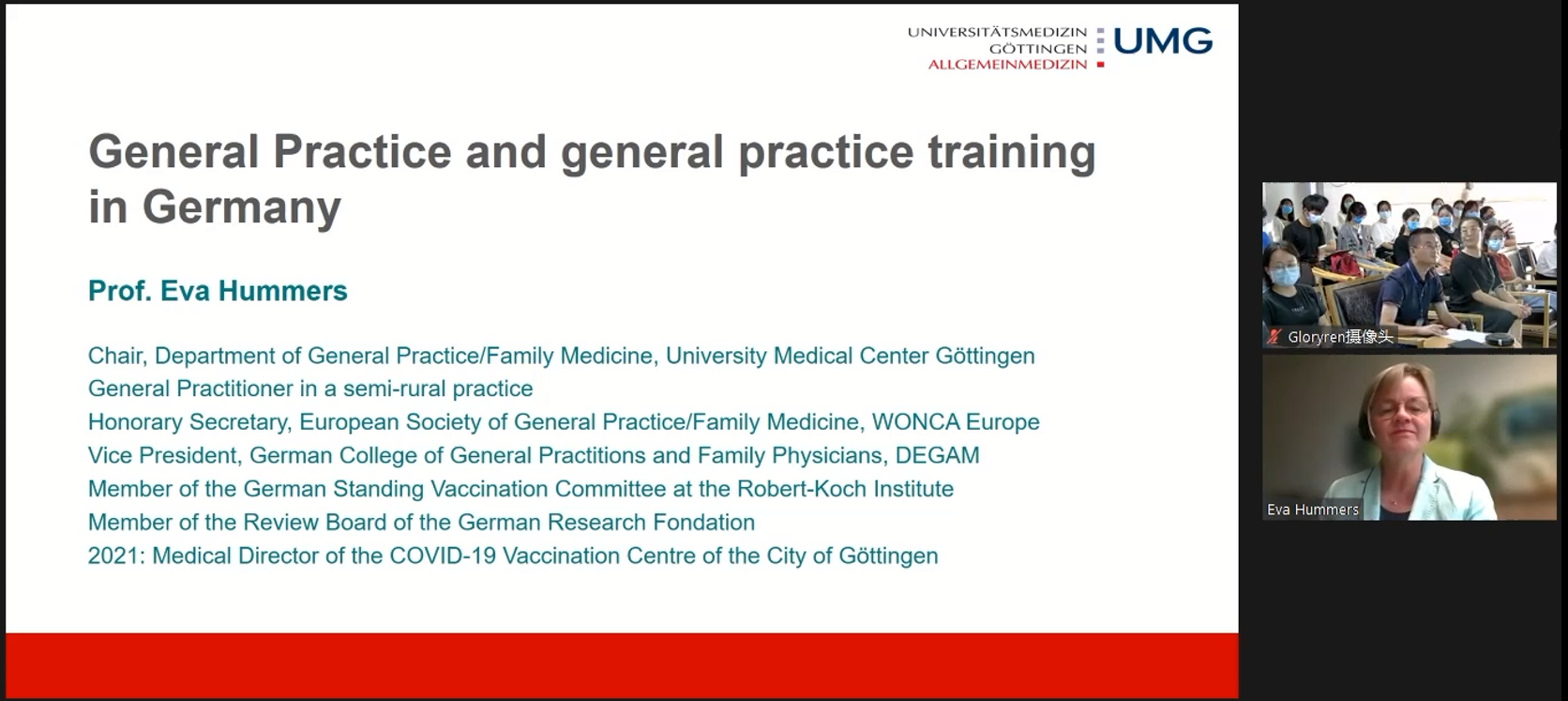 General Practice in Germany
There are several types of General Practice in Germany. Some GPs will have self-employed single handed practices or co-founded by several GPs or medical center, while some will choose to be employed GPs. To set up a General Practice, the GP should take training courses before their practices, get concession, and participate in continued medical education activities. Concession should be purchased in urban city and is accessed for free in rural areas. And GPs should be capable to deal with a complex payment system.

Opening a general practice also requires owning or renting practice facilities and employing assistants (nurse, secretary). The average German GP sees 40-80 patients a day, and 500-1500 individual patients in 3 months. The practice is paid per patient seen in a 3 month period with some extra fee for service and financially liable for prescription and laboratory budget. General Practice is available for patients all the time, participating in out of hours services.
Rural areas are in lack of GPs so GPs can have open access to concessions and get subsidies. Due to high workload and less medical infrastructures, rural areas are often perceived as less attractive.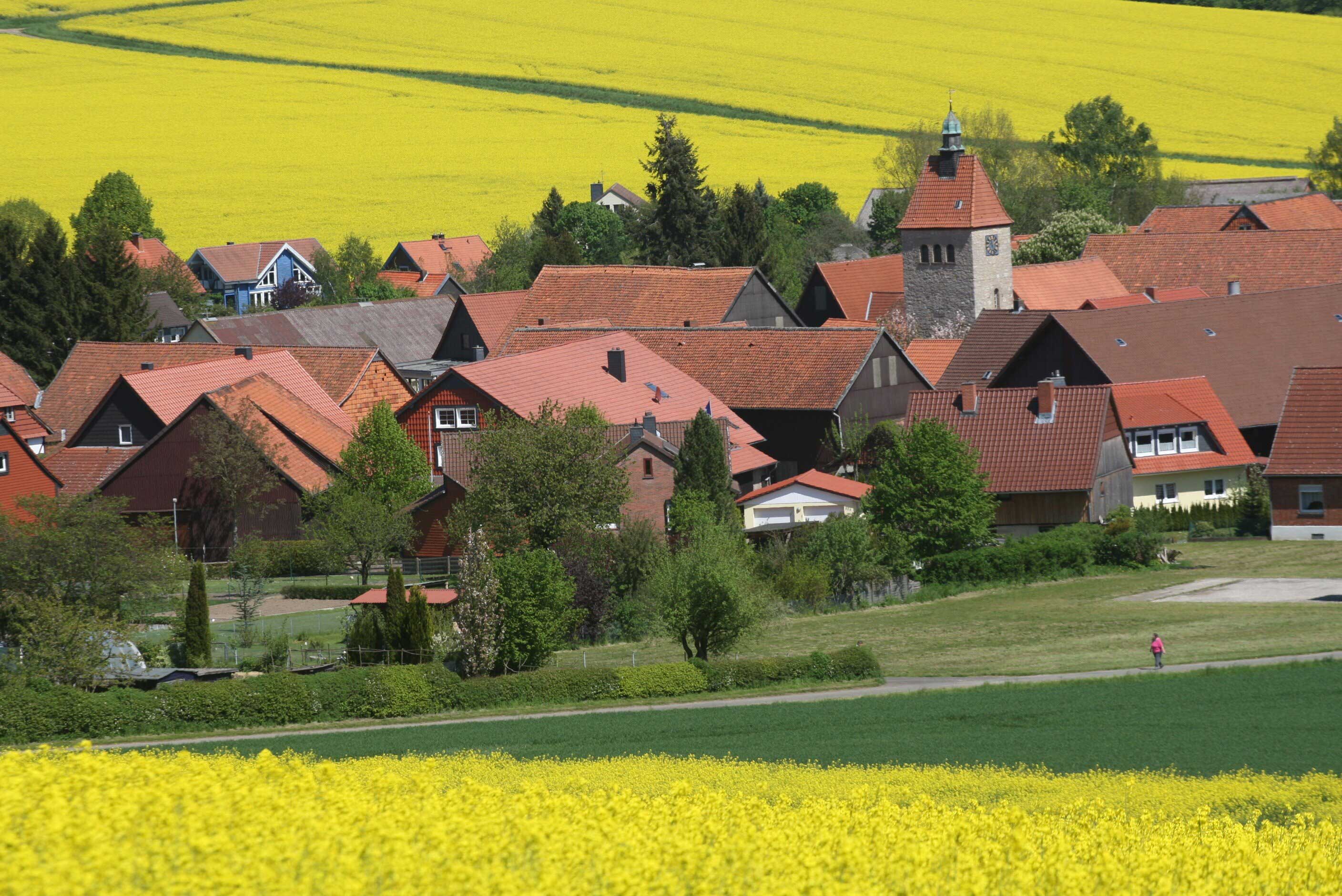 Concessions are limited in big cities, so they must be purchased. Because there are more competition, GPs potentially get less income, however, they are closer to specialists, hospitals and universities and take less out of hours work in big cities.

Being a patient in Germany

Health insurance is mandatory in Germany, which almost covers all the citizens. It has two types of insurance, one is social health insurance and another one is commercial health insurance.
Social health insurance is dominant in German medical insurance market covering about 88% of the population. Its fees are based on salary (capped) and co-financed by the employer, and family members without income are included for free.
10% of the population is insured in the commercial health insurance which is optional for high-income groups, self-employed people or public officer regimen. Its fees are based on individual health risk.
Whatever types of health insurance citizens choose, it contains all the essential care, including preventive services and hospital care. Citizens can choose GPs or community based specialists on their own without gate keeper.
Patients only pay for the small amount of prescription drugs, physiotherapy and hospital care, however, all over-the-counter (OTC) drugs must be purchased by patients.
Most German citizens do have a GP
Basically, almost all the Family Physicians in Germany are GPs. They are responsible for the first line medical care for almost any complaints, chronic disease management and provide longitudinal care to the entire family, from caring babies to old people. Care in the social context, including psychological issues and mental health, palliative care, preventive services and health education, coordination of the health care team: different medical specialties and health professions, administrative medical tasks: sick leave and other medical certificates are also included in GP's responsibilities.
Talents Cultivation on General Practice is the key of implementing general medical services
Specialization in General Practice in Germany
A German GP should finish a defined training in certain position after 6 years of medical school. Trainees need to find their own training positions and employers. The postgraduate specialized training is not under the responsibility of medical schools or universities. As required by law, trainees need to participate in exams of regional Medical Chambers. Local Medical Chambers will accredit the training hospitals and practices, including the time of job training and some procedures defined in a log-book.
Trainees need to finish additional courses organized by regional Competence Centers for Postgraduate GP Training and organizations including academic departments of General Practice in university. Courses contain small group teaching or seminars, hosting in different cities. They are required of 32 hours presence and usually held on Wednesdays or Fridays during working hours.
Prof. Hummers also shared a medical software supported the translation of 40 kinds of language, which helps GPs better treat foreign patients.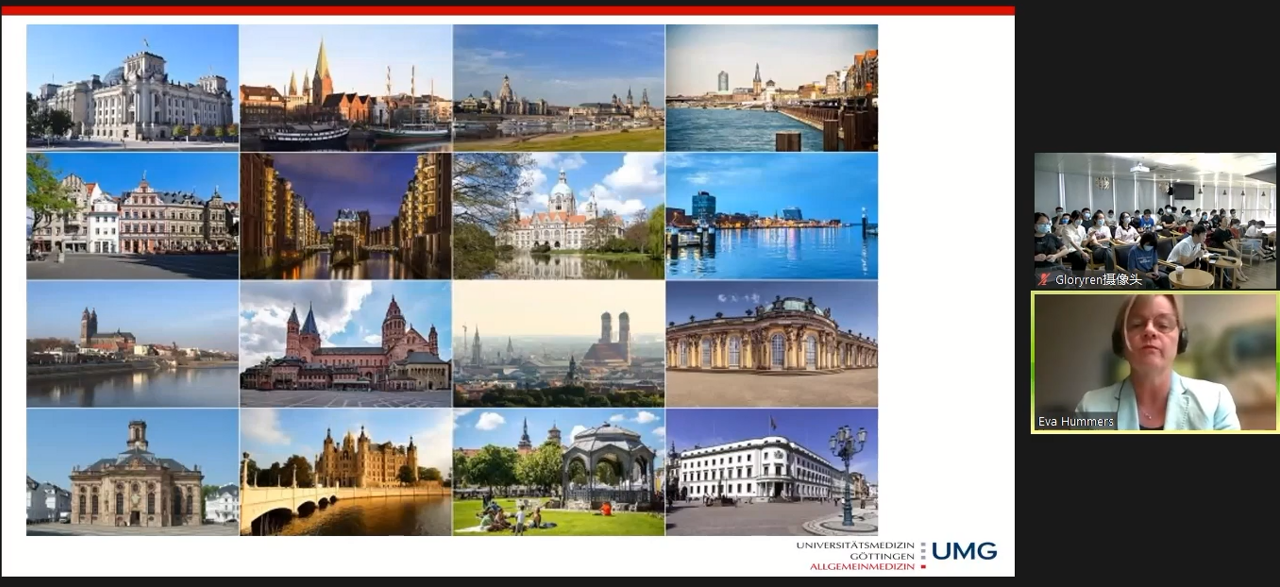 At the end of the conference, Lin Jinchun, Vice President of Shenzhen Luohu Hospital Group expressed sincere thankfulness to Prof. Hummers for her logical and accessible courses and invited Prof. Hummers for further academic exchange.
General Practice Department of Shenzhen Luohu Hospital Group
In 2017, the department got the approval of initiating Class-A projects of Three 'Renowned', introducing renowned experts/cultivating renowned doctors, setting up renowned hospitals, and focusing on renowned clinics, and had introduced a research team which also undertakes "Three Renowned" projects under the guidance of Prof. Gu Dongfeng, Academician of Chinese Academy of Sciences. At present, the department wholeheartedly carries out daily work by circling three areas, which are 1) person-centred management of cardiovascular and other chronic diseases in the community, 2) application of modern technologies to promote the management and prevention of cardiovascular and other chronic diseases, and 3) accurate screening/prevention and individualized management of cardiovascular and other related chronic diseases. By doing that, the department aims at making the Luohu Community Management Centre as a first-class research center for the chronic diseases management in China
So far seven new technologies have been introduced into the department and three of them have reached the domestic leading level and the remaining four are considered as leading technologies in Shenzhen. To crown it all, the introduction of the chronic disease management technologies, like the "Cardiovascular and Cerebrovascular Risk Assessment App" and the "Internet+ Wearable Devices" has optimized the process in managing chronic diseases and improved its ability in chronic diseases prevention and treatment, which further greatly improves the level of chronic disease management in the Community Management Centre.
There are 857 medical and nursing employees in the general practice departments and the number of general practitioners nearly accounts for half of the total (301), making 4.06 GPs accessible for each 10,000 people. In addition there are 4 master supervisors for general practice discipline and 289 assigned family doctor teams, with about 522,500 family doctor sign-up residents, representing a sign-up rate of 52.08%. Moreover, 98 specialist workshops have been established in community healthcare centers and 26 beds have been set up in general practice ward. In 2019, the department received nearly 2 million outpatients with an annual growth rate of 26.5%. It has also been undertaking 4 national projects, 1 provincial project and 9 municipal projects, and has published 13 SCI papers (total IF credits: 47) and 42 articles in other core journals.