Not long ago, the Affiliated Hospital of Putian University had finished decompression and fusion combined with percutaneous pedicle screw fixation for lumbar spinal stenosis, which is the first surgery that performed under the assistance of the "Tianji" surgical robot and 3D microscope in China. Recently, with the help of the same technical equipment, the hospital also finished an operation on an elderly patient with serious cervical vertebra problems, which include atlantoaxial dislocation, upper cervical myelopathy and high-riding left vertebral artery. This is another spearheaded robot-assisted surgery performed in the hospital.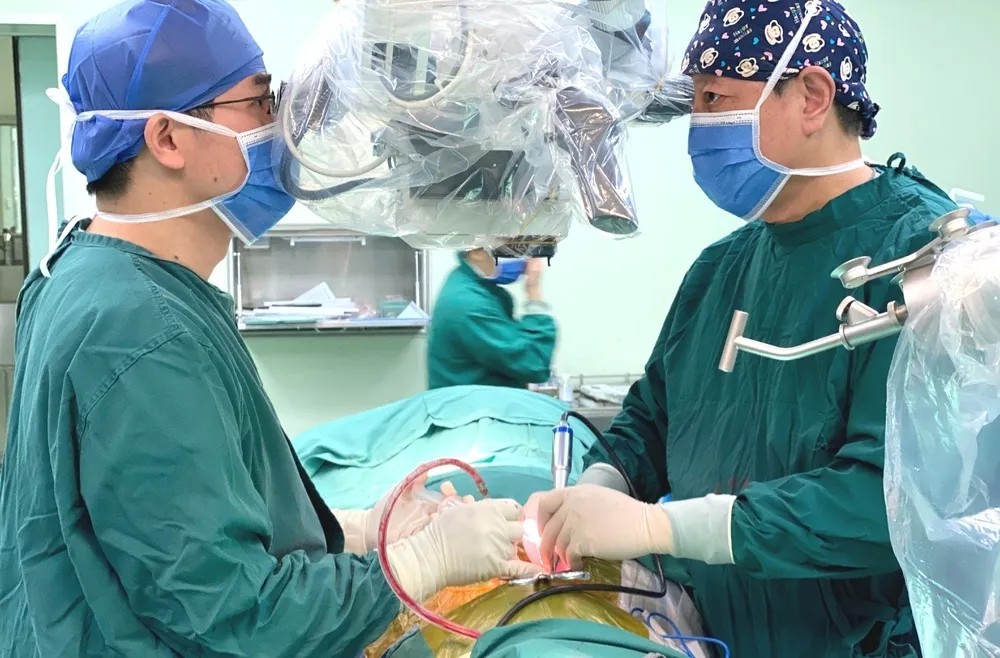 The success of this surgery helps the hospital to make a new breakthrough in the treatment of highly difficult and complicated spinal diseases.
Mr. Chen, who is 80 years old, had been suffering from recurring neck pain and stiffness which were so serious that he couldn't even rotate his neck over the past one year, and later he felt numbness and lost flexibility on his upper limbs and had difficulties in balancing and walking with his lower limbs. He was sent to be treated in local hospital for several times but failed to relieve the symptoms, and his condition was getting worse. For the last 2 months, he couldn't have a good sleep due to the neck pain which disabled him to lie down, affecting his daily life badly. His family had took him to several different hospitals for treatment, but considering his age and the high risk of surgery, they politely refused their proposal of doing a cervical surgery for him. Because of the good reputation of the Affiliated Hospital of Putian University, they finally came to the hospital to seek help from Prof. Lin Haibin, an expert in minimally invasive spine surgery.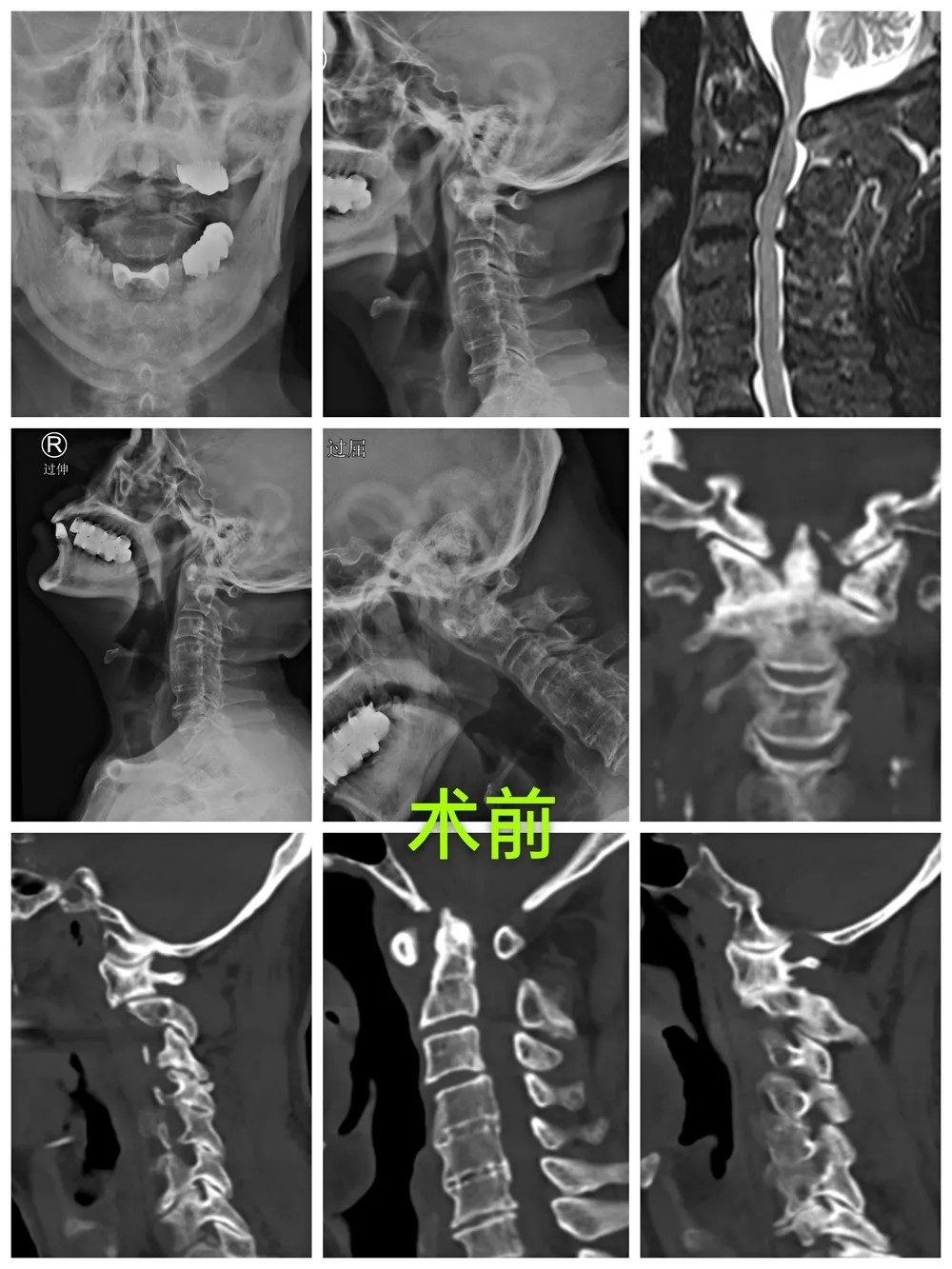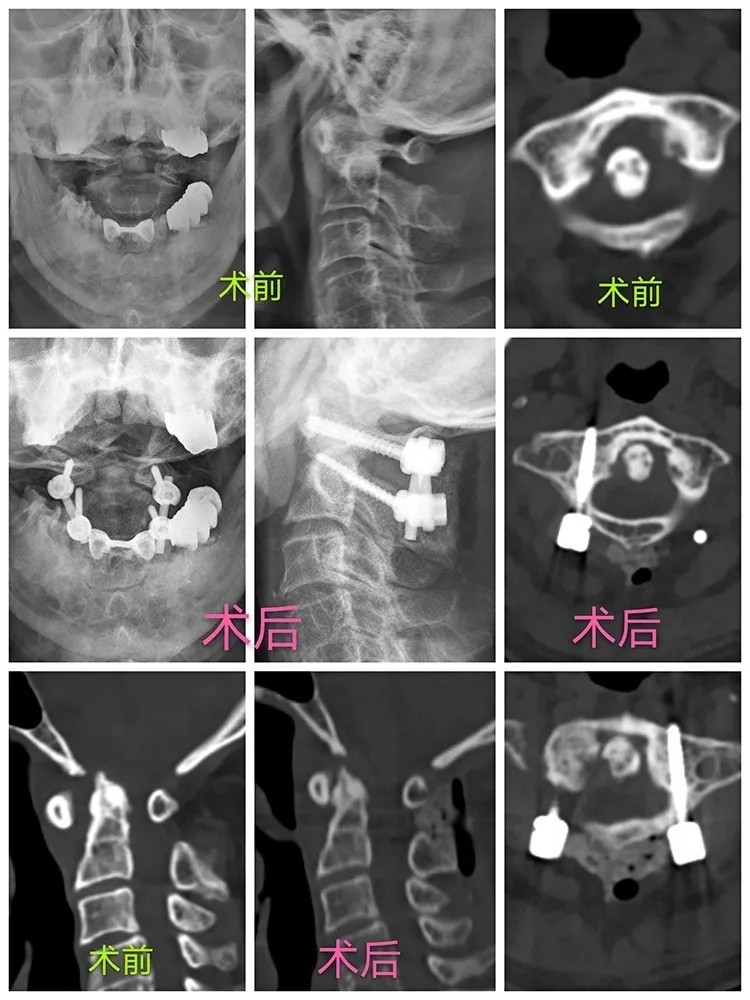 After taking a careful consideration into his medical history, physical examination and the imaging results, Prof. Lin confirmed his diagnosis that the patient had several cervical vertebra problems, including atlantoaxial dislocation, upper cervical myelopathy and high-riding left vertebral artery, so he recommended that a surgery should be performed as soon as possible. When it came to design the operative plan, there were two factors that need to be considered. One was that the patient is already 80 years old, and the other was that he had high-riding left vertebral artery with the vertebral artery dominance, which may result in a higher risk of vascular injury if a screw is used, and may further cause serious complications such as cerebral infarction or even death after surgery. After considerable discussion, the team of Prof. Lin decided to perform the surgery by following three steps: firstly, performing gradually great weight skull traction for positioning the dislocated cervical vertebra under general anesthesia; secondly, precisely inserting the screws with the help of "Tianji" surgical robot; thirdly, decompressing under 3D microscope that enables a high-definition visualization of the process.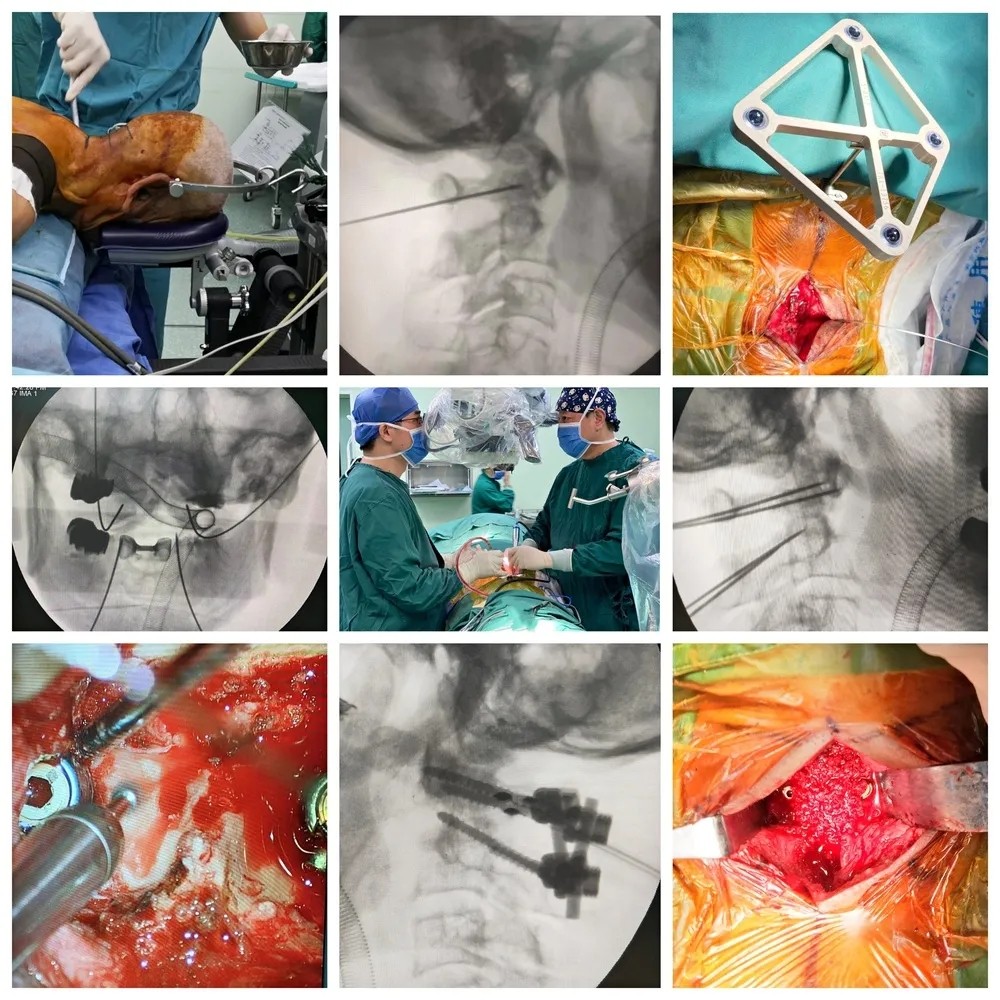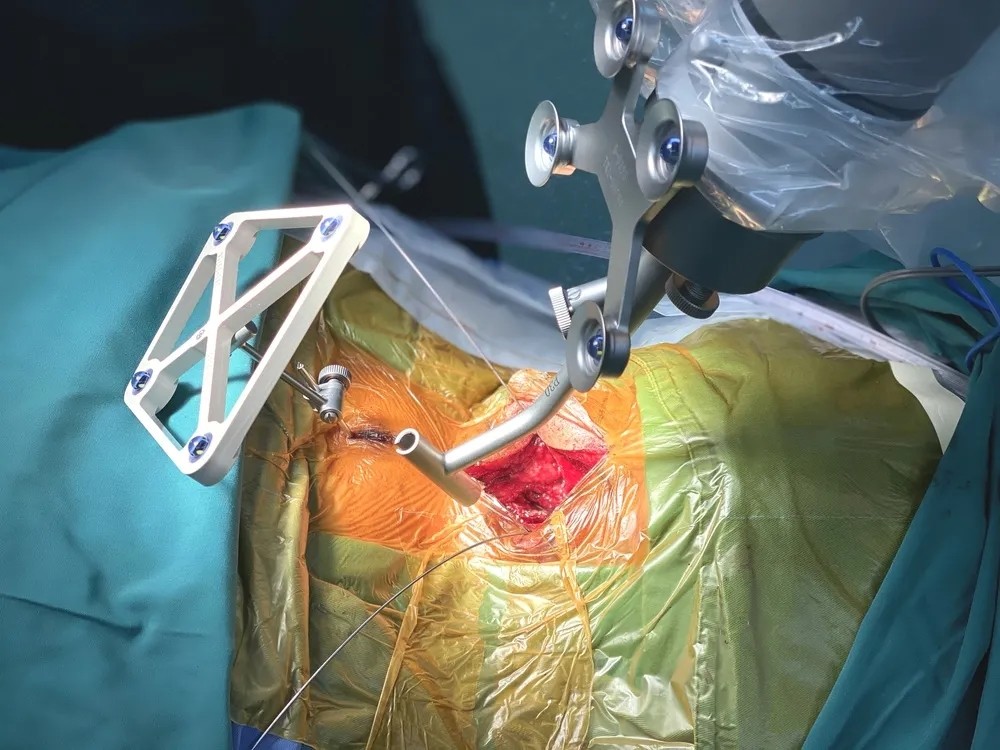 The surgery lasted for less than 90 minutes and the peri-operative blood loss was about 70ml. During the surgery, the screws were well distributed so that the relocation of the atlanto-axial joint, and the decompression were all fully realized. The patient's symptoms were greatly relieved and his neck pain disappeared completely after the surgery, and the patient could walk freely with the neck brace on the first day after the surgery. He said gratefully with his thumbs up to Prof. Lin, "I haven't had such a good sleep for a long time, thank you very much!"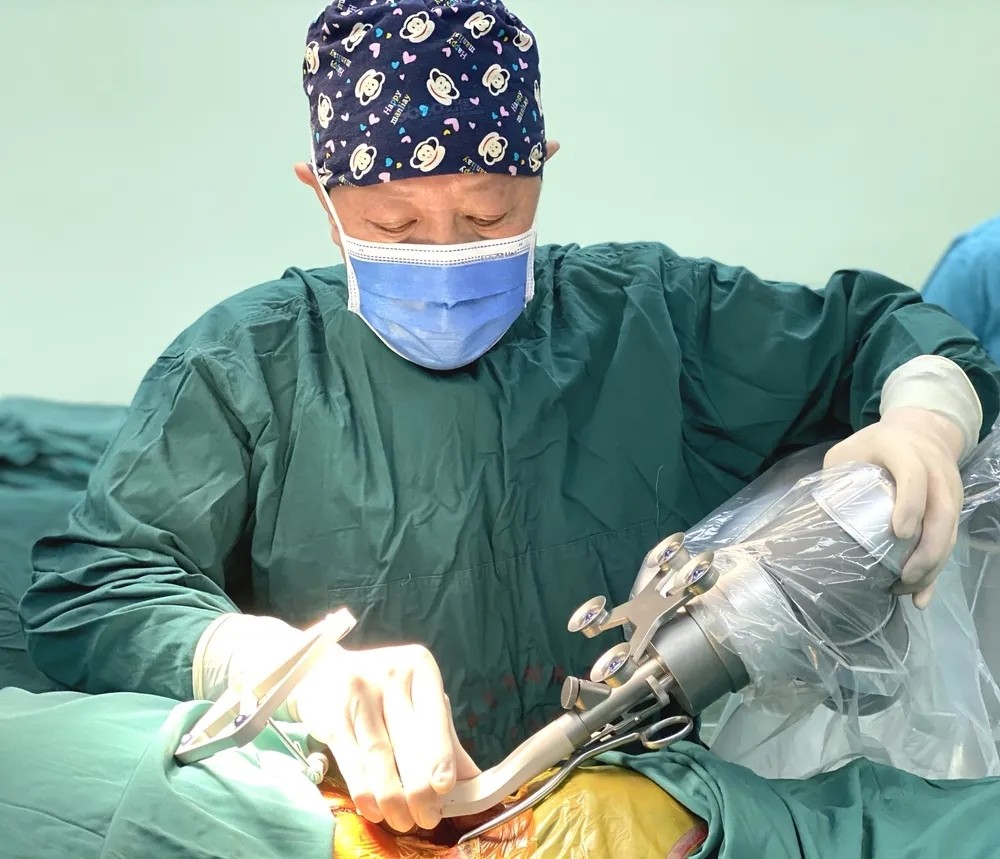 Prof. Lin pointed out that the upper cervical vertebra surgery is regarded as the "the Pearl of the crown" among other kinds of spinal surgeries due to its strict surgical requirements, for example, the demand to handle emergencies, to face a higher risk of multiple complications and vascular malformation(like high-riding vertebral artery) and a lower accuracy rate of screw placement. In China, there are only a few spinal experts in top hospitals that could perform this challenging surgery. Luckily, with the support of the "Tianji" surgical robot and 3D microscope, three "weapons" - a careful preoperative planning based on 3D imaging, a precise intraoperative positioning of the screws and a high-definition visualization of decompression process - could be achieved and have made many difficult, highly-risky and complicated spinal surgeries performed in an easier, safer, more efficient and more intelligent, and even more minimally invasive way.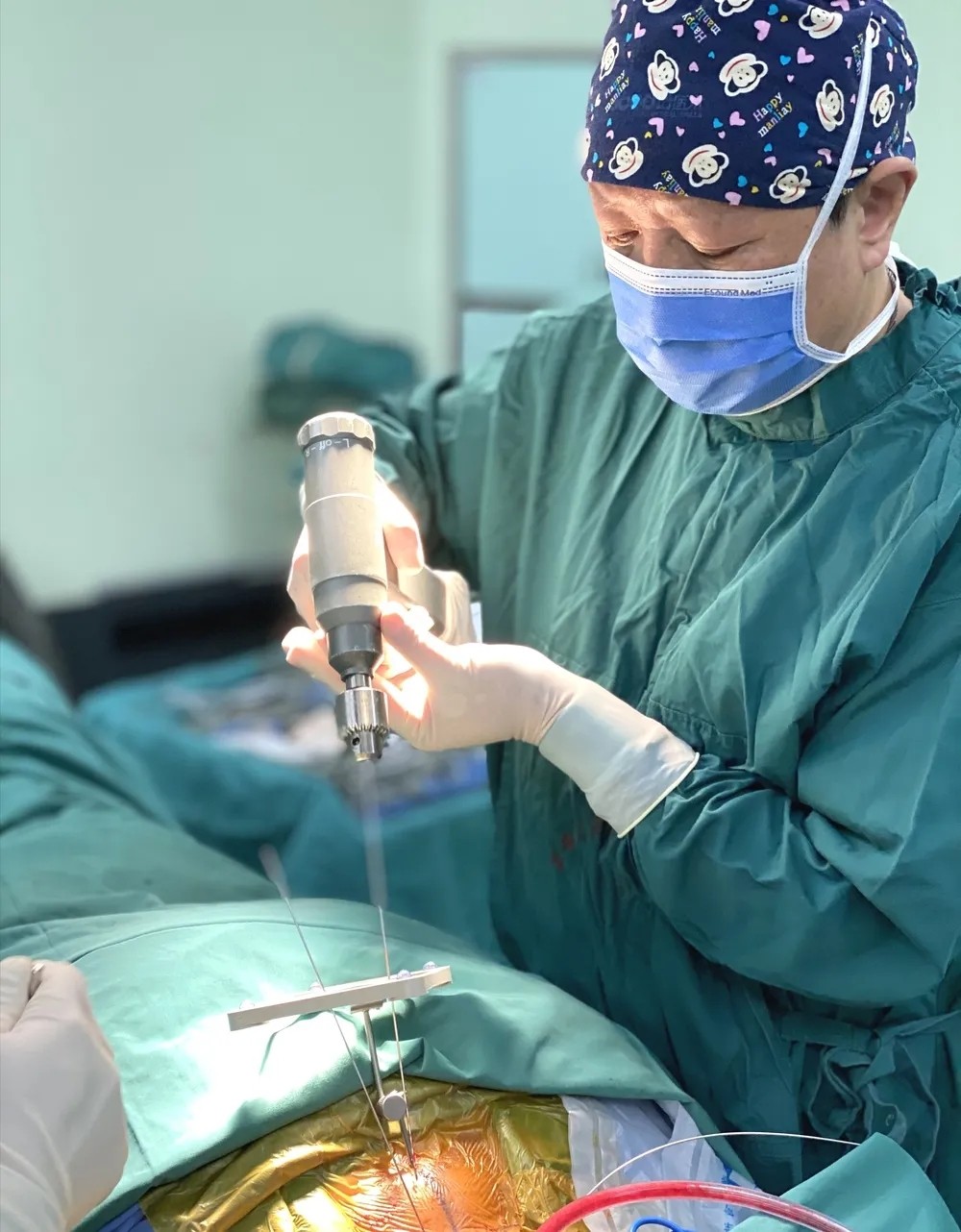 "With the rapid development of science and technology and the popularization of 5G technology, many new generations of information technologies such as virtual reality, artificial intelligence, big data bases and robots are widely used in medical sector." Prof. Lin said that the department of minimally invasive spine surgery of the Affiliated Hospital of Putian University values innovation and firstly strives for more minimally invasive, precise and intelligentialized surgical methods, so as to create the best results for patients with minimum pain and less economic burdens. They will keep perfecting themselves with the help of the technologies and earn more trust and recognition from more patients in the future.
This article is forwarded from the official WeChat account of Affiliated Hospital of Putian University.