Sino-German Internal Meeting on Hospital Management was held on November 20th in Xi'an. It was co-hosted by Prof. Mayer, Founding Medical Director of Schön Klinik Munich Harlaching, Founding President of the German Spine Society and Former President of EUROSPINE, and The First Affiliated Hospital of Xi'an Jiangtong University.
At the beginning of the meeting, Prof. Shi Bingyin, on behalf of the hospital, expressed his warmest welcome and heartfelt thanks to Prof. Mayer for making time in his schedule to take part in this meeting for experience sharing. He also expressed his hope of promoting the development of the hospital and its department through in-depth exchanges and bonds with Prof. Mayer in this meeting. He then introduced to Prof. Mayer the long history of Xi'an city, and The First Affiliated Hospital of Xi'an Jiangtong University.
Dr. Yin Zhanhai,Director of Orthopedic Department introduced his department to Prof. Mayer.
Following his introductions, Prof. Mayer gave his lecture of Transformation of a State-owned into a Private Orthopaedic Hospital - Keys to Medical and Economic Success.
Firstly, Prof. Mayer introduced the history of Schön Klinik Munich Harlaching.
Hospital History 1914-2014
Inauguration of state-owned orthopaedic hospital with 70 beds by King Ludwig III.
Military hospital during WWI
The hospital became the orthopaedic department of Ludwig-Maximilians-University (LMU)
Relocation of main orthopaedic centre to the newly built university campus at Großhadern, resulting in dramatic decline in bed occupancy
Bavarian parliament approves acquisition by Schön Klinik due to large deficits
After the acquisition, the hospital's name was changed to Schön Klinik Munich Harlaching, and Prof. Mayer became the founding director and lifesaver of the hospital which at that time was on the verge of bankruptcy. After years of development, Schön Klinik Munich Harlaching has built an international reputation for its extraordinary success.
However, in the first year after the acquisition, the hospital was totally a mess, suffering various blows, such as the poor infrastructure, no trust in new management, loss of human resources, loss of patient referrals, loss of university hospital-status, loss of teaching hospital-status and bad press, which ultimately destroyed its reputation.
In 1998, the hospital was reorganized as a multi-specialties center for Musculo-sceletal diseases, which was a very rare move back then. A total of eight centers were constructed in that year, respectively the Spine Center, Center for Foot and Ankle Surgery, Center for Paediatric and Neuro Orthopaedics, Center for Hand, Elbow and Plastic Surgery, Center for Knee Surgery, Center for Hip Surgery, Center for Shoulder Surgery and Center for Anaesthesia & Intensive Care. Since the acquisition in 1997, the hospital's annual growth rate of inpatients has reached to 11%, which further increases its annual revenues.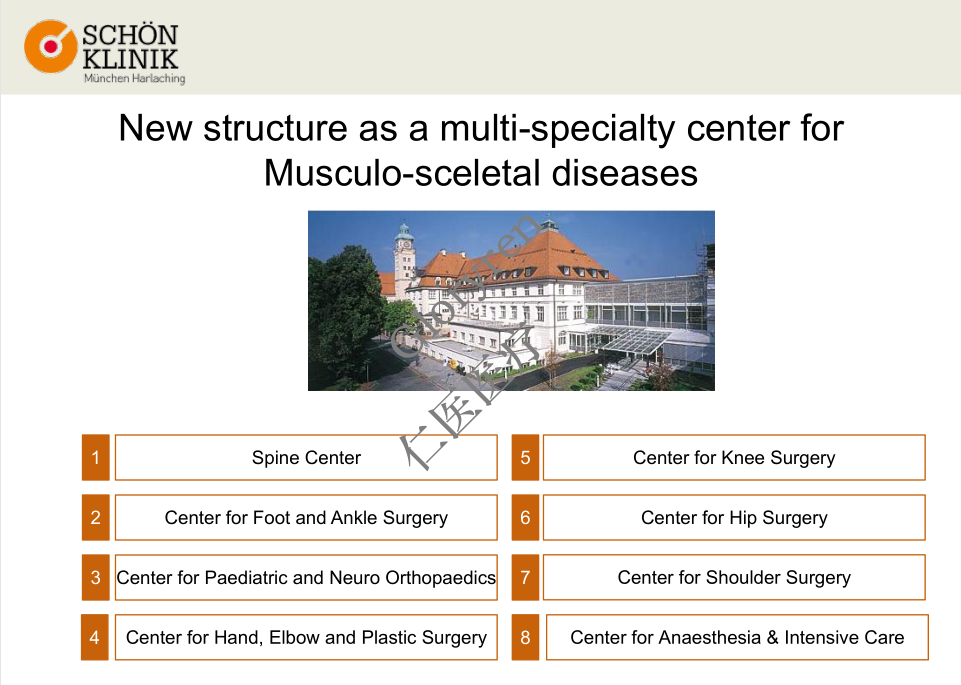 In 2005, the hospital became the Affiliated Hospital of Paracelsus Medical University Salzburg, which was in accord with the hospital notion that academic exchanges with universities is a necessity for a hospital. By practicing this notion, the hospital has conducted quite a few of scientific activities since 1998, such as more than 2,000 national and international scientific presentations, more than 250 scientific publications, and more than 100 international and national scientific events, attracting over 1,000 international visiting surgeons from more than 90 countries to the hospital for further learning and communication.
Schön Klinik Munich Harlaching also valued the development of sports medicine and established two medical centers, namely Bavarian Olympic Base and German Alpine Ski Association.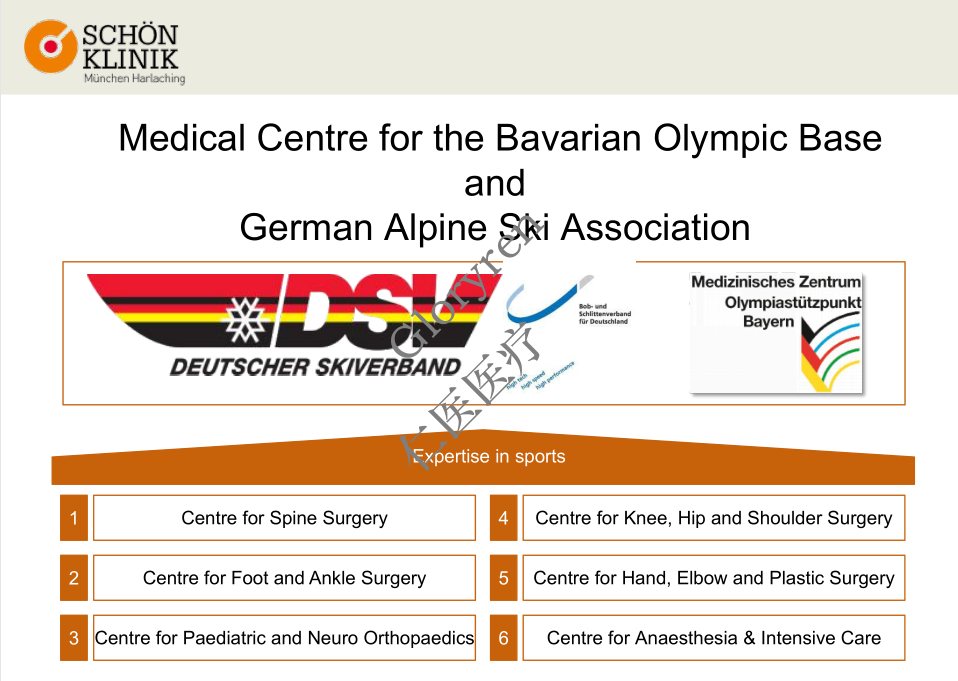 In 2007, the hospital became one of FIFA Medical Centers of Excellence in the world.
It provides care and treatment for numerous top athletes.
Over the past decade, Schön Klinik Munich Harlaching has received a lot of national and international accolades, for example, it was listed on the Global Top 100 Hospitals as World's Best Hospitals in 2019 and 2020 by Newsweek.
How could a past collapsing hospital achieve to be a nowadays well-run hospital for orthopaedic?
Sub-Specialization
In the meeting, Prof. Mayer gave us a detailed introduction of every sub-department, as well as focus areas, specialists and latest innovative surgical technologies of each department. Departments introduced include the Spine Center, Centre for Foot and Ankle Surgery, Centre for Pediatric and Neuro Orthopedics, Centre for Knee, Hip & Shoulder Surgery, Centre for Hand, Elbow, Micro and Plastic Surgery and Department of Anesthesiology and Intensive Care Medicine.
Sound Infrastructure
A good infrastructure guarantees a better service for patients, and it can be achieved critically by constructing new buildings, patient rooms and operating rooms. In addition to that, Prof. Mayer introduced the building history of the hospital, showing differences of the hospital in the years of 1997and 2007 and its status quo.
Quality Control
Hospital quality is vital to a hospital. The German Health Care System decides that insurance companies bear the most medical costs for patients, which makes them call for better medical care quality. On the other hand, quality control is in urgent need with the increasing demands from patients and political officials.
Hospital Quality Categories
1. Patient satisfaction
2. Relationships: information and emotional support
3. Amenities and Convenience
4. Decision Making Efficiency
5. Patient outcomes
Prof. Mayer said, "Like running a hotel, our hospital also asks our patients to complete a satisfaction survey regarding efficacy and organization, information, amenities and convenience, medical treatment, trust, availability of staff and friendliness of staff."
He mentioned that there is an interesting criterion of the satisfaction survey, referring to the patient's willingness to recommend the hospital to his/her friends and family. The table below showed us that Schön Klinik Munich Harlaching has a higher recommendation rate than other hospitals.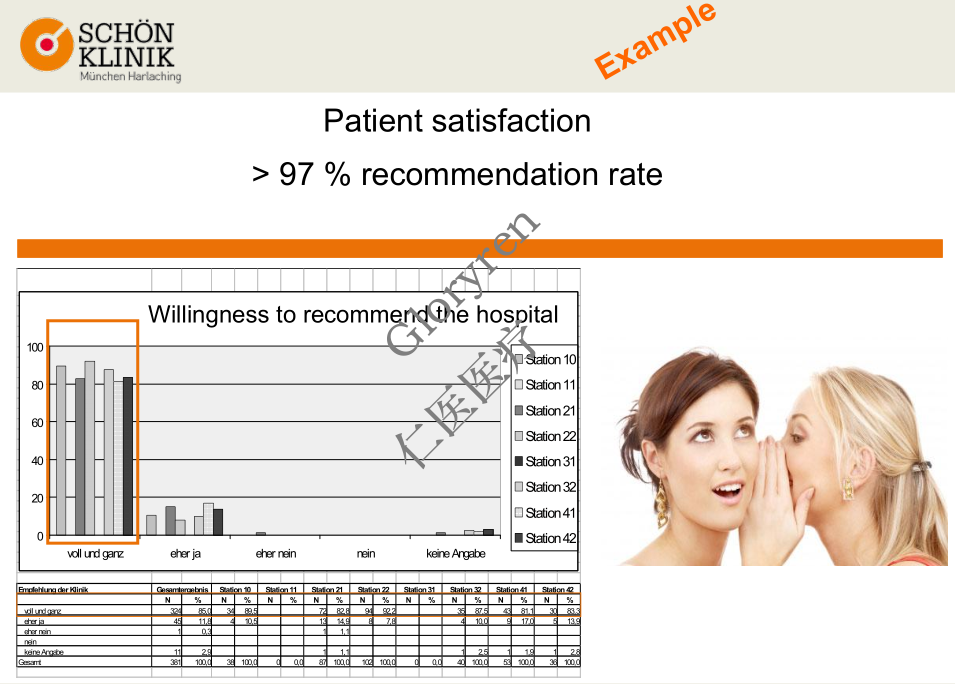 In terms of the methods to measure outcome quality, Prof. Mayer introduced their Outcome Measurement System.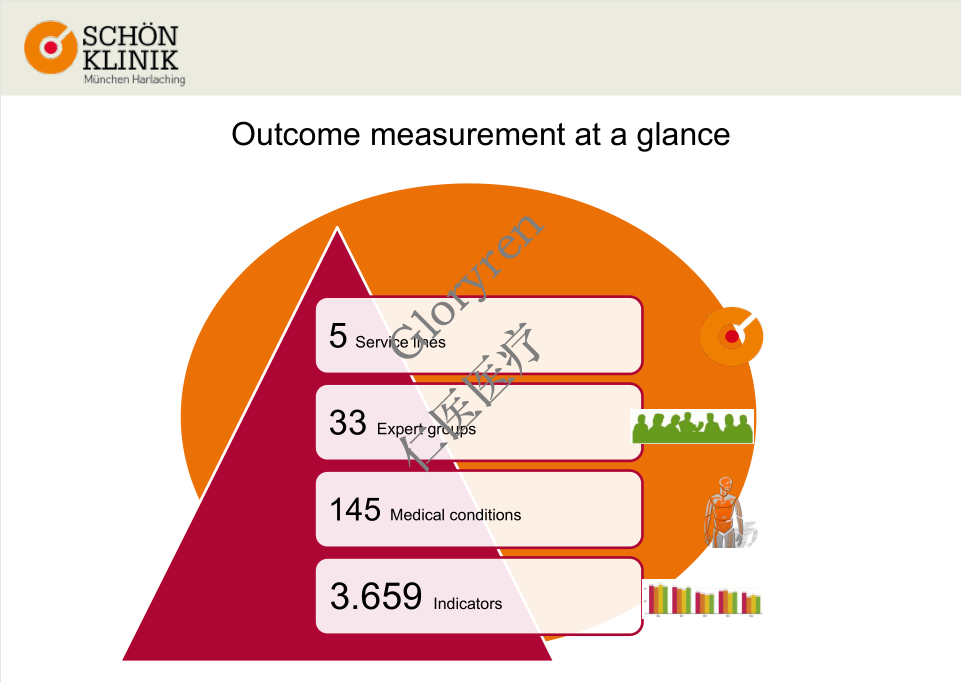 The hospital also conducts preoperative questionnaires with patients regarding medical history, pain status, patient satisfaction, etc., and uploads the data to a database, e.g., for spine, to the German Spine Society. The hospital also conducts follow-up surveys post-operatively after 3, 12, and 24 months to investigate patient on their outcomes, with a response rate goal of over 70%. These medical data are uploaded online and available at any time, which is convenient for quarterly statistical analysis.
Supported by the database, the hospital not only have access to patients' follow-up and medical data of each department, but also can compare these data from those of other hospitals. This is a way for each hospital to compete and futher to improve itself. The quality indicator of the database can also be used to compare with surgery index, international benchmark goal so as to examine the actual results.
Routinely collected results (of more than 70%) can be used for scientific publications.
Patient outcomes
It can be analyzed from three aspects, which are technical quality, individual quality and selection quality.
The individual human factor
Prof. Mayer compared the overall complication rates reported by six surgeons in 2003 in the hope that the complication rates reported by different surgeons could be homogenized to a relatively same level.
With that goal, an internal complication reporting standard was set up.
Plan:
Weekly Data Collection (unbiased documentation made by non-surgeon)
Monthly Evaluation
Failure Analysis (organization, training, OT-discipline, innovative procedures, exceptional case) Benchmarking
Check:
Internal quarterly discussion of complications
Act:
Actions taken
- Organization ( e.g. change OT-standards)
- Team - teaching
- Surgery Planning
- Assistencies
With all these moves, the reasons for recurring complications can be found.
After years of improvement, the complication rates reported by spine surgeons in 2012 was less than 8% compared with those in 2003.
By practicing the reporting standard, the surgeons not only increased their alertness and formed a habit of data recording which greatly helped them to achieve high professionality, but also received a positive psychological effect, especially young surgeons who wanted to catch up with the senior and experienced by reducing their reported complication rates. The effects were more profound laying in that it helped to achieve desired complication rates lower than international standards, homogeneous quality of surgery and harmonized individual surgeon's quality.
Prof. Mayer stressed that good selection quality means keeping abreast of national and international guidelines and offering patients a second opinion. When patients are unsure of the surgical option recommended, surgeons should encourage patients to choose the second option and make the final mutually agreed decision with the patient.
Prof. Mayer also shared with us EURO SPINE Patient Line, a website accessible for patients to search for various types of surgeries, as well as other European surgeons' assessments on diseases. Multi-language option is also available in the website.
The final move to success is risk assessment and control. Prof. Mayer explained that operative safety is the first priority. For instance, in the picture below, an airplane was about to land, while the runway was still stuffed with passengers and other obstacles. Risk management improves the quality of care through reduction of avoidable mistakes, adverse events and complications.
Prof. Mayer took an example of the Swiss Cheese Model to illustrate how risks can be avoided step by step.
He also introduced the Critical Incident Reporting System set up in their hospital, which is voluntary, anonymous, non-punitive, internet based and is managed with unbiased administrators. It is also highly responsive within 24 hours.
Communication
Every year the hospital requires that personnel should upload annual quality reports to the hospital website so that the government, the public and insurance companies can have a better understanding of the hospital and update the hospital data in their systems anytime.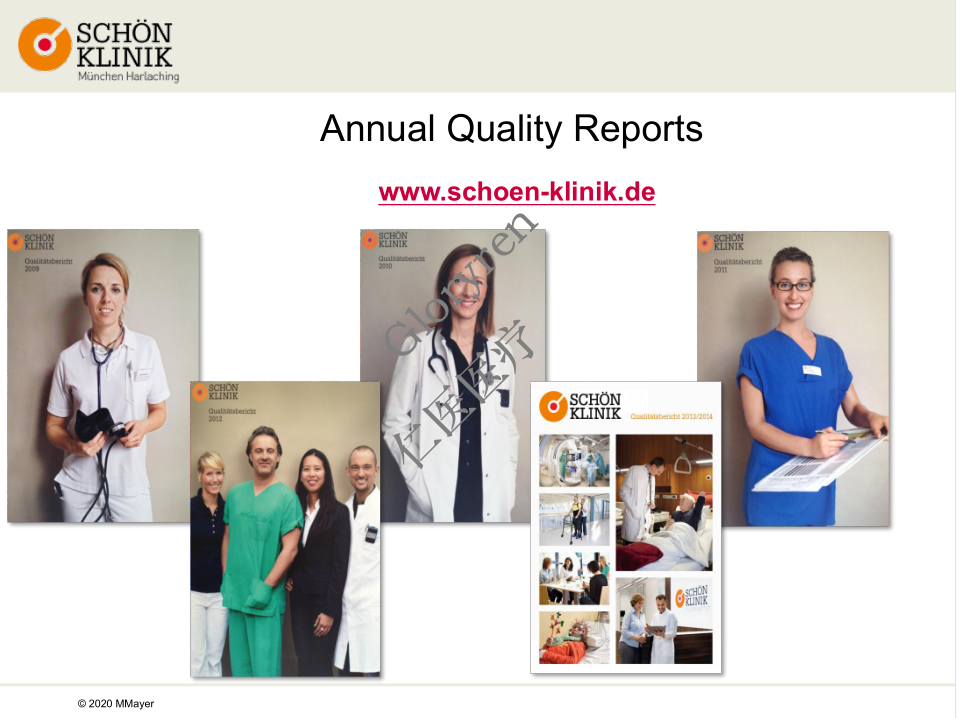 With the help of social media, people get to know more about the hospital's expert team and its patients' reviews, providing a visual access to the hospital's quality.
There will be health care talks and other activities for sharing information on the treatment of various diseases to (potential) patients.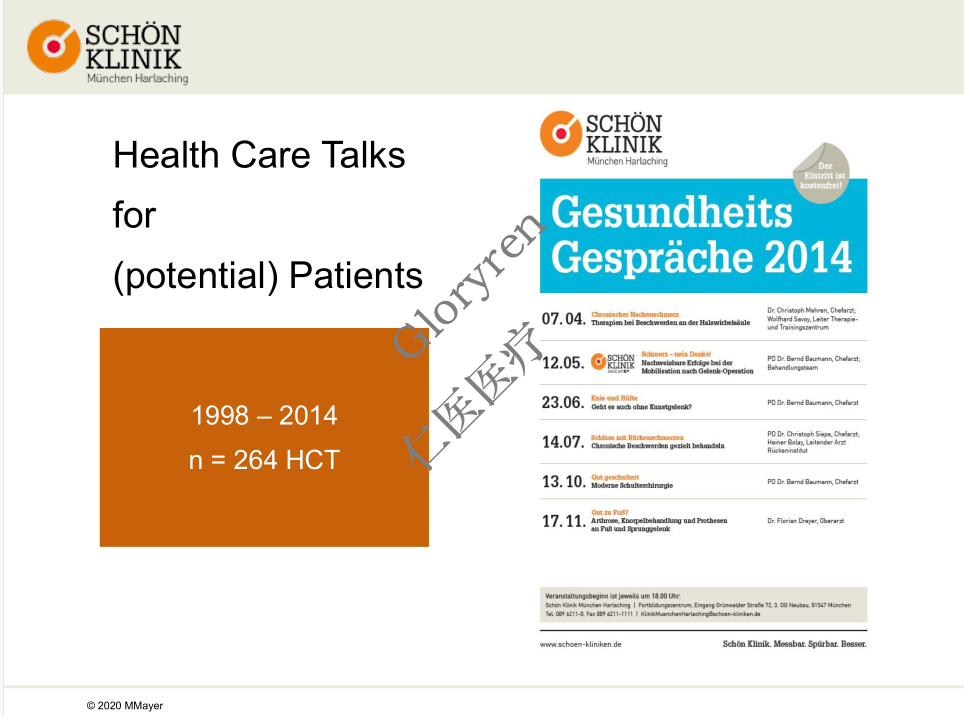 The quality of a hospital is a final decision made by everyone, which is the reason why Quality Days are held periodically for employees and in-patients to show how to assess the quality of a hospital in a transparent way.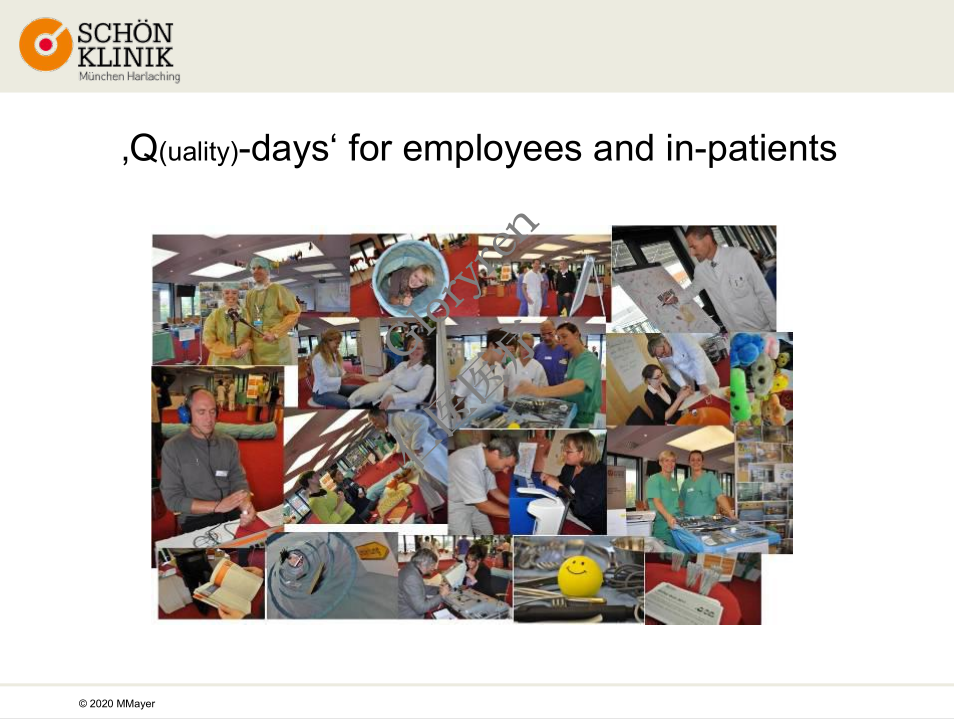 How can the hospital maintain success in the future ?

At last, Prof. Mayer showed us the success circle for a hospital.
The deciding factor is people. Making good use of human resources realizes the utilization of their management experiences, the application of new technologies to improve hospital management, and the organization of valuable scientific activities. Creating a good environment for Key Opinion Leaders (KOLs) will lead to good quality, which in turn will produce a safe medical environment for patients, and finally will establish a better reputation of the hospital. Good reputation will attract more patients to the hospital, including the VIP patients. And the increase in patients will boost the hospital's revenue and then raise its market position, which will ultimately attract more and more KOLs to work in the hospital. This is the detailed introduction of the success circle for a hospital.
There is still a long and arduous way to go to achieve success.
Various challenges come up when it comes to run a hospital successfully, and one of them is human resource management, in that both qualified and talented surgeons also place higher requirements on the hospital. A successful hospital also needs to deal with many other demands, for example, to keep up with cutting edge technology while balancing the costs, and to catch up with quality standards and ever-changing patient demands.
Just like auto industry in Germany, one auto factory produces a good car, and shortly thereafter another factory produces a better one. This means that the definition of success is not only to be good, but is to be excellent, and therefore the key of maintaining success is to chase excellence .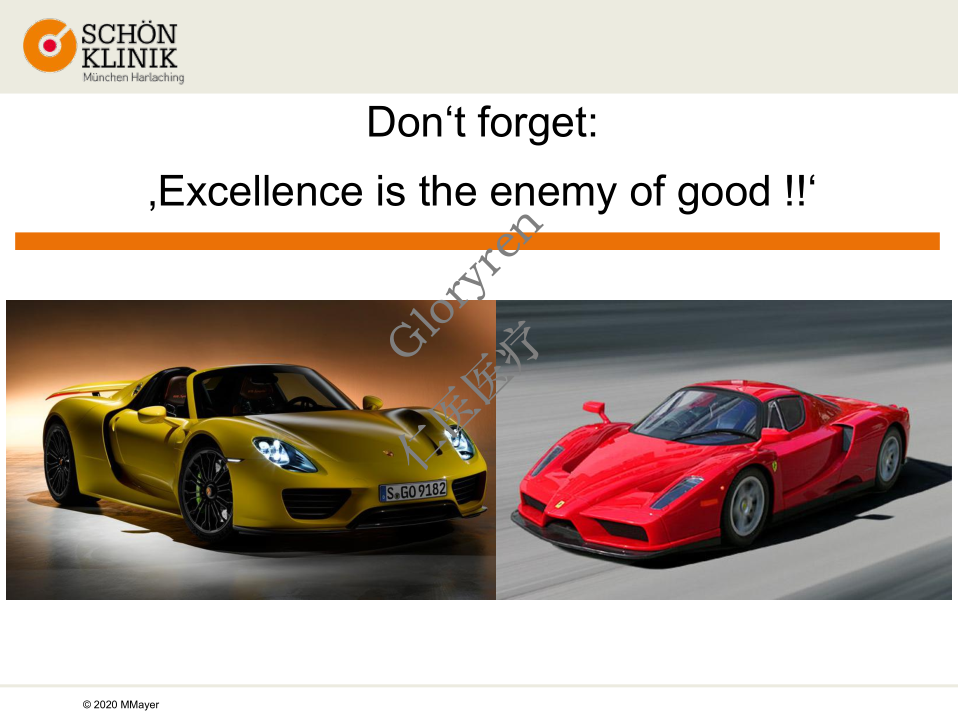 In the end of the meeting, Director Yin expressed his gratitude to Prof. Mayer and said the meeting was very rewarding and fruitful. It not only emphasized the importance of KOLs, but also pointed out the details that management should go into. And he hoped that in the future Prof. Mayer could come to the hospital in person to provide a face-to-face guidance on departmental management.
Prof. Mayer said that hospitals and its departments should keep on a sustainable development. Just as his hospital's transformation from a collapsing organization into a well-run one, it was not only achieved through their well performance in surgical techniques or other aspects, but also through their concerns in hospital quality. It is very important to evaluate the quality of the hospital and prove it to the public. This calls for a focus on the development of cutting-edge technologies, quality standards as well as awareness of self-improvement.
Prof. Mayer added that twenty years ago, their hospital pioneered the practices of technical innovation and data management which was rare at the time, and their previous efforts eventually made the hospital become one of the few hospitals in Germany to have a comprehensive database that provides the basis for future innovations in surgical techniques. It is therefore recommended that hospital quality management should be carried out as early as possible.
Prof. Shi Bingyin expressed his thankfulness to Prof. Mayer for his selfless sharing and the Gloryren team for their contribution to this event. In his words, Prof. Mayer is not only an excellent orthopedic surgeon, but also a master in medical management. This meeting was a good start and he looked forward to have more academic exchanges in the future. Finally, Prof. Shi extended a formal invitation to Prof. Mayer to visit Xi'an and The First Affiliated Hospital of Xi'an Jiaotong University after the epidemic, and hoped to send young surgeons as fellows to visit Prof. Mayer's hospital for further study.