Sino-German Video Conference on Lumbar Degenerative Diseases and Surgical Treatment was held in the afternoon of September 11 at Remote Consultation Center of Affiliated Hospital of Zunyi Medical University. It's a joint event by Affiliated Hospital of Zunyi Medical University, The Second Affiliated Hospital of Zunyi Medical University and Prof. Mayer, the Founding President of German Spine Society and Former President of European Spine Society.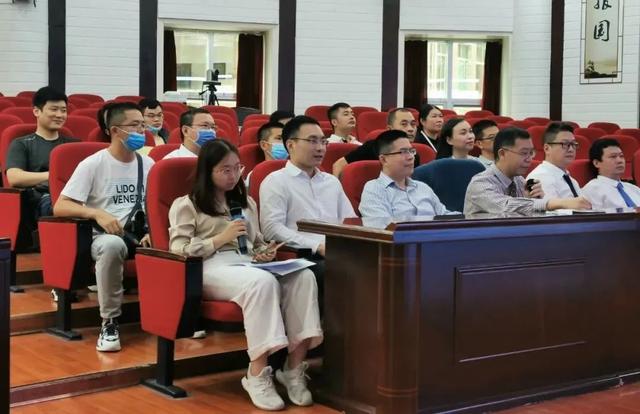 Ao Jun, Director of Spine Surgery of Affiliated Hospital of Zunyi Medical University played the host to this conference and Lin Yongpeng, Doctor of OrthopedicsⅠ(Spine Surgery) of Guangdong Provincial Hospital of Chinese Medicine acted as an interpreter. Additionally, two cases for discussion were presented respectively by Cao Guangru, Director of Orthopedics of The Second Affiliated Hospital of Zunyi Medical University and Qin Jianpu, Deputy Chief Physician of Spine Surgery of Affiliated Hospital of Zunyi Medical University.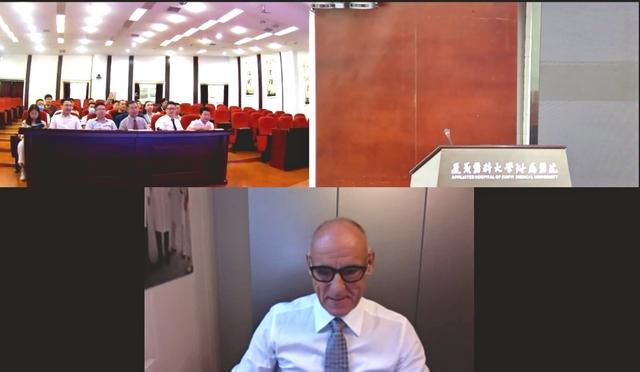 Main Hall of the Conference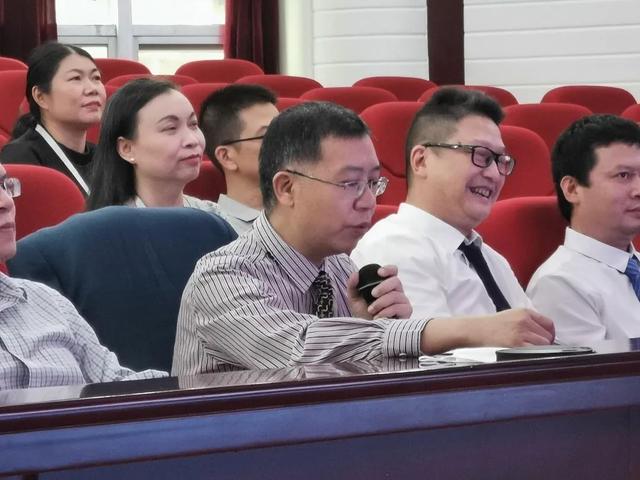 Firstly, Director Ao , on behalf of organizers, expressed his warmest welcome to Prof. Mayer, specialists and colleagues, and thanks to leaders, fraternal units and friends from all social sectors for their concerns and support to department's construction and development as always.
Following the opening address, Prof. Mayer gave his lecture of Degenerative Lumbar Scoliosis - Surgical Aspects, Complications and Other Specifics.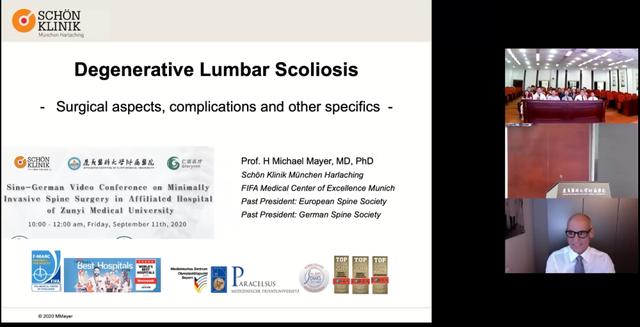 He stressed that surgical indications shall be determined in light of the patient's clinical symptoms; the surgery performance would rather be thought of when the clinical symptoms were severe or progressed; and the surgical solutions shall be determined after considering the risks and benefits.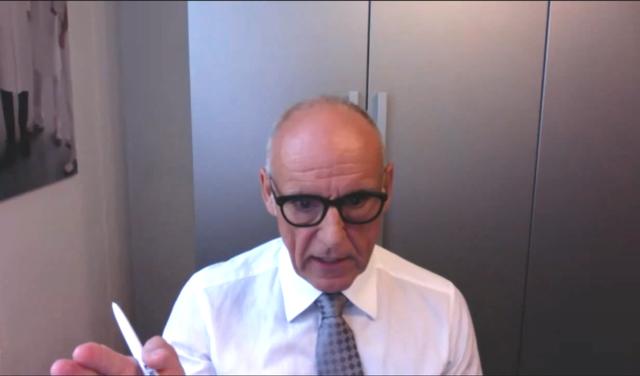 Besides, both early discovery of the surgical risk and experience summary were also keys to the whole procedure, said Prof. Mayer, and risk would go higher as the patients are aging, like the patient aged over 65 would take a considerably higher risk than those under 65. Also, by comparing relevant risks in single decompression and decompression + internal fixation, Prof. Mayer pointed out a higher risk in terms of complications, blood transfusion and mortality as to the latter.
Another retrospective research concerning 812 patients' perisurgical risks under OLIF operations from his clinic showed that they had a quite low vascular risk amid the operations, only 0.37%, while traditional open surgery went higher to 15.6% and MIS for 2.8%.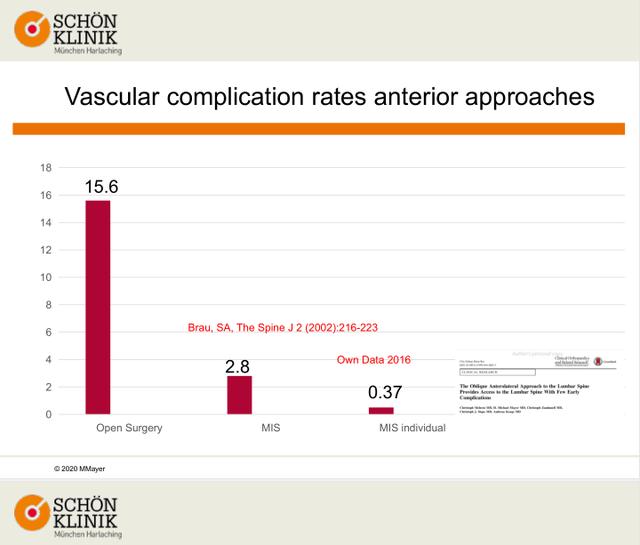 Later Prof. Mayer also presented a case performed in 2013 that a 75 female who had had lumbar fusion at L2-5 segments at other hospital due to lumbar scoliosis still suffered from progressive low back pain and radicular pain. Initially the operation was to remove the fixation, decompress the affected segment and perform MINI-ALIF at L5/S1, while the abdominal aorta was injured during the procedure, causing a massive hemorrhage. The whole team turned to vascular surgeon for help and stopped the operation eventually. Afterwards, Prof. Mayer adjusted the surgical solution and fixed the patient from posterior approach and chose TLIF at L1-2-3-4 a week later. From this case, Prof. Mayer emphasized that surgical complications would trigger the whole alternation on solutions' decision and performance.
According to a 5-year follow-up, the patient was satisfied with the result, despite of occasional sacroilliac joint pain. Prof. Mayer also analyzed the cause of bleeding and discussed how to avoid such situation.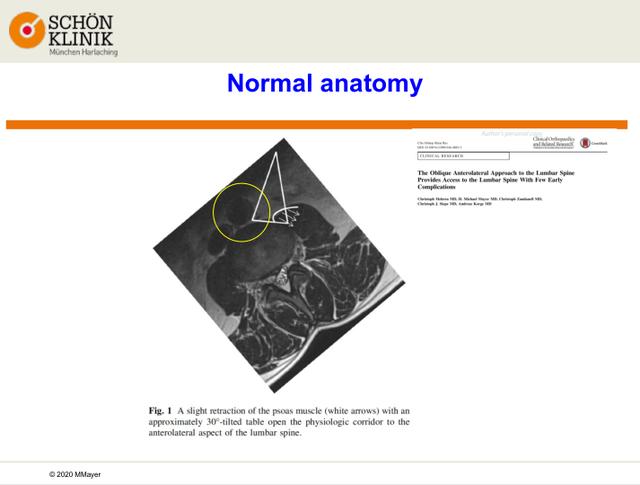 Take-home message from this case indicates that a considerate evaluation of the image before surgery is necessary to circumvent severe complications and achieve satisfying result.
Prof. Mayer concluded that factors such as the rotation of the abdominal aorta, access provided by the slight retraction of the psoas muscle as well as patient's informed consent about surgical risks shall be taken into consideration when performing OLIF for treating degenerative lumbar scoliosis.
Concerning degenerative lumbar scoliosis with stenosis, Prof. Mayer also demonstrated when and how to decompress the affected segments.
Single decompression is available for elder patients with underlying diseases if their dominant symptoms at lower extremities and low back pain can be controlled by conservative treatment.
Or patients who have rigid deformity, sagittal balance and no evident imbalance are also candidates for single decompression.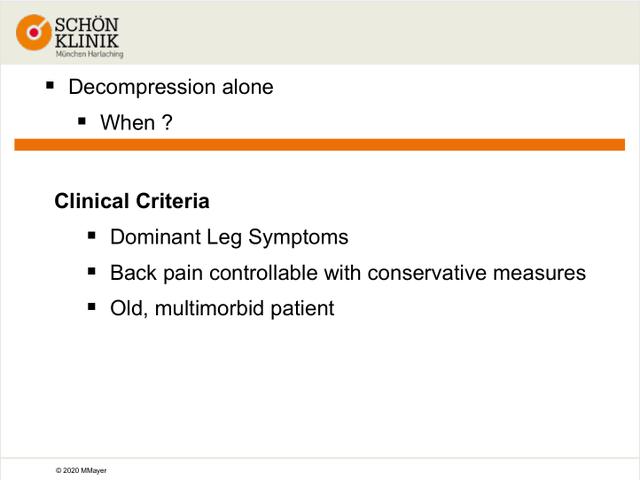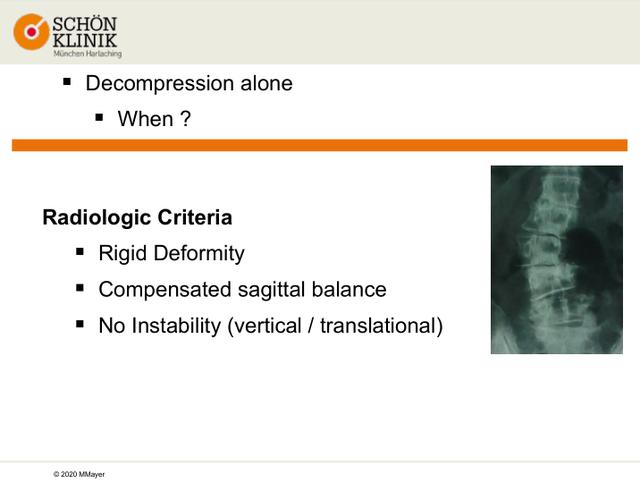 At the end of Prof. Mayer's lecture, he suggested that concerning degenerative lumbar scoliosis, surgical solution shall be customized after evaluating the overall condition of the patient, fusion and decompression under minimally invasive techniques were preferred and single MIS decompression should be thought over if the patient has a obvious pain at lower extremities.
Hai Yong, Director of Orthopedics Department of Beijing Chao-Yang Hospital, Capital Medical University and a friend of Prof. Mayer's, also took part in the exchanges.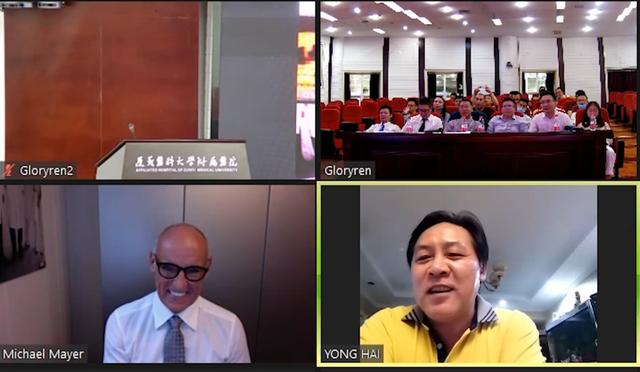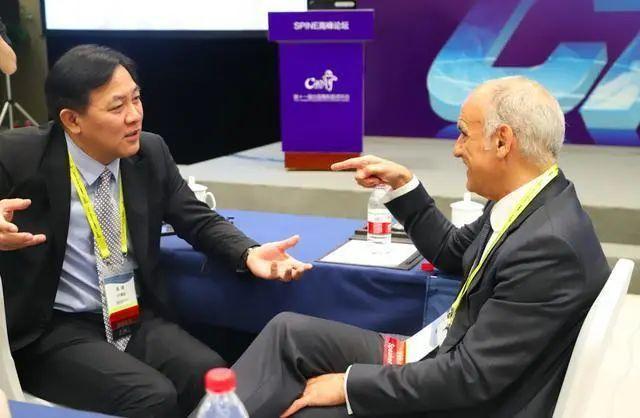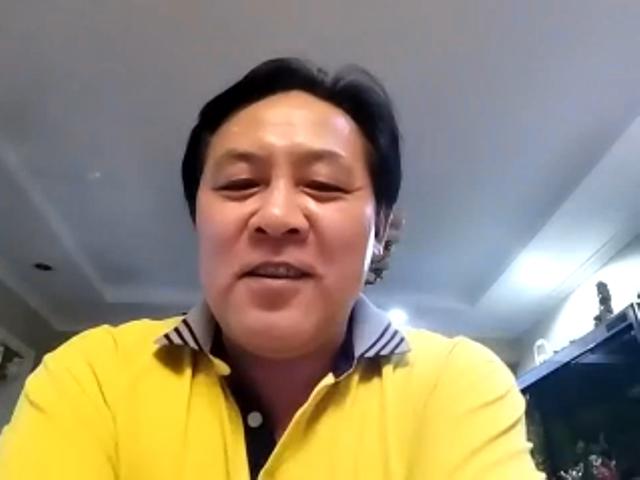 Q: In regard of degenerative lumbar scoliosis, now many surgeons from the U.S prefer to choose long-segmental fixation and fusion to correct the sagittal imbalance, while PJK is prone to appear under such technique. What do you think of this situation?
A: Every patient has his own physical evaluation and for a surgeon, it's essential to figure out whether the symptom is neurogenic or balance-caused. Further, it does matter to think about the survival or balance between risks and benefits for the elderly. The correction of sagittal balance is not the only criteria of patient's recovery, that's why careful consideration is needed in making decision for the elder patient.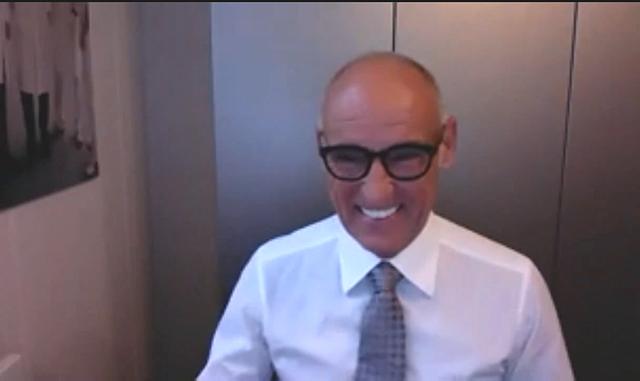 In addition, Prof. Mayer and Prof. Hai Yong also discussed the development of pelvic fixation researches and exchanged artificial lumbar disc replacement experiences from both parties.
The second lecturer came to Qin Jianpu, Deputy Chief Physician of Spine Surgery, who shared a case of revision after lumbar fixation. He summarized from 3 aspects: first, determine the responsible segment when there are multiple disc herniation; second, perfect radiological examination before surgical in case of any omission of extreme lateral LDH; third, control paravertebral muscle injury and solve problem under MIS principle when doing revision. Prof. Mayer said he learned a lot from Qin's sharing and put forward his suggestions for sucha case's diagnosis and treatment in the future. From his view, Prof. Mayer prefers to decompress with microscope which helps to adjust the vision for better probe and decompression.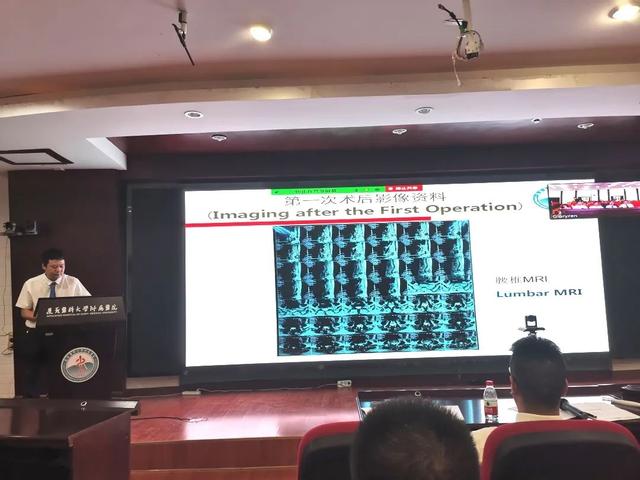 Another case of endoscopic fusion for lumbar degenerative diseases was presented by Cao Guangru, Director of Orthopedics of The Second Affiliated Hospital of Zunyi Medical University. Prof. Mayer shared his experiences in endoscopic fusion technique and discussed issues like fusion rate.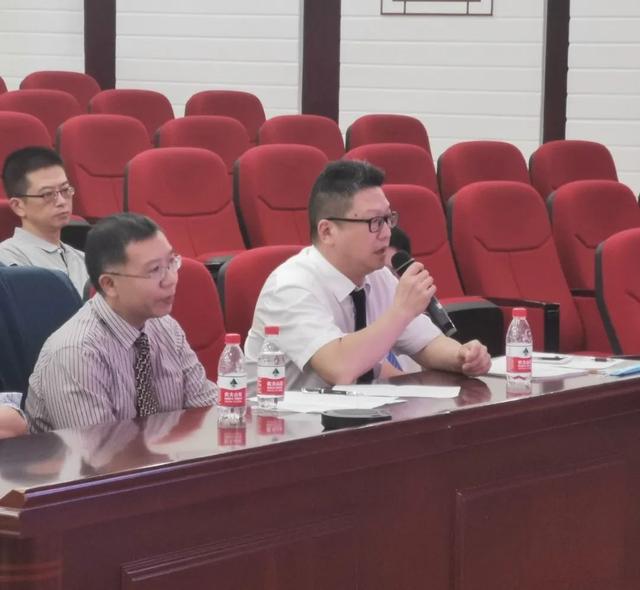 Photo of Cao's sharing
At the end, Directer Ao was grateful for Prof. Mayer's lecture and invited him to make a face-to-face exchange in the future for further sharing and communication.