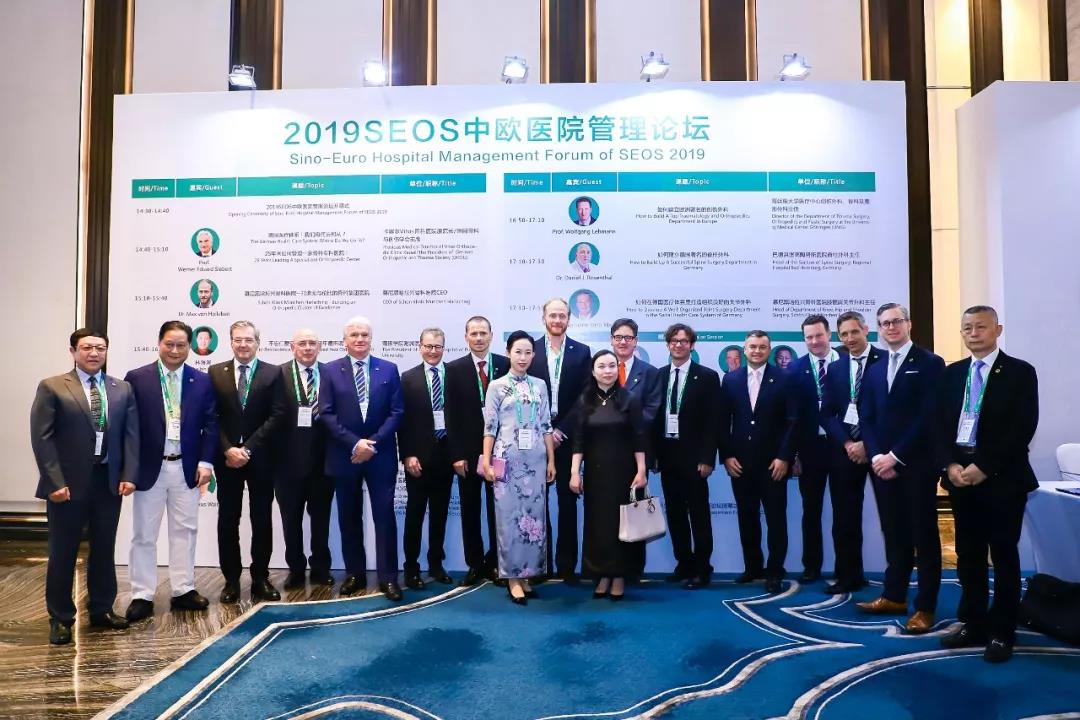 Sino-Euro Hospital Management Forum of SEOS 2019 was held by Gloryren in September 21st in Guangzhou, China. After one-year elaborated preparation, cooperating with ten ⅢA-Grade hospitals in China and seven famous hospitals in Germany, Sino-Euro Hospital Management Forum of SEOS 2019 converges dozens of renowned international orthopedic masters and domestic orthopedic specialists to share the legend of the best orthopedic hospitals with a history of a hundred years.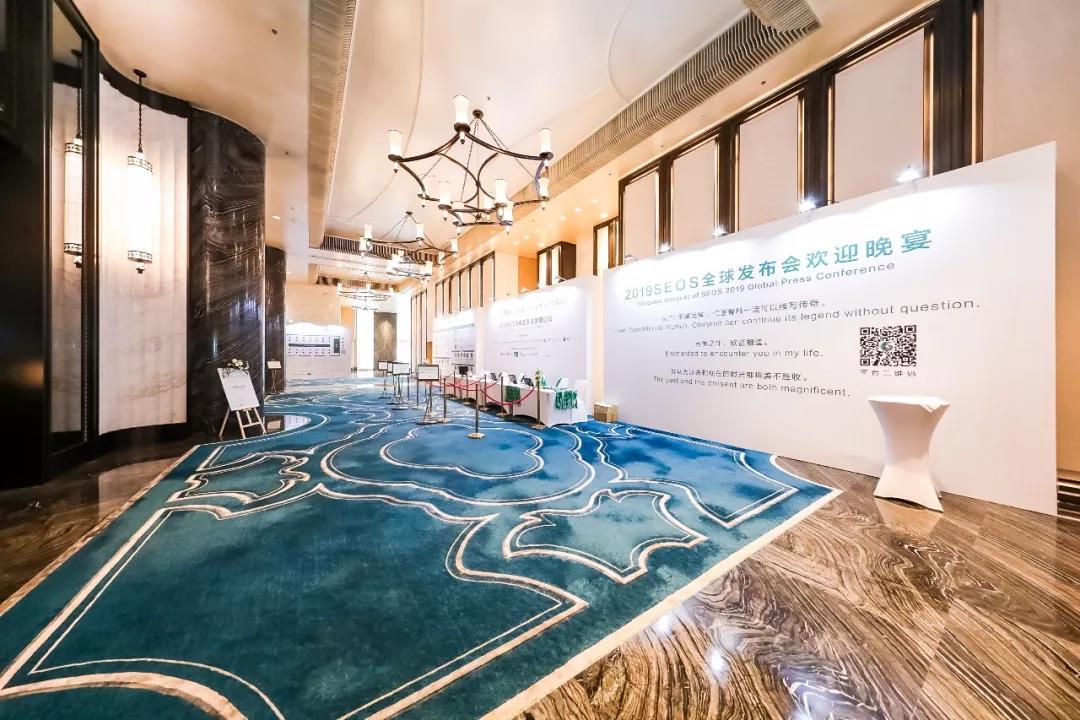 Now lets enjoy the summary of the first half of Sino-Euro Hospital Management Forum of SEOS 2019!
Sino-Euro Hospital Management Forum of SEOS 2019 (Ⅰ)
German Health Care System, Where Do We Go To?
25 Years Leading A Specialized Center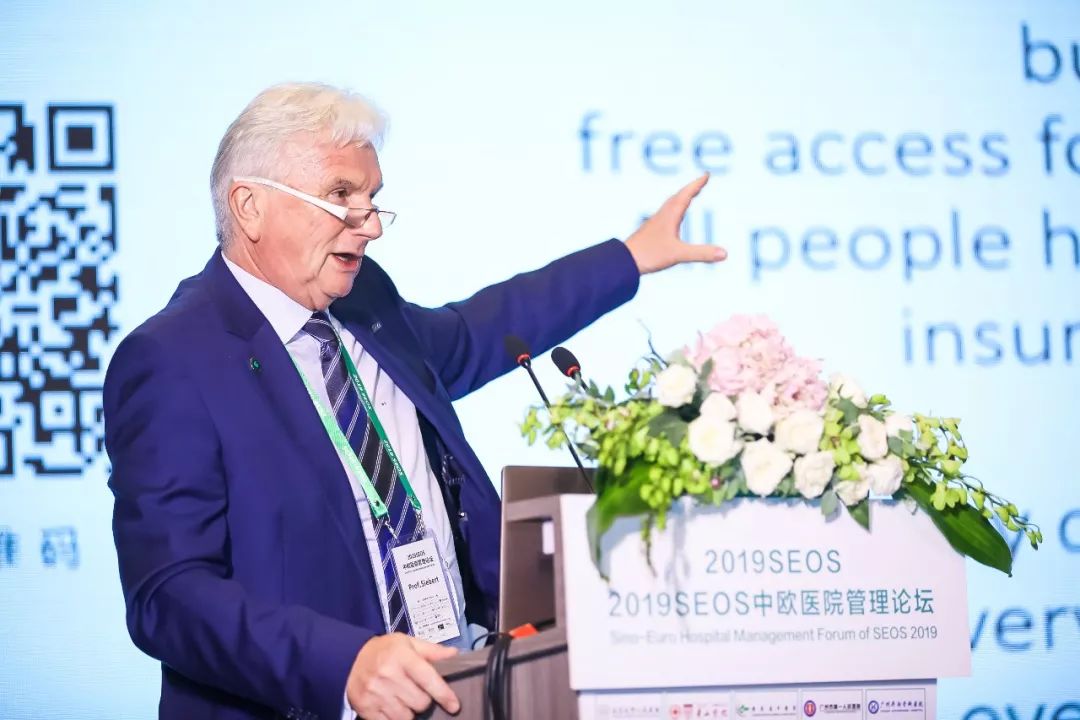 Prof. Dr. med.Werner Eduard Siebert
Previous Medical Director of Vitos Orthopedic Clinic Kassel
The President Elect of the Congress of German Orthopedic and Trauma Society(DKOU)
German Health Care System, Where Do We Go To?
Health for All
In German, the health care system has extensive coverage. The German Health System is very complex but free access for everybody. There are lot of different institutions that all work together to get a good health care system, including insurance companies, hospitals, control organs and societies. Since there are 16 different states in Germany, and each of them have different rules which makes the German Health System more complicated.
Medical care provided by doctors, oral health care provided by dentists, pharmacies and medication and medical care at hospitals are all included in the health care system. According to statistics, each European goes 6 times a year to see a doctor on average while in Germany the number can reach to 18.
Emergencies
Germany has the best emergency system in the world. In Prof. Siebert's opinion. If you call the number 112, emergency aid can be there very fast. The telephone operator will tell the patient what to do and the ways of help according to the situation. If necessary, a helicopter will get there in 15 minutes.
Prevention of Diseases
The health insurance fund will cover medical examinations for children, adolescents and adults for the purpose of detecting diseases, health issues and risk factors early. These are called preventive health checks and screening. To the elderly, these can prevent them from diseases. As for the children, they receive necessary checks one week after they are born. The well-organized preventive system contributes to early treatment for some diseases.
Nowadays German is facing the problem of obesity, cigarette addiction and alcohol addition, which should be attached greater importance. Therefore, these patients can get professional support from the health groups.
Medical Care
Germany faces severe aging problem and the fastest growing population in Germany is the people of over 100 years old. Therefore, the state insurance will give support to the old at home or even those at the nursing home.
According to the data, German have more doctors and nurses for a thousand inhabitants than the average level of European. The costs are high but one third cheaper than the United States of America. In USA, perhaps only the rich can get good treatment while in Germany everybody gets good treatment.
Problems
Germany is not getting enough doctors. DKOU spends about one million Euros on supporting and starting research projects. In Northern Europe, patients have to wait for a long time for surgery, but in Germany patients can get surgery with almost no waiting list.
Germany have very specialized hospitals and doctors are in high specialization. The societies are the cradles of raising talents and they will cooperate with state hospitals, private hospitals and insurance companies to offer medical care of high quality. At the same time the societies will organize training programs for residents and surgeons including online training and on-site practice. To cultivate surgeons, DGOU have Lighthouse Projects supported by the government.
25 Years Leading A Specialized Center
Prof.Siebert introduced the history of the past century of Vitos Orthopedic Clinic Kassel. And he told us how can a shabby hospital develop into a well-equipped specialized orthopedic hospital. Now it is one of the best orthopedic hospitals in Europe with lots of renowned orthopedic awards.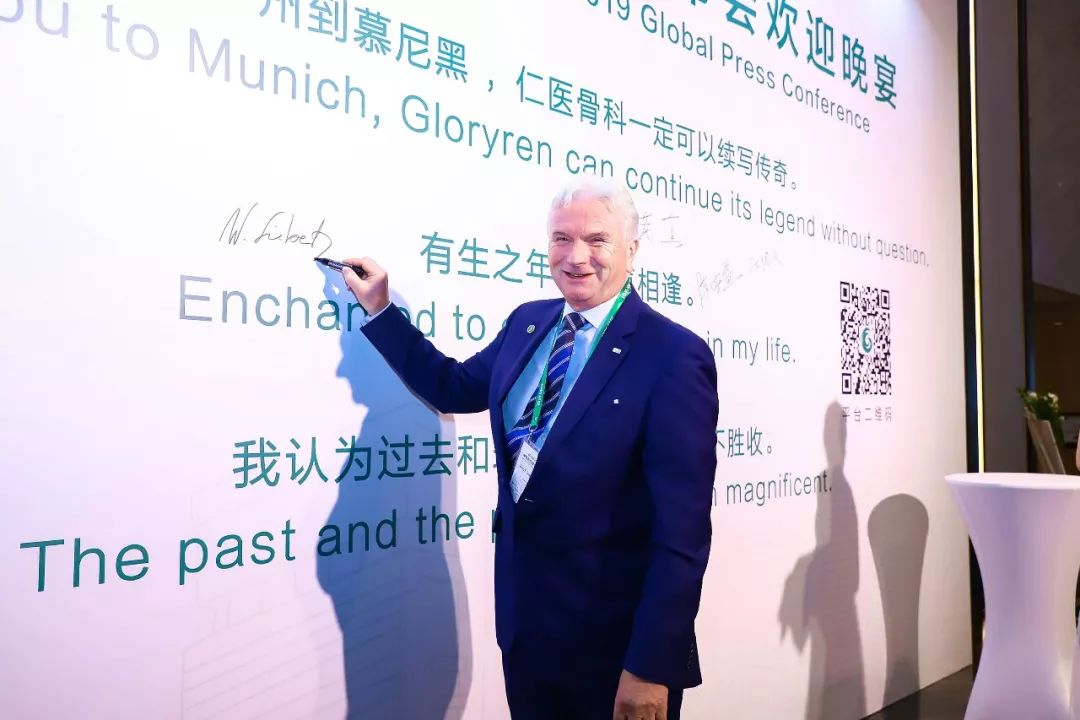 Schön Klinik München Harlaching - Building an Orthopedic Cluster of Excellence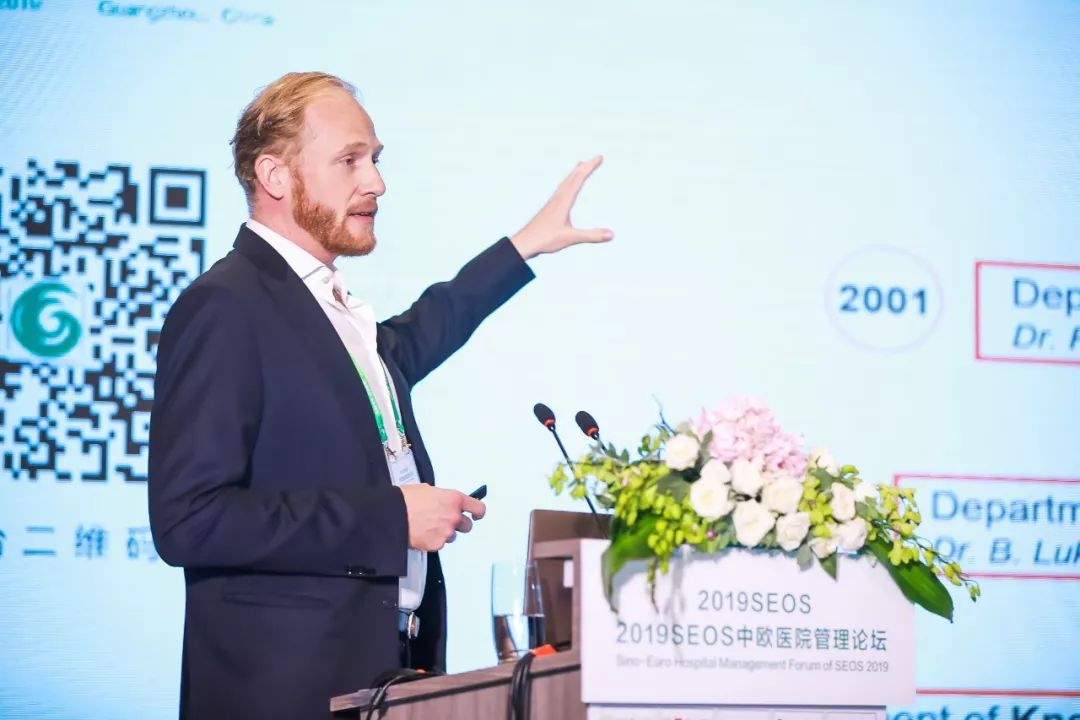 Dr. med.Max von Holleben
Dr. von Holleben said that Schön Klinik runs 24 hospitals in Germany and 4 hospitals in Britain.
First of all, he explained the development history of Harlaching. In the past place, Harlaching was not an orthopaedic specialized hospital, but a small hospital in the suburbs. In 1924, Harlaching became an orthopaedic hospital of a university. In the mid-1980s, the hospital moved to Munich and was acquired by Schön Klinik Group due to the economic recession and other reasons. The hospital develops very well with the investment of Schön Klinik Group. With the modernization of hospitals, the concept of specialty has also been promoted.
Dr. von Holleben said that teamwork is very important to manage the hospital well, which is one of the experiences of their success.
In the past 20-30 years, many doctors and leaders in hospitals still stick to their work. The success of hospitals can not be separated from their long-term contributions. The secrets of success is not only to pay attention to medical quality, but also to the contribution of many people.
The direction of future development will be data-based medical treatment, differentiation of outpatients and inpatients, and strengthening nursing care to the elderly.
Paying attention to medical quality
His hospital attaches great importance to medical quality. They collect patients' satisfaction opinions regularly to assess and summarize medical quality through different indicators.
Doctors and nurses attach great importance to medical quality. Hospitals must implement this concept from top to bottom and realize the importance of medical quality.
97% of the patients said they were very satisfied with the treatment in Schön Klinik München Harlaching, and they would recommend the us to their relatives and friends.
Valuing talents
In addition to attracting talents from salary, we also provides platform for doctors to grow and develop.
Improve the working environment of doctors and make it comfortable and safe.
The hospital will also conduct employee surveys and listen to employees' opinions concerning the work contents and leadership.
Hospital revenue
In addition to revenue, cost reduction is also very important for the smooth operation of hospitals. In Harlaching, 76% of the total cost is fixed, so the variable cost of the hospital can only be controlled. When you don't need expensive high-end products, try to replace them with cheaper ones.
Optimize the process
The utilization rate of hospital operating room is up to 95%, and the utilization rate of ward in working days is roughly 85%. The reason we could achieve such a high rate is to optimize stay time of the wards and keep an eye on the OR,surgery time and time of transferring patients. Utilization rate is closely related to every part of the hospital, so the team is very important and needs to be improved bit by bit.
We Establish better routines for everyone to participate in and focus on team spirit. We should be place the employees at the centre and all doctors should take responsibility. We also work on improving transparency of costs and establishing mutual trust between hospitals and doctors.
In Harlaching , everyone in the hospital can offer advice, participate in helping the hospital optimize and improve the process, so the team spirit and teamwork play the most important role in management.
Stay True to Benevolence, Stick to Hundred Year Old Putian Spirit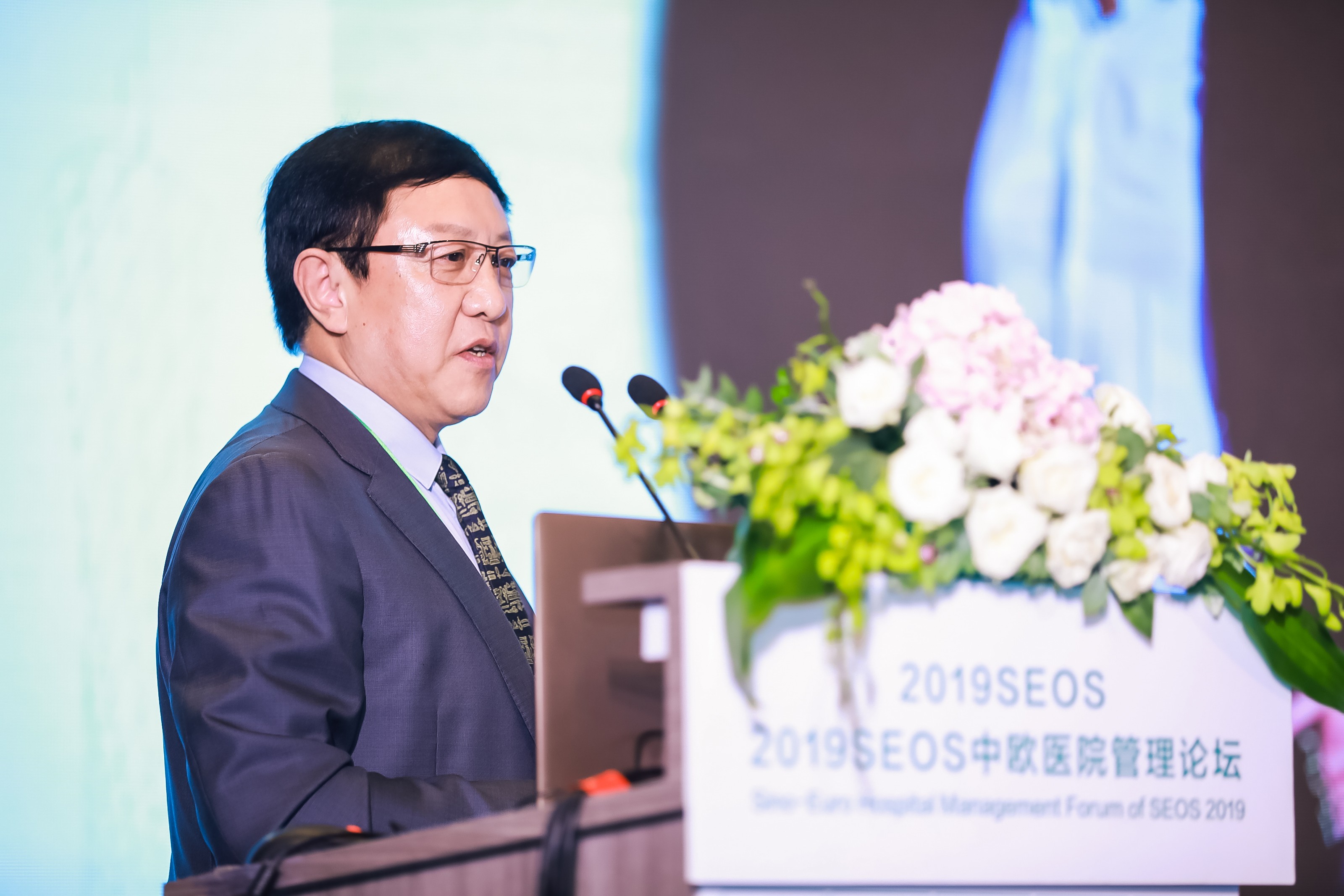 Haibin Lin - The President of Affiliated Hospital of Putian University
President Lin introduced the history the hospital and then the development of the hospital group.
The Advantage of Hospitals Develop in Group
To realize to goal of "3 improvements and 1 reduction",we work on the improvement of medical service quality,social satisfaction,staff enthusiasm and reduction of cost and expenditure on medical service.
Solving 3 Difficulties of "Separation of governence and hospital, reasonable allocation of medical resources and cooperations of medical organizations"
Reasonable Allocation of Medical Resources.The core hospitals are mainly responsible for the diagnosis and treatment, research and development as well as the teaching on complicated and serious diseases.
Level II and other specialized hospitals are responsible for the diagnosis and treatment on infectious diseases, senile diseases and maternal and child health care.
Community medical service centers are responsible for the treatment of common diseases, frequently-occurring diseases and the provision of public health prevention services.
Strengthen the support from large hospitals to community medical service centers, form a medical pattern of tiered diagnosis and treatment and dual referral and realize the sharing of medical resources and advantages complementation to overcome the difficulty of receive treatment for the common people.
Cooperations of Medical Organizations
Core hospitals can send experts to partner hospitals and community medical service centers for outpatiet and technical guidance.
The difficult imaging, examination and other complicated conditions which are hard to be handled by specialized hospital and community medical service centers will be diagnosed by experts from core hospitals via internet or post analysis.
Patients suffering from critical illness in the community can be transferred to major hospitals through the "Priority Pass" in time and retrieve preferential treatment.
The patient-oriented principle is regarded as the starting point and objective of the whole group.We work to realize sharing of management resources, human resources, technical resources, academic resources, information resources, equipment resources and market resources.
Visions of Medical Group Management Pattern
To Build under the Principles of "Steady Advancement, Resources Sharing and Win-win Realization"
Implement collective management on hospital personnel and properties. Conduct management and undertake medical and operating risks on business management, talents cultivation and recruitment as well as facilities upgrading.
Provide technical training for the technical backbone from group member hospitals. Experts go to member hospitals for outpatient and organize discussion and visiting for difficult cases.
The functions of medical group locate at perfecting functions, reasonablizing labor division, clearing orientation, sharing resources, satisfying the whole system of tiered hospital cooperation demanded by regional medical service and realizing the resources sharing in both urban and rural area.
Improve medical skill and quality without significantly increase the medical charges. Through branding, highlight our own characteristics and give consumers a differentiated impression by providing specialized medical services, and form advantages in the segmented medical market.
Look into the future
Construct International High-end Medical District, Modern Ecological Rehabilitation District, Mazu Cultural District for Medical Service and Tourism and Intelligent District for Manufacturing Medicines and Instruments. We hope to build "Oriental medical Silicon Valley", "The First Health City in China",New Hospital District in Mazu Medical Health Care City and the Affiliated General Hospital of Medical School of Southeast University
Discussion
Prof. Siebert, Dr. Von Holleben, The President of Affiliated Hospital of Putian University LIN Haibin and Chairman of Sports Medicine Session of Chinese Medical Association Prof. CHEN Shiyi were invited to discuss.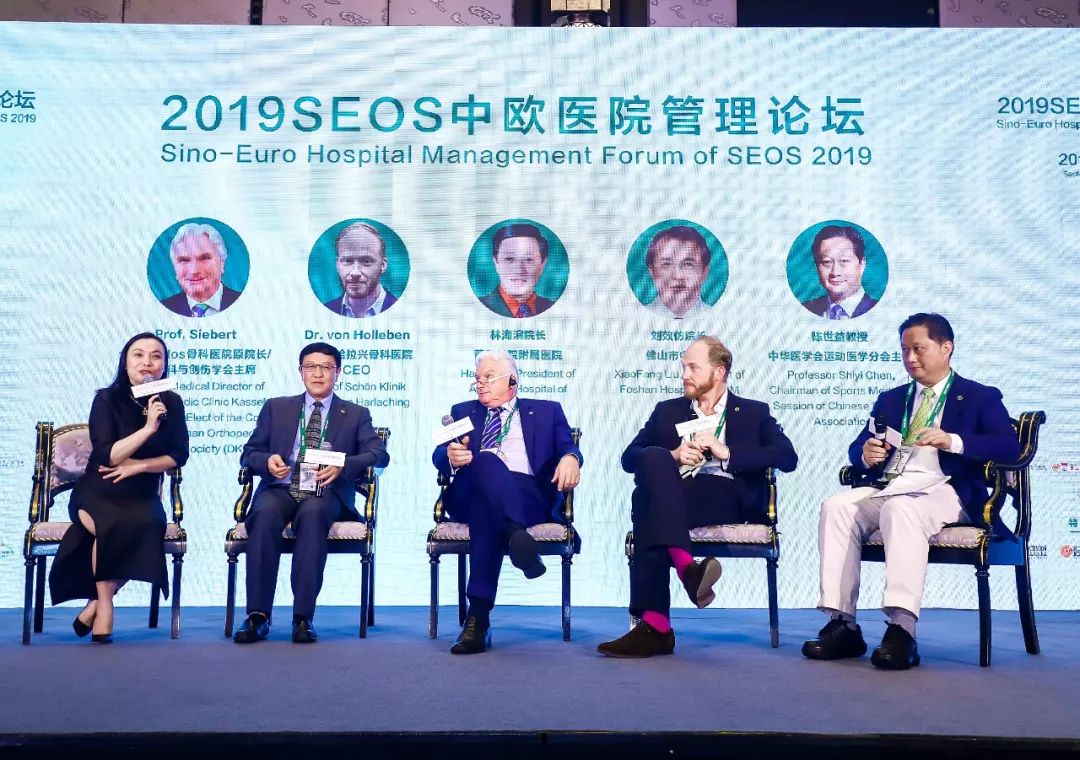 Q1. How much does the German government invest in health care?
Prof. Siebert: It's about 10% to 11% of the Gross Domestic Product, but that's not enough for private hospital. And the capital will be divided by the best hospitals and the medical institutions. There will be competition between those institutions because taxpayers should get something back for taxes. And my opinion is that the investment should be 5% to 16% of the Gross Domestic Product.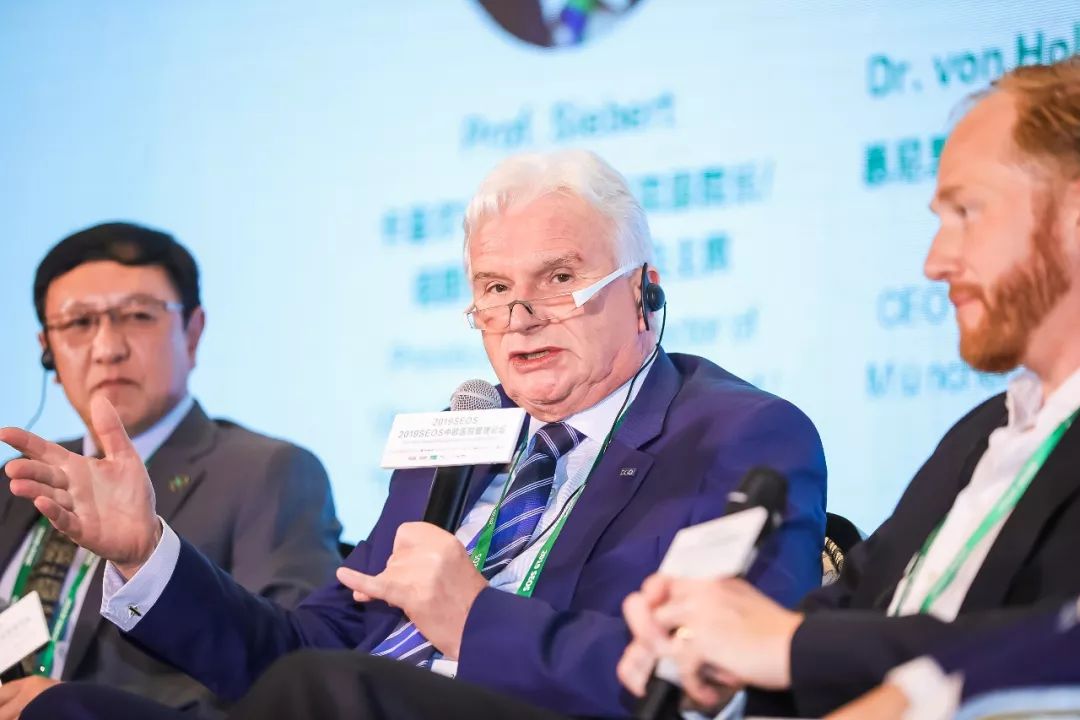 Q2: In Germany, do the rich and the average people share the medical equipment of same quality?
Prof. Siebert: The difference between the medical service that the average people and the rich is not so obvious. But people may get better medical care and have more alternatives of surgeons and clinics with a private insurance. But on average they share medical care of same quality because the German society is pretty equal and there is not a wide gap of per-capita income.
Q3. In Germany, private hospitals can attract talents through offering appealing salary. But except that, how can Chinese private hospitals attract talents?
Prof. Siebert: Help them to be creative and realize their ideals.
Dr. Von Holleben: You cannot attract surgeons only by offering high salary, the working environment and the management should be attached great importance to. You have to help the surgeons feel that they can contribute to the hospital so that they can have the feeling of participation and achievement. You will keep the talents by doing so.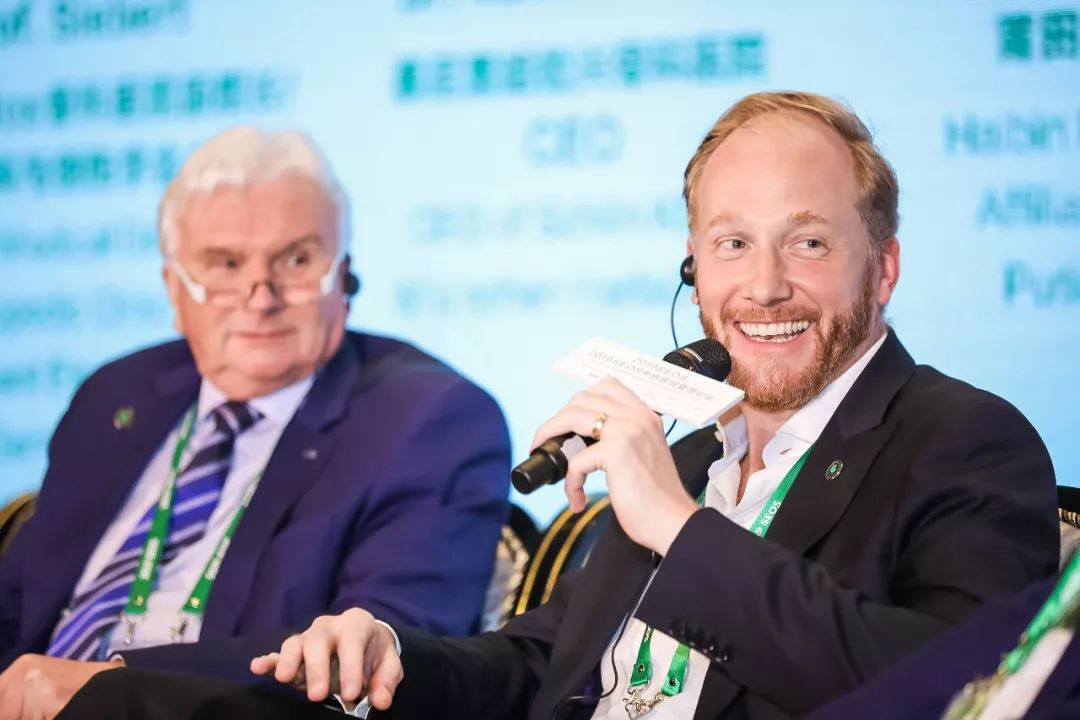 Q4. In Germany are doctors classified by levels and what about the income of the German doctors?
Prof. Siebert: We don't have classification of doctors but we have hospitals of different levels. People can get good medical care everywhere. The levels of hospital are not officially set but of course there is a big difference between a small rural clinic and a top university hospital. But patient can be sent to a bigger hospital if necessary.
The young doctors work in Europe have higher income than those who work in Germany because they pay less tax. To young doctors it is very important to get research support from the hospital, government and private funds.
Q5. What's the pros and cons of the medical reform "Three Principles of the People", referring to Principles of Nationalism, Principles of Democracy and Principles of People's Livelihood? And some doctors may practice outside the hospital, will there be potential problem?
President Lin: It's a good but complicated and tricky question. Now the government is under great medical pressure. But generally speaking the reform is a correct way to go, including several policies. And there is another mode that reducing the cost the materials and medicines by centralized purchasing, which motivates the staff a lot.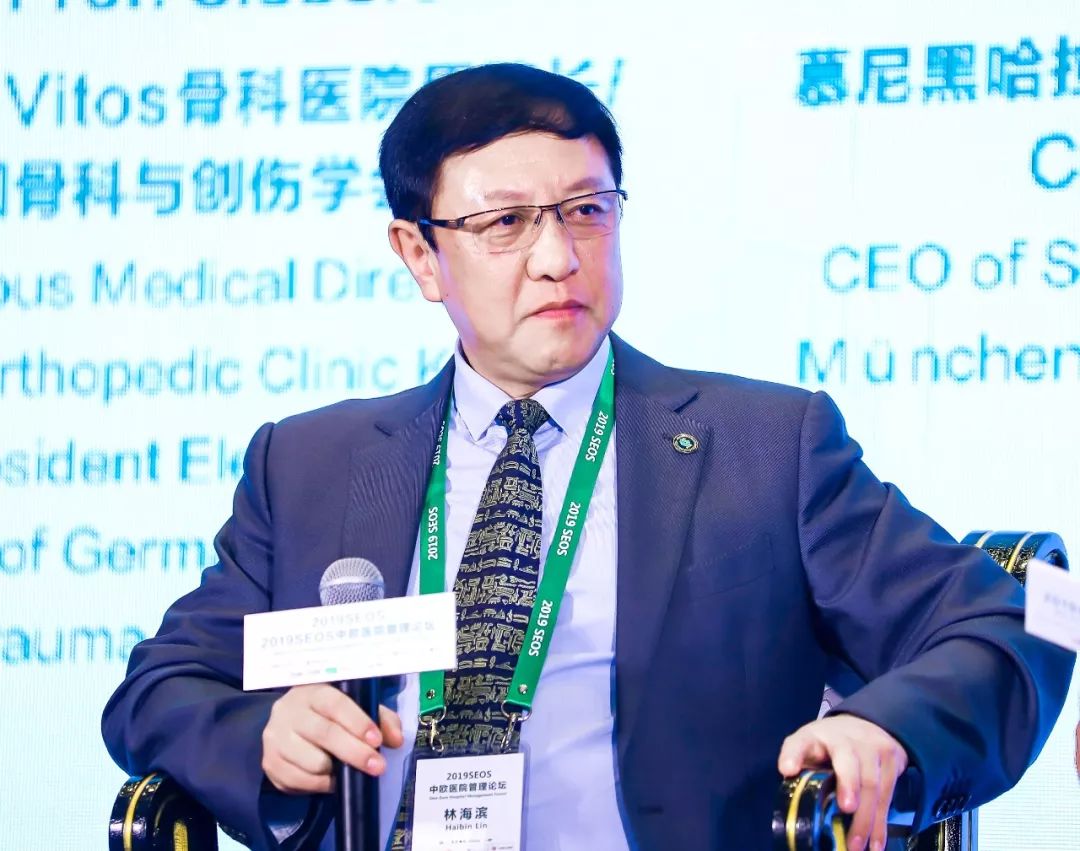 But it still have disadvantages. We don't have sufficient managerial skills for modern hospitals. Compared with Europe, Chinese is left behind in digitalization and informatization. This will lead to some imperfections such as the DIGS. Britain has been applying DIGS for few decades but there are still many problems. The country bears heavy burden of medical expenditures. I can see that every country has there own difficulty in health care.
Q6. How is the medical training organized in China, is there an academy where young doctors can learn like in Europe ? Is there an incentive if you operate more patients in one day?
Prof. WANG Manyi: Nowadays Chinese government starts to attach greater importance to the medical training for the doctors who graduated. We have two societies, one of which is Chinese Orthopedic Association, COA and the other one is Chinese Medical Doctor Association, CMDA. But the two societies haven't reached an agreement on how to organize medical training. COA emphasizes imparting new technology by organizing some seminars or other activities. While CMDA focuses on more basic knowledge. Now there are institutions specialized in medical training but there is no official program. I believe the medical training will be more standardized in next decade and the government need to carry out measures to encourage the doctors to further study. Since the technology develops rapidly nowadays, whoever stop study will be left behind. Only when the training become standardized and statutory can the Chinese medical system keep up with the European medical system.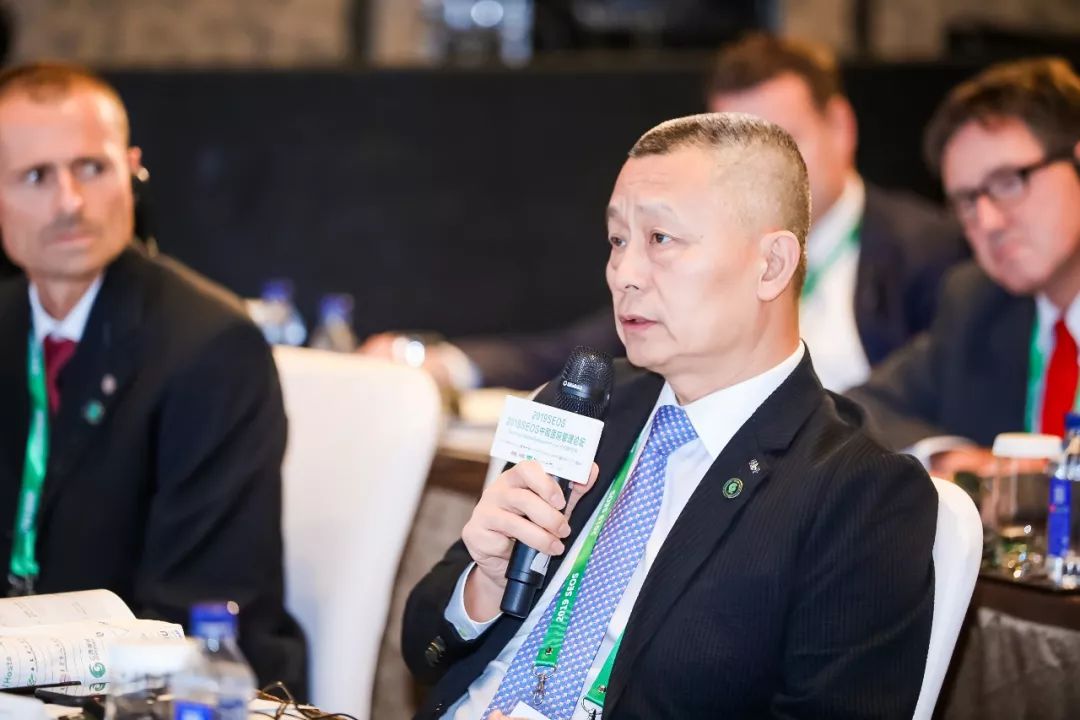 Q7. For private hospitals, it is significant to control the cost. What if the doctors be criticized for using cheap and out-dated implants?
Dr. Von Holleben: Of course we strive for cheaper implants but we really need to watch out the quality. So the quality goes first. We will choose the implants of better quality even it costs more. But when you look at all the material costs in the hospital, there are so many things that really don't make a difference. That's why I said that what's most important is that our team need to sit together and discuss what to use. In this way we can control the cost by joint efforts.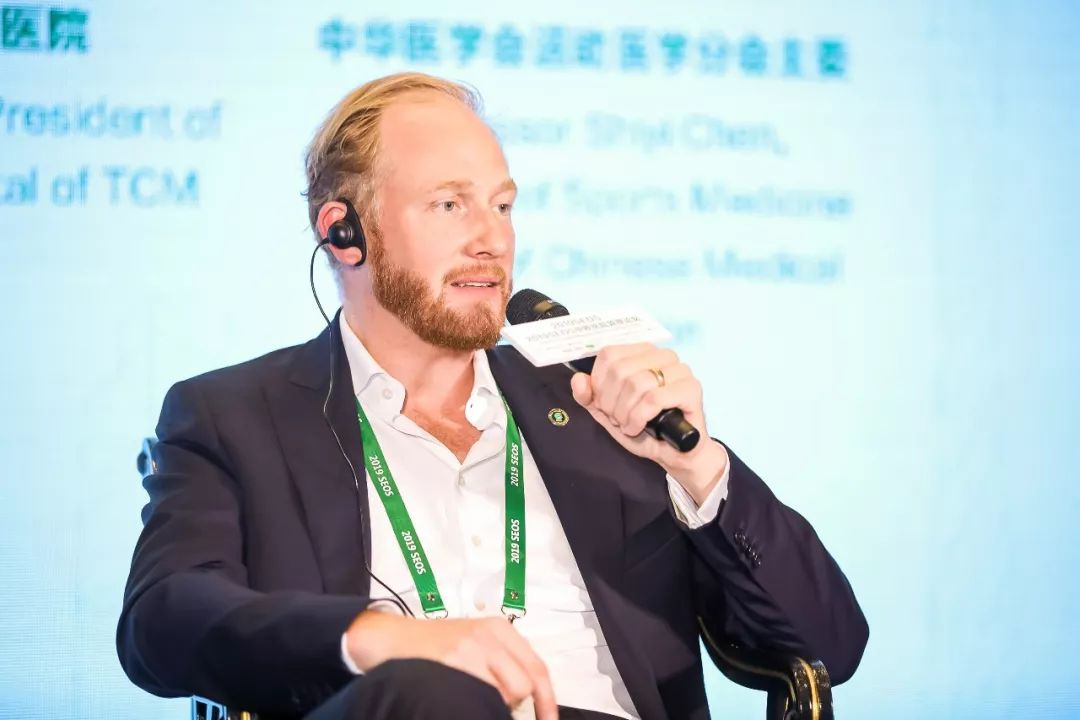 Q8. Schön Klinik is renowned all over the world. The group manages many different clinics, so are they all independent?
Dr. Von Holleben: All of the twenty three clinic belong to one group but each one of them is managed independently. But we still try to standardize the management procedure if possible. For example, the experts from each department of the clinics they meet once or twice a year for some discussion.