In the afternoon of May 21st, Shenzhen Luohu Hospital Group, together with Prof. Wiltfang, Head of Department of Psychiatry and Psychotherapy, University Medical Center Göttingen, successfully organized the Sino-German Video Conference on Alzheimer's Dementia to discuss the latest research on Alzheimer's Dementia. Zhu Feiqi, Director of Ward of Geriatric Cognitive Impairment, Shenzhen Luohu Hospital Group, hosted the conference and shared the experimental outcome on AD blood test of his team, and the medical staff of Ward of Geriatric Cognitive Impairment of Shenzhen Luohu Hospital Group participated in the conference.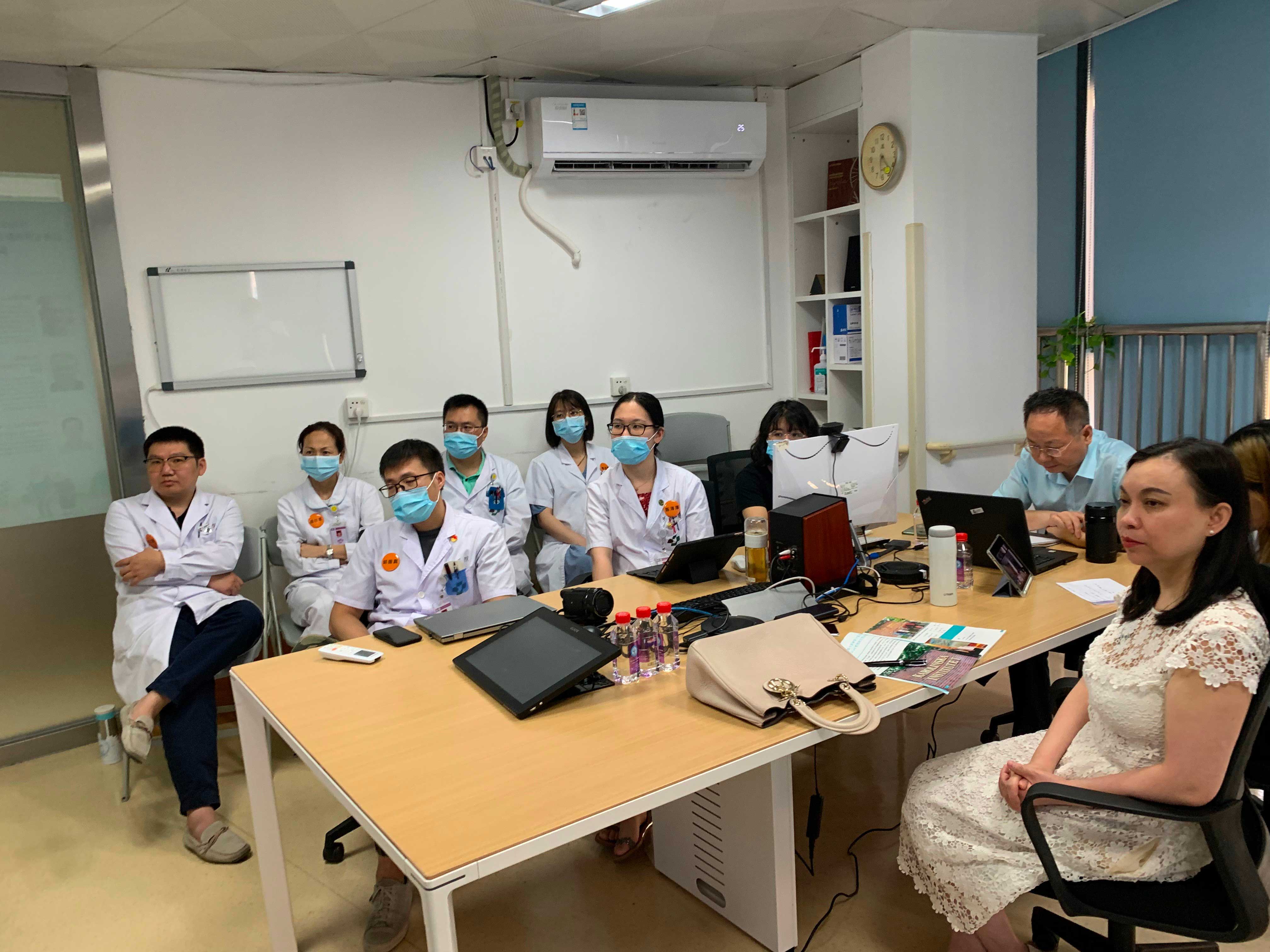 The World Alzheimer's Dementia Report in 2018 showed that approximately one person with dementia is incurred every three seconds worldwide. Currently, there are at least 50 million people suffering from dementia worldwide, and it is expected to reach 152 million by 2050, of which about 60-70% are Alzheimer's Dementia (AD) patients. The global medical community is still at its wits' end with this disease and early intervention has become an important direction in the prevention and treatment of AD.
Blood-based dementia testing - an update
Since 2017, blood-based early and differential diagnosis is rapidly evolving to enable pre-clinical or prodromal Alzheimer's Dementia diagnosis, says Prof. Wiltfang. Blood-based differential diagnosis of dementia is gradually emerging and is expected to become a routine clinical diagnosis in the next 2-3 years.
Clinical trials and therapeutic research outlook
There is great potential for the development of optimal prophylactic treatments, including multimodal non-pharmacological prophylactic interventions. Most importantly, preventive interventions should start before the pathobiology reaches the intact neocortex.
Successful preventive interventions should start preclinically and therefore require preclinical biomarker-led diagnosis. In this regard, blood biomarkers are the most promising.
There is growing scientific evidence for the existence of subphenotypes of Alzheimer's Dementia, which are likely to respond differently to therapeutic interventions. However, subphenotype-specific preventive interventions require extensive (and expensive) clinical trials.
Non-pharmacological interventions (for example, combined lifestyle changes) or clinical trials that rely on 'drug repurposing' would not be supported by the pharmaceutical industry.
To achieve the latter in clinical trials, established gold standard biomarkers such as CSF dementia markers or amyloid PET are expensive and harmful for established preclinical diagnostics. Blood biomarkers are therefore a promising option.
A large number of studies have been reported on the mechanism of Alzheimer's Dementia, mainly focusing on amyloid β-protein (Aβ) and Tau protein.
Aβ blood test
A reduction in the Aβ 42/Aβ 40 ratio is the most validated biomarker for blood identification of Aβ peptides in Alzheimer's Dementia (AD), and Prof. Wiltfang's group has also developed a two-step immunoassay for Aβ to determine this novel ratio standard.
R . Bateman's team (USA) developed an alternative method to measure the Aβ1-42/Aβ 1-40 ratio that was approved by the US Federal Food and Drug Administration (FDA) for blood-based AD diagnosis. However, this method is expensive and difficult to establish in a routine clinical chemistry laboratory.
Early and differential detection of AD in plasma phosphorylated Tau proteins
Tau is a microtubule-associated protein (MAPT) with more than 40 phosphorylation sites. This protein is essential for axonal neuronal transport, is a major component of neurofibrillary tangles (NFTs) and is a neuropathological hallmark of AD.
High phosphorylation of Tau protein occurs in approximately 50% of cases of frontotemporal lobar degeneration (FTLD). An example is primary progressive aphasia (PPA), a manifestation of atypical Parkinson's syndrome.
Prof. Wiltfang believes that phosphorylated Tau and Aβ blood tests are expected to support early and differential diagnosis of neurodegenerative dementia. With an accuracy of at least 85% for early and differential diagnosis of AD based on phosphorylated Tau, preclinical diagnosis seems feasible. The combined application based on Aβ and phosphorylated Tau will enter the clinical routine diagnosis in the next 2-3 years.
Professor Zhu Feiqi, Director of Ward of Geriatric Cognitive Impairment, Shenzhen Luohu Hospital Group, shared Plasma high levels of Aβ1-42 had biphasic effects on peripheral monocytes and macrophages via affecting the proliferation and differentiation of hematopoietic stem cells in Alzheimer's disease mice models.
Director Zhu showed Prof. Wiltfang the clinical study they are doing on Alzheimer's disease blood testing and asked the professor for advice on how to improve the study, all of which Prof. Wiltfang answered patiently.
The meeting was a discussion and sharing on the challenges of blood testing for Alzheimer's disease, and the Geriatric Cognitive Disorders Unit of Shenzhen Luohu Hospital Group, under the leadership of Director Zhu Feiqi, had an academic exchange and collision with Prof. Wiltfang, a German national expert on Alzheimer's disease. I believe this conference will play a key role in promoting the development of the geriatric cognitive impairment ward in Shenzhen Luohu Hospital Group!
Ward of Geriatric Cognitive Impairment, Shenzhen Luohu Hospital Group
In April 2016, under the call of medical reform in Luohu District, Professor Zhu Feiqi joined the Luohu Hospital Group from the position of Head of Neurology Department / Discipline Leader of Affiliated Northern Guangdong People's Hospital of Shantou University Medical College. With the support of Luohu District Health Department and Luohu Hospital Group, he practiced the spirit of Luohu's medical reform of "less sickness, less hospitalization, less burden and better treatment" and pioneered the establishment of an independent geriatric cognitive impartment ward in Shenzhen so as to carry out health education, prevention, diagnosis, treatment, rehabilitation, elderly care and clinical and basic research on geriatric cognitive impairment. This ward has been working as an integrated unit. Through five years of development, the Ward of Geriatric Cognitive Impairment currently has a team of seven doctors (one chief physician, five attending physicians, including two doctoral graduates and four Master's graduates), 14 nurses and eight nursing staff specialising in geriatric cognitive impairment. There are also 2 post-doctoral fellows, 3 master's degree students, 3 co-trained doctoral students and 1 master's degree student. At present, the clinical and research strength of this Ward of Geriatric Cognitive Impairment ranks the first in Shenzhen, with 25 medical beds and 27 beds for the elderly, an annual outpatient of more than 5,000 and more than 300 discharged patients, as well as being responsible for the health care of nearly 300 elderly people in two phases of the Luohu District Welfare Center. The team has established close academic links with the Shenzhen Center for Disease Control and Prevention, Sun Yat-sen Memorial Hospital of Sun Yat-sen University, Beijing Tiantan Hospital, the First Affiliated Hospital of Beijing University, the First Affiliated Hospital of Jilin University, Beijing Xuanwu Hospital, Shanghai Huashan Hospital, School of Medicine of Huazhong University of Science and Technology, Prince of Wales Hospital of the Chinese University of Hong Kong, Karolinska Institute in Sweden and the Cognitive Disorders Team of the University of Göttingen in Germany. In 2017, it was awarded the "Key Discipline" of Luohu District and in 2018, it was awarded the "Youth Civilization" of Luohu District in Shenzhen.
Introduction to the "Alzheimer's Disease Team of Professor Bengt Wenblad, Department of NVS, Karolinska Institutet, Sweden" by Three Names Project
Introduction to the "Alzheimer's Disease Team of Professor Bengt Wenblad, Department of NVS, Karolinska Institutet, Sweden" by Three-Famous Health Project

In September 2019, Prof. Zhu Feiqi went to the NVS Department of Karolinska Institutet in Sweden to attend the "Advanced Neurologist Course on Alzheimer's Disease and Other Dementias" and established close contact with the team of Prof. Bengt Winblad, an internationally renowned Alzheimer's disease expert. Professor Bengt Winblad is one of the world's leading experts in Alzheimer's disease. He is one of the founders of the Alzheimer's Association International Conference (AAIC), has received the AAIC Lifetime Achievement Award twice, and has been a member of the Nobel Prize in Medicine and Physiology for 13 years. After repeated communication, he successfully applied for the "Alzheimer's Disease Team of Professor Bengt Winblad, Department of NVS, Karolinska Institutet, Sweden" in March 2018, and became the only Alzheimer's disease clinical team in the Shenzhen Three-Famous Health Project.